JUMP TO:
Save the date: Campus Store Grad Fair March 30-April 1
Personalized graduation announcements
Student Media now accepting applications
U Model European Union Club wins top awards
Excellence in Global Education award
Fall textbook adoption requests due
New online program: Earn your MSIS from anywhere
Red Butte Garden's Bulbs and Blooms
Alta call for nominations
LEAP program director search
Second annual Clean Air for U: A Travelwise Challenge
---
STUDENT MEDIA NOW ACCEPTING APPLICATIONS[bs_row class="row"][bs_col class="col-sm-4″]


[/bs_col]
[bs_col class="col-sm-8″]Student Media at the University of Utah has two primary missions: First, to engage, provoke, inspire and connect campus by telling the compelling stories of the University of Utah community; and second, to provide a hands-on experiential learning environment in media where students can put into practice skills and ideas from the classroom.
The council oversees a student fee which helps support the Student Media department, and runs the Chronicle, K-UTE, Wasatch Magazine, thegeekwave.com, AdThing and other student driven media and journalism initiatives. By becoming a member of the Student Media Council, students and faculty can play an active role in helping administer this student fee. Student voices in particular are also vital in helping establish how Student Media grows and develops and best serves the campus community. The council is currently looking to fill three vacant student positions and one at-large faculty position.
Applications and more information can be found here.
Deadline is March 31, 2017, by 5 p.m.[/bs_col][/bs_row]
---
SAVE THE DATE: CAMPUS STORE GRAD FAIR MARCH 30-APRIL 1[bs_row class="row"][bs_col class="col-sm-4″]
[/bs_col]
[bs_col class="col-sm-8″]The one-stop shop for all your graduation needs.
The Class of 2017 Grad Fair takes place March 30 through April 1 at the University Campus Store. If you are planning to walk in this year's commencement ceremonies, now is the time to order your cap and gown, college regalia, graduation announcements and diploma frames. Cross these must-do items off your list so you can focus on completing your coursework and planning your post-graduation celebrations.
2017 Grad Fair schedule:
Thursday, March 30:  7:30 a.m.-6 p.m.
Friday, March 31:  7:30 a.m.-6 p.m.
Saturday, April 1:  11 a.m.-4 p.m.
Pre-order your regalia online from the Campus Store now and skip the lines at the Grad Fair. And, last but not least, make sure to sign the Block U before you leave.[/bs_col][/bs_row]
---
Personalized Graduation Announcements [bs_row class="row"][bs_col class="col-sm-4″]
[/bs_col]
[bs_col class="col-sm-8″]You've worked hard, Class of 2017.
Share the great news with friends and family with budget-friendly graduation announcements from University Print & Mail Services. Print & Mail will host a photo booth where you, your friends and family can snap photos using fun grad props against a U of U-themed background. Explore graduation announcement options with Print & Mail staff who can also help you arrange professional photo shoots for announcements or personal use.
This year's Grad Fair will take place March 30, 31 and April 1 at the University Campus Store.
A number of sizes and styles are available, from traditional folded cards to modern, flat announcements. View the gallery and place your order online or stop by the Print & Mail table at Grad Fair to view styles and paper options. Orders are typically ready for pickup five business days after your order is placed, no shipping fees or delays.
Let us help you celebrate this once-in-a-lifetime achievement. You've earned it.[/bs_col][/bs_row]
---
U MODEL EUROPEAN UNION CLUB WINS TOP AWARDS[bs_row class="row"][bs_col class="col-sm-4″]
[/bs_col]
[bs_col class="col-sm-8″]Please join us in congratulating the University of Utah's undergraduate Model European Union Club (UMEUC) for taking top awards this year at the West Coast Model EU competition.
The competition, which this year took place Feb. 10-11 in Seattle, is sponsored by the European Union and hosted by the University of Washington's Center for West European Studies. It brings together teams from the Pac-12 and universities across the U.S. and Canada, including Brigham Young University, University of Wisconsin, Claremont Colleges, University of British Columbia and University of Victoria.
The U's team consisted of six students, representing the heads of government and ministers of finance of Finland, Lithuania and the Czech Republic.
Anthony Calacino (political science) and Maite Carranaza (business) won outstanding head of government and finance minister awards after successfully negotiating the 'Brexit' of the United Kingdom and the European Union's fiscal capacity.
Anna Passman (economics) won the prize for best position paper and an honorable mention for her performance as Finland's finance minister, guaranteeing the U more 'gold medals' than any other universities.
Other team members were Jack Brown (business), Bas Coebergh (geography) and Christian Sonderegger (political science).[/bs_col][/bs_row]
---
EXCELLENCE IN GLOBAL EDUCATION AWARD
Deadline: March 6, 2017[bs_row class="row"][bs_col class="col-sm-4″]
[/bs_col]
[bs_col class="col-sm-8″]The Office for Global Engagement (OGE) has established this award to recognize faculty and staff contributions to the university's global dimension and those who have demonstrated excellence in facilitating student global learning and intercultural understanding. This may include international partnership development that engages students, curriculum revision to include global learning outcomes, advancement of the learning of languages, and other initiatives that provide significant opportunities for global learning either on campus or abroad. It may also include providing exceptional support or mentoring to international students and students participating in learning abroad programs. One faculty member and one staff member will be awarded (two awards).
This is an annual award for which OGE seeks nominations each spring semester. The award selection and ceremony is held in early April each year
For more information, click here.[/bs_col][/bs_row]
---
Fall textbook adoption requests due[bs_row class="row"][bs_col class="col-sm-4″]
[/bs_col]
[bs_col class="col-sm-8″]U faculty, submit your textbook adoptions to the University Campus Store for the upcoming 2017 summer or fall semesters, it's not too late. Submitting adoptions is easy — simply complete the University Campus Store's online textbook adoption form for a quick adoption. If you need assistance in submitting your textbook information, please contact Dave Nelson at 801-581-8321 or dnelson@campusstore.utah.edu.
The prompt submission of textbook adoptions by faculty each semester enables the Campus Store to stock the necessary books in a timely manner. This increases the chances of offering used textbooks, eBooks, and rental textbooks, all of which help students save up to 50 percent off of new book prices. The Campus Store relies heavily on your timely response, so please don't delay.
Final textbook adoptions for Fall 2017 Semester is due March 31.
Thank you for your ongoing support of the Campus Store's textbook adoption program, best wishes for another great academic year. [/bs_col][/bs_row]
---
New online program: Earn your MSIS from anywhere[bs_row class="row"][bs_col class="col-sm-4″]
[/bs_col]
[bs_col class="col-sm-8″]The David Eccles School of Business is introducing a new online degree program, the Master of Science in Information Systems (MSIS).  The constantly evolving field of information systems and the online format both further the school's value of innovation.
Students in the MSIS Online receive the same high level of instruction as students in the on-campus program, including shared faculty and curriculum. Online students can complete the program from any location, and provides flexibility for students who have heavy travel commitments or rotating professional schedules. Additionally, students can choose to enroll in classes full time or part time.
To learn more, click here. [/bs_col][/bs_row]
---
RED BUTTE GARDEN'S BULBS AND BLOOMS[bs_row class="row"][bs_col class="col-sm-4″]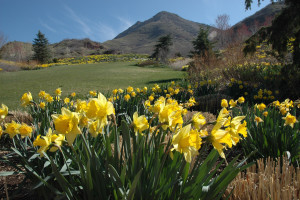 [/bs_col]
[bs_col class="col-sm-8″]Since 2013, Red Butte Garden has been recognized as an Official Daffodil Display Garden by the American Daffodil Society.
Visit the garden this spring to see 450,000 blooming bulbs. Of those, 230,000 are daffodils (Narcissus). Other bulbs include Allium, Camasia, Cyclamen, Eremurus, Galanthus, Hyacinthus, Iris, Lycoris and more.
All bulbs don't bloom at the same time.
Different varieties peak at different times, so be sure to visit often to see all that will be blooming this spring. For more information, go here.[/bs_col][/bs_row]
---
ALTA CALL FOR NOMINATIONS[bs_row class="row"][bs_col class="col-sm-4″]
[/bs_col]
[bs_col class="col-sm-8″]Celebrate sustainability leadership on campus by nominating yourself or a colleague for an Alta Sustainability Leadership Award. These Awards recognize excellence in leadership in the areas of campus as a living lab, community partnership, sustainability education, and research. Thanks to the generous partnership of the Alta Ski Resort, an award of $2500 will be given to each recipient. All students, faculty, and staff eligible to participate.
Submit the nomination form by Feb. 28, 2017.[/bs_col][/bs_row]
---
LEAP PROGRAM DIRECTOR SEARCH[bs_row class="row"][bs_col class="col-sm-4″]
[/bs_col]
[bs_col class="col-sm-8″]LEAP (Learning, Engagement, Achievement, Progress) is in search of a new director.
A key objective of the University of Utah is to expand existing and create new learning communities (LC) to increase retention and completion. The Office of Undergraduate Studies (UGS) is responsible for activating this and other objectives related to student success. The primary role the director of the LEAP Program plays is leadership of the LEAP faculty and peer mentors who support 700-750 students annually. The director keeps vital the vision and mission for LEAP and learning communities as a core element in the Utah Pledge, and the University of Utah's guarantee that every first-year student can choose a LC that matches their interests and goals. As a member of the core UGS leadership team, the director is part of new initiatives supporting student success and establishes and helps grow partnerships across campus.
The LEAP Learning Community is a year-long learning community that enables new students to transition more confidently to college and to play an active role in their own education. Students stay with the same classmates and faculty member, while taking courses that satisfy general education and graduation requirements, in small classes throughout the year. LEAP students participate in social and service activities with other students and with Peer Advisors.
To see a list of all responsibilities of LEAP Program director, click here.
Qualifications
Required qualifications include a Ph.D. and an outstanding record in teaching at the college and university level.  Position is open to tenure/tenure track and career line faculty. Administrative and assessment experience preferred.
How to apply
Please send a cover letter and CV to Andrea Haag (a.haag@ugs.utah.edu). The search committee will begin reviewing files Feb. 27, 2017. Please send questions about the position to Ann Darling (ann.darling@utah.edu), chair of the search committee.
For more information, visit the LEAP director search page.[/bs_col][/bs_row]
---
SECOND ANNUAL CLEAN AIR FOR U: A TRAVELWISE CHALLENGE
Month of February
Track your trips at tinyurl.com/Ucleanair[bs_row class="row"][bs_col class="col-sm-4″]
[/bs_col]
[bs_col class="col-sm-8″]Drive less to help clean the air. Walk, bike, take TRAX, ride buses and shuttles — do whatever you can to not drive alone. Then, log those trips at tinyurl.com/Ucleanair throughout February to see your contribution to better air.
Mobile sources, including personal vehicles, are responsible for nearly half of all winter PM 2.5-related emissions that contribute to the unhealthy air. Together, we can make a difference.
Read more here.[/bs_col][/bs_row]
---