JUMP TO:
New Duo 2FA feature allows 12 hours of access
Professor Off Campus
Red Butte Garden's Bulbs and Blooms
Alta call for nominations
LEAP program director search
Help us recognize our strong faculty: Nominate someone today
Save the date: Edie Kochenour Memorial Lecture on March 3
Second annual Clean Air for U: A Travelwise Challenge

---
New Duo 2FA feature allows 12 hours of access[bs_row class="row"][bs_col class="col-sm-4″]
[/bs_col]
[bs_col class="col-sm-8″]University employees can now select a "remember me for 12 hours" setting when signing in with Duo two-factor authentication (2FA), thus requiring the employee to use Duo 2FA less frequently in a given workday.
The setting is browser-based and will work only if the employee is accessing a Central Authentication Service (CAS)-protected resource from the same browser used to enable the 12-hour setting. Once the "Remember me" checkbox has been checked, it will remain checked by default unless the browser cache is cleared.
Please note that employees are strongly encouraged to use the Duo Push method (via smartphone or tablet app) whenever possible, as both the phone call and passcode via SMS options incur costs to the University.
Visit the 2FA site for general information about 2FA at the U.[/bs_col][/bs_row]
---
PROFESSOR OFF CAMPUS[bs_row class="row"][bs_col class="col-sm-4″]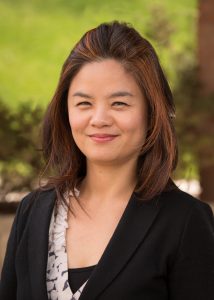 [/bs_col]
[bs_col class="col-sm-8″]The Obert C. and Grace A. Tanner Humanities Center at the University of Utah selected professor Jaehee Yi from the College of Social Work to serve as the 2017-2018 Professor Off Campus.
The goals of this program are to heighten campus awareness of local needs, foster an appreciation of service work by U faculty, strengthen dialogue between campus and community and build tolerance and respect in our diverse city. Yi's project, "Photo Storytelling as Depression Intervention for Second-Generation Immigrant Adolescent Latinas" will begin fall 2017.
In collaboration with therapists at Community Health Centers, Inc. of Utah, Yi will develop a community-based mental health treatment  program. Her project will use photo storytelling, a new intervention method, to help reduce and manage depression for adolescent Latinas and integrate photo storytelling into supportive group therapy sessions. By sharing their experiences with family members, mental health providers and the general community through photo storytelling, Latina participants will help raise awareness about the mental health needs of their peers.[/bs_col][/bs_row]
---
RED BUTTE GARDEN'S BULBS AND BLOOMS[bs_row class="row"][bs_col class="col-sm-4″]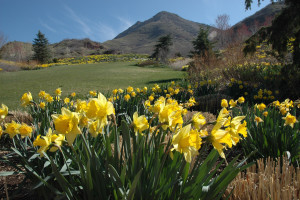 [/bs_col]
[bs_col class="col-sm-8″]Since 2013, Red Butte Garden has been recognized as an Official Daffodil Display Garden by the American Daffodil Society.
Visit the garden this spring to see 450,000 blooming bulbs. Of those, 230,000 are daffodils (Narcissus). Other bulbs include Allium, Camasia, Cyclamen, Eremurus, Galanthus, Hyacinthus, Iris, Lycoris and more.
All bulbs don't bloom at the same time.
Different varieties peak at different times, so be sure to visit often to see all that will be blooming this spring. For more information, go here.[/bs_col][/bs_row]
---
ALTA CALL FOR NOMINATIONS[bs_row class="row"][bs_col class="col-sm-4″]
[/bs_col]
[bs_col class="col-sm-8″]Celebrate sustainability leadership on campus by nominating yourself or a colleague for an Alta Sustainability Leadership Award. These Awards recognize excellence in leadership in the areas of campus as a living lab, community partnership, sustainability education, and research. Thanks to the generous partnership of the Alta Ski Resort, an award of $2500 will be given to each recipient. All students, faculty, and staff eligible to participate.
Submit the nomination form by Feb. 28, 2017.[/bs_col][/bs_row]
---
LEAP PROGRAM DIRECTOR SEARCH[bs_row class="row"][bs_col class="col-sm-4″]
[/bs_col]
[bs_col class="col-sm-8″]LEAP (Learning, Engagement, Achievement, Progress) is in search of a new director.
A key objective of the University of Utah is to expand existing and create new learning communities (LC) to increase retention and completion. The Office of Undergraduate Studies (UGS) is responsible for activating this and other objectives related to student success. The primary role the director of the LEAP Program plays is leadership of the LEAP faculty and peer mentors who support 700-750 students annually. The director keeps vital the vision and mission for LEAP and learning communities as a core element in the Utah Pledge, and the University of Utah's guarantee that every first-year student can choose a LC that matches their interests and goals. As a member of the core UGS leadership team, the director is part of new initiatives supporting student success and establishes and helps grow partnerships across campus.
The LEAP Learning Community is a year-long learning community that enables new students to transition more confidently to college and to play an active role in their own education. Students stay with the same classmates and faculty member, while taking courses that satisfy general education and graduation requirements, in small classes throughout the year. LEAP students participate in social and service activities with other students and with Peer Advisors.
To see a list of all responsibilities of LEAP Program director, click here.
Qualifications
Required qualifications include a Ph.D. and an outstanding record in teaching at the college and university level.  Position is open to tenure/tenure track and career line faculty. Administrative and assessment experience preferred.
How to apply
Please send a cover letter and CV to Andrea Haag (a.haag@ugs.utah.edu). The search committee will begin reviewing files Feb. 27, 2017. Please send questions about the position to Ann Darling (ann.darling@utah.edu), chair of the search committee.
For more information, visit the LEAP director search page.[/bs_col][/bs_row]
---
MARK YOUR CALENDARS FOR THE EDIE KOCHENOUR MEMORIAL LECTURE AT NOON ON FRIDAY, MARCH 3, 2017[bs_row class="row"][bs_col class="col-sm-4″]
[/bs_col]
[bs_col class="col-sm-8″]This year we are excited to welcome Jennifer Azzi as our speaker. She is a former WNBA player with seven Hall of Fame inductions, an Olympic Gold Medal, a Stanford National Championship, the Naismith Award, and the Wade Trophy. Azzi also played as a guard for our local Utah Starzz for three seasons, leading in minutes played and in 2000, leading the league in free-throw percentage.
Azzi is a well-respected coach, speaker and author who actively represents the sport, both locally and internationally. Azzi's lecture, Crossing the Half-Court: Women Breaking Boundaries, will address the success she has had pushing the needle on diversity efforts, and how we in higher education should think differently about creating similar successes, not just in sports, but in life.
This topic is particularly important realizing the low success of diversity efforts, despite trying. A symposium consisting of several smaller discussions centered around topics of diversity will follow Azzi's noon lecture. There will be a light lunch preceding the lecture.
Additional details and a registration link will be available soon.[/bs_col][/bs_row]
---
SECOND ANNUAL CLEAN AIR FOR U: A TRAVELWISE CHALLENGE
Month of February
Track your trips at tinyurl.com/Ucleanair[bs_row class="row"][bs_col class="col-sm-4″]
[/bs_col]
[bs_col class="col-sm-8″]Drive less to help clean the air. Walk, bike, take TRAX, ride buses and shuttles — do whatever you can to not drive alone. Then, log those trips at tinyurl.com/Ucleanair throughout February to see your contribution to better air.
Mobile sources, including personal vehicles, are responsible for nearly half of all winter PM 2.5-related emissions that contribute to the unhealthy air. Together, we can make a difference.
Read more here.[/bs_col][/bs_row]
---
IVORY PRIZE: CALL FOR NOMINATIONS[bs_row class="row"][bs_col class="col-sm-4″]
[/bs_col]
[bs_col class="col-sm-8″]To encourage student involvement and leadership, Clark Ivory, former chair of the University of Utah Board of Trustees, established the Ivory Prize for Excellence in Student Leadership. This prestigious award recognizes extraordinary and influential student-led projects that positively impact the campus and/or the broader community. The recipient(s) receives a $2,000 award and up to $10,000 to invest in the program or effort for which they are being recognized.
Those who have graduated from the U since 2011 (within the last five years), as well as those currently enrolled in undergraduate or graduate degree programs, are eligible. Self-nominations are welcome.
Nominations are due Friday, Feb. 24.[/bs_col][/bs_row]