JUMP TO:
Election-related media requests
Academic Senate recap
NCSAM Week 3: Education and Jobs in Cybersecurity at the U
L2TReC Joins Title VI Language Resource Center Community
2018 Triple I Initiative Team Building Grants
John R. Park Teaching Fellowships
Community Engaged Teaching and Scholarship Award
Applications for Taft-Nicholson Environmental Humanities Education Center
Applications open for ASUU government positions
Nominate an outstanding academic advisor
Big messes, big solutions
October is Domestic and Dating Violence Awareness Month
Inclusive Access saves students 70-80 percent on textbooks
Distinguished Professor Nominations

---
Election-Related Media Requests[bs_row class="row"][bs_col class="col-sm-4″]
[/bs_col][bs_col class="col-sm-8″]As the November election draws near, University of Utah employees may be asked to comment by media outlets on ballot initiatives that are up for vote. University of Utah remains neutral on all the ballot initiatives but is committed to being a trusted source for expert information.
As a reminder, employees who wish to engage in ballot initiative-related advocacy activities must do so on their own time and with their own resources. For instance, they may not use university email accounts for this purpose. In addition, employees who choose to share their personal opinion with media are expected to make it clear that they are speaking on their own behalf and not on behalf of the university. [/bs_col][/bs_row]
---
ACADEMIC SENATE RECAP[bs_row class="row"][bs_col class="col-sm-4″]
[/bs_col][bs_col class="col-sm-8″]On Monday, Oct. 1, 2018, the Academic Senate met and meeting highlights include:
The Senate passed the Staff Paid Parental Leave Rule 5-200A.
New Athletics Director Mark Harlan gave an update on Utah Athletics
U Chief of Police Dale Brophy, Joe Ashurst and Cory Higgins presented a proposal for updating University building access and surveillance policies.
The next Senate meeting will be Monday, Nov. 5, in the Moot Courtroom (6th floor) of the College of Law. Meetings are open to the public. The agenda will be posted here approximately one week before.[/bs_col][/bs_row]
---
NCSAM WEEK 3: EDUCATION AND JOBS IN CYBERSECURITY AT THE U[bs_row class="row"][bs_col class="col-sm-4″]
[/bs_col][bs_col class="col-sm-8″]As cybercrime and cyberthreats increase, so too does the demand for an educated workforce to combat them. While more than 768,000 people were employed in cybersecurity as of March 2018, another 301,000 jobs remained open across the United States, according to CyberSeek.org. In Utah alone, CyberSeek.org estimates 2,115 job openings in cybersecurity. And that's a problem.
"A key risk to our economy and security continues to be the shortage of cybersecurity professionals to safeguard our ever-expanding cyber ecosystem," according to StaySafeOnline.org, the website for the National Cyber Security Alliance.
But educators and employers can build stronger defenses, StaySafeOnline.org says, by "raising the next generation of interested and capable cybersecurity professionals."
"There are limitless opportunities to educate students of all ages — from high school into higher education and beyond — on the field of cybersecurity as they consider their options," according to StaySafeOnline.org. "In addition, veterans and individuals who are looking for a new career or re-entering the workforce should explore the multitude of well-paying and rewarding jobs available."
Already, the U is at the forefront of bridging the skills gap with academic offerings, including majors in computer engineering, computer science, and information systems, and Student University Development Opportunity, its in-house paid IT internship program.
UIT and the Information Security Office (ISO), in particular, have been able to leverage the sUdo program to augment U degrees with the applied experience students need to enter the workforce.
ISO employs 10 students in a variety of security positions, including Identity Access Management, Information Security Assurance, and Monitoring and Logging. These students work closely with full-time employees, learning the skills and techniques that will allow them to be successful in a cybersecurity career. In fact, 98 percent of students leaving ISO are able to move directly into full-time positions either within the University of Utah or the private sector.[/bs_col][/bs_row]
---
L2TREC JOINS TITLE VI LANGUAGE RESOURCE CENTER COMMUNITY [bs_row class="row"][bs_col class="col-sm-4″]
[/bs_col][bs_col class="col-sm-8″]The Second Language Teaching and Research Center (L2TReC) at the University of Utah, under the leadership of co-directors Fernando Rubio and Jane Hacking, was recently designated a Title VI National Foreign Language Resource Center. Every four years, the U.S. Department of Education designates sixteen Title VI centers across the country to support language teaching and learning. L2TReC was founded six years ago and has worked over the past several years to position itself for this successful Title VI application.
The mission of L2TReC and the focus of its funded four-year proposal is to support coherent sequences of language instruction across K-16 education. If the nation is to meet the need for citizens with advanced proficiency in a second language, our education system must introduce second language study early and ensure that students can continue their study as they move through levels of schooling. With 40,000 students studying six languages in immersion programs and many adults who have lived abroad, Utah is a particularly fertile landscape for identifying and disseminating curricular and pedagogical practices that promote effective second language learning.
Over the next four years, L2TReC will continue to work closely with the Utah State Board of Education to develop a video library of effective teaching practices in K-9 immersion programs and in advanced language and culture classes for high school and college students. L2TReC will also leverage the (Mu)ltilingual (S)poken (Se)cond (L)anguage (MuSSeL) learner corpus it has been developing to deliver workshops and online modules for teachers to recognize and address patterns of difficulty in language learning.
Finally, L2TReC will address a crucial issue of access and equity by training native speakers of Nepali, Tongan, and Samoan to develop a proficiency assessment so that heritage speakers of these languages have access to the Seal of Biliteracy upon high school graduation. As many states across the country have experienced, issuing Seals of Biliteracy for less commonly taught languages can be a challenge and represents a significant barrier for learners. By documenting and sharing the process of working with heritage communities to create assessment tools, our work can be replicated in other communities across the country.
For more information, visit l2trec.utah.edu.[/bs_col][/bs_row]
---
2018 TRIPLE I INITIATIVE TEAM BUILDING GRANTS[bs_row class="row"][bs_col class="col-sm-4″]
[/bs_col][bs_col class="col-sm-8″]Internal submission deadline: Thursday, Nov. 1, 2018
The Immunology, Inflammation and Infectious Disease (III) Initiative at the University of Utah is pleased to announce a request for proposals for collaborative research projects. The goal of this program is to promote collaborations and provide funding support to enhance preliminary/project data that will allow competitive applications for multi-PI extramural funding by the NIH or other agencies and foundations, such as multi-PI R01s and P01s. Click here for more information.[/bs_col][/bs_row]
---
JOHN R. PARK TEACHING FELLOWSHIPS[bs_row class="row"][bs_col class="col-sm-4″]
[/bs_col][bs_col class="col-sm-8″]Deadline: Friday, Nov. 2, 2018
The Park Fellowships are awarded to faculty who will undertake one-semester activity during the 2019-2020 academic year to study at a site outside the state of Utah with the purpose of enriching and enlarging the individual's teaching role. Tenure-line and Career-line faculty are eligible. Preference will be given to applicants whose primary affiliation is as faculty at the University of Utah. Each award is for $5,000 with the possibility of an additional $5,000 to the faculty member's department to help defray costs for released time. These awards will be announced in December 2018. Click here for more information.[/bs_col][/bs_row]
---
COMMUNITY ENGAGED TEACHING AND SCHOLARSHIP AWARD[bs_row class="row"][bs_col class="col-sm-4″]
[/bs_col][bs_col class="col-sm-8″]Deadline: Friday, Nov. 2, 2018
The CES Award recognizes and rewards a University of Utah faculty member of any rank for high-quality work that integrates teaching, research and community engagement.  The award recognizes faculty who show a record of successful teaching and research that is carried out through long-term, collaborative community-engaged partnerships that address a community-identified need or priority. These awards will be announced in December 2018. Click here for more information.[/bs_col][/bs_row]
---
APPLICATIONS FOR TAFT-NICHOLSON ENVIRONMENTAL HUMANITIES EDUCATION CENTER[bs_row class="row"][bs_col class="col-sm-4″]
[/bs_col][bs_col class="col-sm-8″]The University of Utah's Taft-Nicholson Environmental Humanities Education Center is a unique education destination focused on engaging the humanities to deepen and enliven environmental study. In addition to offering powerful educational opportunities and experiences, it is also a perfect launching point for exploration of Montana's beautiful Centennial Valley and the surrounding region.
The Taft-Nicholson Center is now accepting applications for the 2019 season. Applications for courses, workshops
and
events are due Oct. 31, 2018. Please visit the website to learn about the center and to submit an application.[/bs_col][/bs_row]
---
APPLICATIONS OPEN FOR ASUU GOVERNMENT POSITIONS[bs_row class="row"][bs_col class="col-sm-4″]
[/bs_col][bs_col class="col-sm-8″]A great way to get involved on campus is to join ASUU! The Associated Students of the University of Utah are looking for students who want to make a change. A great way to do that is to run in this year's upcoming election. Students are able to run for executive positions like president or run for legislate positions in either senate or assembly. The filing forms are now open for all ASUU positions. Visit the Elections Information page and click "Candidate Information" to find out more.
Click "Forms" to find the right filing form for you or email the Elections Registrar Caroline Ranger at cranger@asuu.utah.edu with questions.[/bs_col][/bs_row]
---
NOMINATE AN OUTSTANDING ACADEMIC ADVISOR[bs_row class="row"][bs_col class="col-sm-4″]

[/bs_col][bs_col class="col-sm-8″]Do you know an academic advisor who has made a positive impact on campus and for students? Nominations are now being accepted from students, staff
and
faculty for the Outstanding Advisor Award and Outstanding New Advisor Award. Nominations are quick and easy!  The deadline to nominate is Nov. 2, 2018.
The awards recognize University of Utah academic advisors who have demonstrated qualities associated with outstanding advising of students such as:
Approaches advising as teaching
Strong interpersonal skills
Available to advisees
Reaches out and supports underserved populations
Makes appropriate referrals
Uses and disseminates appropriate information sources
Caring, helpful attitude toward advisees, faculty and staff
Works with students outside of the office in formal university-related activities
Monitors advisee progress toward academic and career goals
Mastery of institutional regulations, policies, and procedures
Participates in and supports advisor development programs
Proactive; builds relationships with advisees and follows up
Practices developmental advising
It only takes a few moments to complete the nomination process. Please click here to nominate your favorite advisor.
Additional questions can be addressed to Michelle Brooks or Nicole O'Shea (nicole.oshea@utah.edu) (michelle.brooks@utah.edu). Consider recognizing an outstanding advisor at the U by submitting a nomination today.[/bs_col][/bs_row]
---
Big Messes, Big Solutions[bs_row class="row"][bs_col class="col-sm-4″]
[/bs_col][bs_col class="col-sm-8″]The U's custodial crews keeps campus clean day in and day out. They work tirelessly across campus to ensure all aspects of our campus buildings pleasant to work in. But they can do so much more when needed.
Custodial Specialty Services is a resource for all of campus to utilize. They specialize in:
Carpet cleaning, see district schedule below
Window washing both inside and out
Upholstery cleaning
Lighting fixtures, above 12 ft.
Offices and departments no longer need to contract with expensive outside providers. This team saves money across campus by providing all these services with
in-house
crew.
For requests, questions, or quotes contact Todd Stoneking, supervisor of Custodial Specialty Services Crew, via email: todd.stoneking@fm.utah.edu.
Carpet Cleaning Schedule—Additional carpet cleaning services can be requested through a Service Request
District 1 (President): July – September
District 2 (Science): September – October
District 3 (Venue): October – November
District 4 (Engineering): December – February
District 5 (Academic): February – May
District 6 (Health Science): April – June
Find out what district you are in with the district map or submit a work request.[/bs_col][/bs_row]
---
OCTOBER IS DOMESTIC AND DATING VIOLENCE AWARENESS MONTH[bs_row class="row"][bs_col class="col-sm-4″]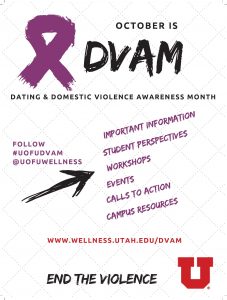 [/bs_col][bs_col class="col-sm-8″]Domestic and dating violence are violence and abuse that occurs between two people in a close relationship. Domestic violence can include physical and sexual violence, stalking and/or emotional and mental abuse by a current or former partner. Join campus partners throughout the month for important information, student perspectives, workshops, events, calls to action and campus resources by following @uofuwellness and #uofudvam and visiting this website.[/bs_col][/bs_row]
---
INCLUSIVE ACCESS SAVES STUDENTS 70-80 PERCENT ON TEXTBOOKS [bs_row class="row"][bs_col class="col-sm-4″]
[/bs_col][bs_col class="col-sm-8″]As part of its ongoing effort to support students and faculty in meaningful ways, the University Campus Store and Campus Store Health now offer an Inclusive Access program that helps students save 70-80 percent on course materials—a welcome alternative to the high cost of textbooks with the added convenience of accessing materials online the first day of class.
Inclusive Access puts your textbooks online for ease of access, making them available anytime, anywhere, especially on the first day of class. So no more out-of-stock textbooks or waiting for the book to arrive. Any course is eligible for Inclusive Access and the fee is paid by the student along with the course tuition, eliminating the need to search for and purchase textbooks independently.
In Fall 2017 Semester, over 7,400 students utilized Inclusive Access and each saved an average of 60 percent on their course materials, totaling more than $620,000 saved for one semester. Students can conveniently view their textbooks online, track their progress from assignment to assignment and communicate with other students in their class. Professors can also communicate with students, as well as provide updates and announcements online.
Join the 40 courses already using Inclusive Access by contacting Shane Girton, senior associate director of the Campus Store, at sgirton@campusstore.utah.edu or 801-581-8296. He'll be happy to work with you on developing a cost-saving textbook program for your course as well.
Hit the ground running on day one next semester while helping your students save money through Inclusive Access.[/bs_col][/bs_row]
---
DISTINGUISHED PROFESSOR NOMINATIONS[bs_row class="row"][bs_col class="col-sm-4″]
[/bs_col][bs_col class="col-sm-8″]Nominations are being solicited for the rank of Distinguished Professor.  Nominations from all parts of the campus are strongly encouraged.
Policy and Procedures 6-300 states, "The rank of Distinguished Professor is reserved for selected individuals whose achievements exemplify the highest goals of scholarship as demonstrated by recognition accorded to them from peers with national and international stature, and whose record includes evidence of a high dedication to teaching as demonstrated by recognition accorded to them by students and/or colleagues."  A person should not ordinarily be recommended to the distinguished professorship unless she/he is a member of the faculty who has completed eight years of service at the University of Utah prior to the nomination.
The nomination and selection of Distinguished Professors occur annually. Repeat nominations are permissible up to three years.  After three years, the nominee must wait two years before being eligible for re-nomination.  Regarding repeat nominations, we encourage nominators and/or other professors to add any additional information to update the file that they deem important for this year's consideration.
All nominations must be submitted electronically. A list of current Distinguished Professors, nomination guidelines and forms can be found online.
Nomination forms and curriculum vitae must be submitted no later than Wednesday, Oct. 31, 2018.
Questions, please contact the Distinguished Professor Advisory Committee.[/bs_col][/bs_row]
---