JUMP TO:
New staff parental leave rule
Applications for Taft-Nicholson Environmental Humanities Education Center
Jan Miller wins Lifetime Achievement Award
Applications open for ASUU government positions
ARUP Breaks Ground for New Building
Nominate an outstanding academic advisor
NCSAM Week 2: U Policies on Network and Physical Security
Big messes, big solutions
October is Domestic and Dating Violence Awareness Month
Inclusive Access saves students 70-80 percent on textbooks
Distinguished Professor Nominations
Apply to be an Orientation Leader
Crimson Outing Club
Professional Education offers certificates in legal professions
---
NEW STAFF PARENTAL LEAVE RULE[bs_row class="row"][bs_col class="col-sm-4″]
[/bs_col][bs_col class="col-sm-8″]Beginning Jan. 1, the University of Utah will begin offering full-time benefitted employees paid parental leave for the birth or adoption of a child. The new rule provides 50 percent of the staff member's salary for a cumulative six-week period that can be used intermittently during the first year after the birth/adoption.
All eligible employees may receive up to 12 weeks of unpaid leave covered by the federal Family and Medical Leave Act. Sick time accruals will be used first and then vacation accruals will be applied to the time away. Now, parents will receive six weeks of compensation before using their sick and vacation accruals.
Highlights
Benefit will be 50 percent paid leave for up to six weeks for eligible staff.
Child must be born or adopted on or after Jan. 1, 2019.
Employee must hold a full-time benefited staff position and be employed for the prior 12 months.
Leave must be used within 12 months of birth or adoption.
Runs concurrently with FMLA – doesn't extend or defer FMLA leave.
If both parents work for the university, the time can be split between each parent.
Does not apply for staff at the university's hospitals and clinics.
Spearheaded by a sub-committee of the University Staff Council, these dedicated volunteers spent years working to better the lives of their fellow employees. A lot of time was devoted to reading current research, drafting and re-drafting the proposal and working with administrators on finalizing the rule.
[/bs_col][/bs_row]
---
APPLICATIONS FOR TAFT-NICHOLSON ENVIRONMENTAL HUMANITIES EDUCATION CENTER[bs_row class="row"][bs_col class="col-sm-4″]
[/bs_col][bs_col class="col-sm-8″]The University of Utah's Taft-Nicholson Environmental Humanities Education Center is a unique education destination focused on engaging the humanities to deepen and enliven environmental study. In addition to offering powerful educational opportunities and experiences, it is also a perfect launching point for exploration of Montana's beautiful Centennial Valley and the surrounding region.
The Taft-Nicholson Center is now accepting applications for the 2019 season. Applications for courses, workshops and events are due Oct. 31, 2018. Please visit the website to learn about the center and to submit an application.[/bs_col][/bs_row]
---
JAN MILLER WINS LIFETIME ACHIEVEMENT AWARD[bs_row class="row"][bs_col class="col-sm-4″]
[/bs_col][bs_col class="col-sm-8″]The winner of the 2018 International Mineral Processing Congress (IMPC) Lifetime Achievement Award is Jan D. Miller, Ivor D. Thomas Distinguished Professor in the Department of Metallurgical Engineering at the University of Utah. At the University of Utah, Miller has devoted over 40 years to undergraduate and graduate education. His research covers mainly the areas of mineral processing and hydrometallurgy, specializing in particle characterization, aqueous solution chemistry and colloid and surface chemistry. He is a member of SME, TMS and ACS. The recipient of numerous honors and awards, he was elected to the National Academy of Engineering in 1993. In recent years he has become a world leader in the field of x-ray tomography in minerals processing.[/bs_col][/bs_row]
---
APPLICATIONS OPEN FOR ASUU GOVERNMENT POSITIONS[bs_row class="row"][bs_col class="col-sm-4″]
[/bs_col][bs_col class="col-sm-8″]A great way to get involved on campus is to join ASUU! The Associated Students of the University of Utah are looking for students who want to make a change. A great way to do that is to run in this year's upcoming election. Students are able to run for executive positions like president or run for legislate positions in either senate or assembly. The filing forms are now open for all ASUU positions. Visit the Elections Information page and click Candidate Information to find our more. Click Forms to find the right Filing form for you. Or email the Elections Registrar Caroline Ranger at cranger@asuu.utah.edu with questions.[/bs_col][/bs_row]
---
ARUP BREAKS GROUND FOR NEW BUILDING[bs_row class="row"][bs_col class="col-sm-4″]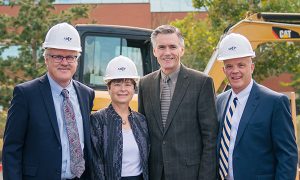 [/bs_col][bs_col class="col-sm-8″]Hundreds of ARUP employees joined ARUP and University of Utah leadership on a warm, autumn day to witness the groundbreaking for what will be ARUP's fifth building in Research Park, providing an additional 200,000 square feet of laboratory space.
The building will provide employees with plenty of natural light and mountain views through more than 18,500 square feet of windows. It will be located directly across from where most of ARUP's 65 labs are currently located—a building that was constructed almost 30 years ago.
This centralization of labs allows for easy collaboration among ARUP's pathology experts, most of whom hold a faculty position at the U of U Medical School. It can also expedite turnaround time for certain tests that may depend on the interaction of multiple labs.
Read more here.[/bs_col][/bs_row]
---
NOMINATE AN OUTSTANDING ACADEMIC ADVISOR[bs_row class="row"][bs_col class="col-sm-4″]

[/bs_col][bs_col class="col-sm-8″]Do you know an academic advisor who has made a positive impact on campus and for students? Nominations are now being accepted from students, staff and faculty for the Outstanding Advisor Award and Outstanding New Advisor Award. Nominations are quick and easy!  The deadline to nominate is Nov. 2, 2018.
The awards recognize University of Utah academic advisors who have demonstrated qualities associated with outstanding advising of students such as:
Approaches advising as teaching
Strong interpersonal skills
Available to advisees
Reaches out and supports underserved populations
Makes appropriate referrals
Uses and disseminates appropriate information sources
Caring, helpful attitude toward advisees, faculty and staff
Works with students outside of the office in formal university-related activities
Monitors advisee progress toward academic and career goals
Mastery of institutional regulations, policies, and procedures
Participates in and supports advisor development programs
Proactive; builds relationships with advisees and follows up
Practices developmental advising
It only takes a few moments to complete the nomination process. Please click here to nominate your favorite advisor.
Additional questions can be addressed to Michelle Brooks or Nicole O'Shea (nicole.oshea@utah.edu) (michelle.brooks@utah.edu). Consider recognizing an outstanding advisor at the U by submitting a nomination today.[/bs_col][/bs_row]
---
NCSAM WEEK 2: POLICIES ON NETWORK AND PHYSICAL SECURITY[bs_row class="row"][bs_col class="col-sm-4″]
[/bs_col][bs_col class="col-sm-8″]We live in a digital world — now more than ever. And while being constantly connected offers myriad opportunities to experience the world through a different lens, it also increases risks to our privacy and security.
The reality is, no one is immune to cyberthreats. But we can protect against them.
For the fifth year, University Information Technology (UIT) is participating in the National Cyber Security Awareness Month (NCSAM) campaign, during which we'll discuss the many threats to your online security and actions you can take to avoid them.
This week, we're talking about network and physical security, including ways U students, faculty, and staff can protect their data and devices, as well as those owned by the university.
Missed last week's topic? Catch up here.[/bs_col][/bs_row]
---
Big Messes, Big Solutions[bs_row class="row"][bs_col class="col-sm-4″]
[/bs_col][bs_col class="col-sm-8″]The U's custodial crews keeps campus clean day in and day out. They work tirelessly across campus to ensure all aspects of our campus buildings pleasant to work in. But they can do so much more when needed.
Custodial Specialty Services is a resource for all of campus to utilize. They specialize in:
Carpet cleaning, see district schedule below
Window washing both inside and out
Upholstery cleaning
Lighting fixtures, above 12 ft.
Offices and departments no longer need to contract with expensive outside providers. This team saves money across campus by providing all these services with in-house crew.
For requests, questions, or quotes contact Todd Stoneking, supervisor of Custodial Specialty Services Crew, via email: todd.stoneking@fm.utah.edu.
Carpet Cleaning Schedule—Additional carpet cleaning services can be requested through a Service Request
District 1 (President): July – September
District 2 (Science): September – October
District 3 (Venue): October – November
District 4 (Engineering): December – February
District 5 (Academic): February – May
District 6 (Health Science): April – June
Find out what district you are in with the district map or submit a work request.[/bs_col][/bs_row]
---
OCTOBER IS DOMESTIC AND DATING VIOLENCE AWARENESS MONTH[bs_row class="row"][bs_col class="col-sm-4″]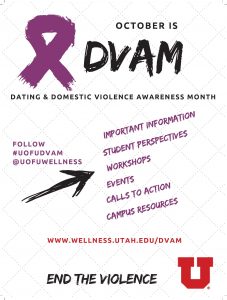 [/bs_col][bs_col class="col-sm-8″]Domestic and dating violence are violence and abuse that occurs between two people in a close relationship. Domestic violence can include physical and sexual violence, stalking and/or emotional and mental abuse by a current or former partner. Join campus partners throughout the month for important information, student perspectives, workshops, events, calls to action and campus resources by following @uofuwellness and #uofudvam and visiting this website.[/bs_col][/bs_row]
---
INCLUSIVE ACCESS SAVES STUDENTS 70-80 PERCENT ON TEXTBOOKS [bs_row class="row"][bs_col class="col-sm-4″]
[/bs_col][bs_col class="col-sm-8″]As part of its ongoing effort to support students and faculty in meaningful ways, the University Campus Store and Campus Store Health now offer an Inclusive Access program that helps students save 70-80 percent on course materials—a welcome alternative to the high cost of textbooks with the added convenience of accessing materials online the first day of class.
Inclusive Access puts your textbooks online for ease of access, making them available anytime, anywhere, especially on the first day of class. So no more out-of-stock textbooks or waiting for the book to arrive. Any course is eligible for Inclusive Access and the fee is paid by the student along with the course tuition, eliminating the need to search for and purchase textbooks independently.
In Fall 2017 Semester, over 7,400 students utilized Inclusive Access and each saved an average of 60 percent on their course materials, totaling more than $620,000 saved for one semester. Students can conveniently view their textbooks online, track their progress from assignment to assignment and communicate with other students in their class. Professors can also communicate with students, as well as provide updates and announcements online.
Join the 40 courses already using Inclusive Access by contacting Shane Girton, senior associate director of the Campus Store, at sgirton@campusstore.utah.edu or 801-581-8296. He'll be happy to work with you on developing a cost-saving textbook program for your course as well.
Hit the ground running on day one next semester while helping your students save money through Inclusive Access.[/bs_col][/bs_row]
---
DISTINGUISHED PROFESSOR NOMINATIONS[bs_row class="row"][bs_col class="col-sm-4″]
[/bs_col][bs_col class="col-sm-8″]Nominations are being solicited for the rank of Distinguished Professor.  Nominations from all parts of the campus are strongly encouraged.
Policy and Procedures 6-300 states, "The rank of Distinguished Professor is reserved for selected individuals whose achievements exemplify the highest goals of scholarship as demonstrated by recognition accorded to them from peers with national and international stature, and whose record includes evidence of a high dedication to teaching as demonstrated by recognition accorded to them by students and/or colleagues."  A person should not ordinarily be recommended to the distinguished professorship unless she/he is a member of the faculty who has completed eight years of service at the University of Utah prior to the nomination.
The nomination and selection of Distinguished Professors occur annually. Repeat nominations are permissible up to three years.  After three years, the nominee must wait two years before being eligible for re-nomination.  Regarding repeat nominations, we encourage nominators and/or other professors to add any additional information to update the file that they deem important for this year's consideration.
All nominations must be submitted electronically. A list of current Distinguished Professors, nomination guidelines and forms can be found online.
Nomination forms and curriculum vitae must be submitted no later than Wednesday, Oct. 31, 2018.
Questions, please contact the Distinguished Professor Advisory Committee.[/bs_col][/bs_row]
---
APPLY TO BE AN ORIENTATION LEADER[bs_row class="row"][bs_col class="col-sm-4″]
[/bs_col][bs_col class="col-sm-8″]The Orientation Leader position provides students the unique leadership opportunity to officially welcome new students to the University of Utah. Orientation Leaders are hired to ease the transition of new first-year students, transfer students, and their families as they begin their relationship with the institution through New Student Orientation.
Orientation Leaders aid in the academic, social and cultural acclimation to the university. Orientation Leaders also serve as a resource for new students and their families by providing honest and current information about any and all aspects of the U.
For more information and to apply, click here.
Applications due Oct. 15 by 5 p.m.[/bs_col][/bs_row]
---
Crimson Outing Club[bs_row class="row"][bs_col class="col-sm-4″]
[/bs_col][bs_col class="col-sm-8″]Crimson Outing Club specializes in the outdoors- come along for hiking, food, and games! Meetings are once a month with weekly activities. Trips consist of different outdoor activities inspired by members, and monthly meetings include expert Q&A's, gear trading and job opportunities in the great outdoors. We're planning on some camping trips before ski season starts, so be sure to sign up.
Members of the Crimson Outing Club at Neffs Canyon.
Follow @thecrimsonoutingclub on Instagram and Facebook to sign up for our email list and get more information.[/bs_col][/bs_row]
---
PROFESSIONAL EDUCATION OFFERS CERTIFICATES IN LEGAL PROFESSIONS[bs_row class="row"][bs_col class="col-sm-4″]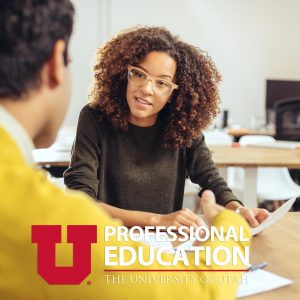 [/bs_col][bs_col class="col-sm-8″]Professional Education at the University of Utah offers several certificates in legal professions. The certificate programs are designed for busy professionals in a flexible, online format. Certificates of particular interest to U employees are the Legal Nurse Consultant Training Certificate and the Victim Advocacy Certificate. Courses begin Oct. 15, 2018, and run for seven weeks.
If you are interested in either of these programs, they can contact Rori Douros at 801-587-0139 or go to proed.utah.edu.[/bs_col][/bs_row]
---