JUMP TO:
Report suspected fraud or abuse
The STEM Ambassador Program is recruiting 20 U faculty and graduate students for the 2017 cohort
Nominate students at the U to be featured in the next edition of "Student Innovation @ the U"
Want not. Waste not. Opt out.
U alum named director of NOAA water center
David Carter named 2017 fellow by American Society for Public Administration
Winter break hours and library closure dates
Hinckley Journal of Politics accepting submissions
Massage therapy expands hours to Saturday and Sunday
Give the gift of wellness: Campus Recreation Services gift certificates now on sale
Personal training sessions at the Student Life Center
Customized holiday gifts by University Print & Mail
U holiday cards
University Teaching Committee awards
Utah Red Zone Fan Cave Giveaway presented by America First Credit Union
---
DO THE RIGHT THING – REPORT SUSPECTED FRAUD OR ABUSE[bs_row class="row"][bs_col class="col-sm-4″]
[/bs_col]
[bs_col class="col-sm-8″]The University is committed to the highest standards of ethical conduct and encourages employees and others to report any dishonest or improper act that violates the law, wastes money, or endangers public health or safety. Employees are encouraged to report suspected improprieties to their supervisor or to a higher authority if the supervisor is involved. Also, the University has an ongoing contract with EthicsPoint, a private company, to administer an ethics and compliance hotline: 888-206-6025 or online at EthicsPoint. This service ensures confidentiality and provides 24/7 availability.
Hotline reports are regularly investigated, and often assist university leaders to halt improper behavior, address policy violations and resolve other problems. Past reports have been instrumental in correcting issues such as misuse of university resources and unauthorized hiring of relatives.
If you suspect or know of fraud or abuse, report it to management. If you feel unable to communicate your concerns directly to management or another appropriate university department, use the hotline. Provide details—names, dates, times, amounts, circumstances, witnesses, etc. You can even check back and respond to questions from the person investigating your report without divulging your identity.[/bs_col][/bs_row]
---
THE STEM AMBASSADOR PROGRAM IS RECRUITING 20 U FACULTY AND GRADUATE STUDENTS FOR THE 2017 COHORT
DEADLINE IS TODAY, DEC. 12, 2016[bs_row class="row"][bs_col class="col-sm-4″]
[/bs_col]
[bs_col class="col-sm-8″]The STEM Ambassador Program (STEMAP) is an NSF-funded research and public engagement project directed by Dr. Nalini Nadkarni in the Biology Department at the University of Utah. STEMAP offers time-efficient training in public engagement, with an emphasis on connecting U researchers with scientifically underserved public audiences. Through STEMAP, scientists will develop innovative personalized public engagement programs and become "ambassadors" for their work.
In 2016, 20 scientists from a wide range of scientific disciplines participated in the program, including engineering, biology, geology, anthropology and physics. STEMAP staff connected the scientists with a range of public engagement opportunities, offered assistance drafting robust Broader Impacts statements for grant applications and provided logistical support.
The deadline is Monday, Dec. 12, 2016. Click here to apply.[/bs_col][/bs_row]
---
NOMINATE STUDENTS FOR 'STUDENT INNOVATION @ THE U' 2017
Nominations due on Monday, Dec. 19, 2016[bs_row class="row"][bs_col class="col-sm-4″]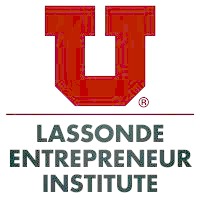 [/bs_col]
[bs_col class="col-sm-8″]Please nominate one or more students at the University of Utah to be featured in the next edition of "Student Innovation @ the U. "Submit nominations here.Lassonde produces this annual publication to celebrate students from all departments who are innovating and making an impact. We feature student inventors, artists, researchers, athletes and entrepreneurs. Click here to see the current edition.[/bs_col][/bs_row]
---
WANT NOT. WASTE NOT. OPT OUT.[bs_row class="row"][bs_col class="col-sm-4″]
[/bs_col]
[bs_col class="col-sm-8″]Every week, the Campus Mail Unit receives five-10 tubs of junk and/or non-deliverable mail. Of that, about 10 percent is addressed incorrectly, which requires resources to find the correct destination and re-route.
First class mail is stamped and returned to sender. Bulk mail, without an endorsement, is shredded and recycled. The University Directory often has an employee's home department address, but not the address for their actual physical location, which requires rerouting and additional processing time.
Campus Mail is asking that employees take the time to remove their names and addresses for junk mailers. Visit the Data & Marketing Association's website to change the types of mail you see by clicking the "Register" button. The best part? You can add multiple addresses such as your home AND work. In about five minutes you can save the U and yourself a lot of time and effort by opting out of receiving junk mail. You can also opt out for those you are a caregiver for, as well as deceased family members.[/bs_col][/bs_row]
---
U ALUM NAMED DIRECTOR OF NOAA WATER CENTER[bs_row class="row"][bs_col class="col-sm-4″]
[/bs_col]
[bs_col class="col-sm-8″]University of Utah civil engineering alum Edward Clark has been named director of the National Oceanic and Atmospheric Administration's (NOAA) National Water Center in Tuscaloosa, AL, effective Dec. 11. He will also serve as the deputy director of the National Weather Service Office of Water Prediction.
Clark previously worked to develop flood forecasting methods in partnership with the National Water Center, the US Geological Survey, and other scientific institutions. He has also served as a hydrological forecaster at the Colorado Basin River Forecast center in Salt Lake City.[/bs_col][/bs_row]
---
DAVID CARTER NAMED 2017 FELLOW BY AMERICAN SOCIETY FOR PUBLIC ADMINISTRATION[bs_row class="row"][bs_col class="col-sm-4″]

[/bs_col]
[bs_col class="col-sm-8″]David P. Carter, an assistant professor of public policy and administration in the Department of Political Science, has received an American Society for Public Administration Founders' Fellowship for 2017.
The society is the largest professional association for public administration and is dedicated to advancing the art, science, teaching and practice of public and non-profit administration.
As a fellow, Carter will participate throughout 2017 in mentoring, webinars and other activities designed to further academic and professional growth. He has been invited to present at the society's annual conference in March.
Carter received bachelor degrees in sociology and psychology from Colorado State University and M.P.A. and Ph.D degrees in public affairs from the University of Colorado. In 2015, Carter received a Staats Emerging Scholar Award from the Network of Schools of Public Policy, Affairs, and Administration.  He joined the U this fall.[/bs_col][/bs_row]
---
WINTER BREAK HOURS AND LIBRARY CLOSURE DATES[bs_row class="row"][bs_col class="col-sm-4″]
[/bs_col]
[bs_col class="col-sm-8″]As part of a pilot project to determine cost savings and user impact over the holidays, the J. Willard Marriott Library will be closed during the U's winter break (Dec. 23, 2016, through Jan. 2, 2017). They recently reviewed the resources required to run the library compared to patron use during that week and estimate the closure will have a low impact on the campus community while providing real savings in areas such as heating and electrical costs. Following this pilot project, the library will evaluate the results and report the findings in 2017.
To provide for those who will require assistance during the three days the library would normally be open (Dec. 27, 28 and 29), they will offer online research assistance from 8 a.m.-5 p.m.
To meet the increased demand for library services at the end of the fall semester, the library will offer extended hours Dec. 4-15.  During this time, the library will be open until 3 a.m. Sunday –Thursday, and 11 p.m. Friday and Saturday. Click here for complete schedule.
The Uonline Testing Center located in the library will be closed during the break as well. Other library TLT services will continue during the break, but will be moved to Milton Bennion Hall in room 212. For questions email classhelp@utah.edu. This closure includes all groups with locations in the library, including CTLE, TLT, the Writing Center, grant development services and academic advising.[/bs_col][/bs_row]
---
HINCKLEY JOURNAL OF POLITICS ACCEPTING SUBMISSIONS[bs_row class="row"][bs_col class="col-sm-4″]
[/bs_col]
[bs_col class="col-sm-8″]The Hinckley Journal of Politics is seeking student submissions for its 2017 issue. Papers should deal with timely questions of policy and government and are welcome from students in all studies and disciplines. This is an excellent opportunity for undergraduate students to get published in an academic research journal.
The deadline is Dec. 20. Guidelines for those interested in submitting to the journal can be found here.
For more information, contact the Hinckley Institute at journal@hinckley.utah.edu.[/bs_col][/bs_row]
---
MASSAGE THERAPY EXPANDS HOURS TO SATURDAY AND SUNDAY[bs_row class="row"][bs_col class="col-sm-4″]
[/bs_col]
[bs_col class="col-sm-8″]Take a break from finals, holidays, and the impending season change with a 60-minute massage therapy session. Our massage therapist will help you relax, unwind, and re-energize. Sixty-minutes sessions are only $55 or $45 for students.
Beginning Dec. 3, our massage therapists will also be available on Saturdays from 11 a.m.-2:30 p.m. and on Sundays from 1:30-5 p.m.
For a list of all the hours, please visit campusrec.utah.edu.  To book your session, please call 801.581.8898.[/bs_col][/bs_row]
---
GIVE THE GIFT OF WELLNESS[bs_row class="row"][bs_col class="col-sm-4″]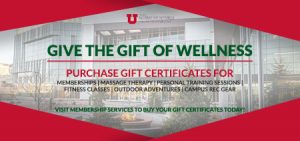 [/bs_col]
[bs_col class="col-sm-8″]Campus Recreation Services gift certificates are now on sale at the Eccles Student Life Center Membership Services desk.
Gift certificates can be used for most things Campus Recreation Services has to offer from Fitness Classes to Outdoor Adventures rentals and trips.  Stop by the Eccles Student Life Center Membership Services desk and check off some early holiday shopping.[/bs_col][/bs_row]
---
PERSONAL TRAINING SESSIONS AT THE STUDENT LIFE CENTER[bs_row class="row"][bs_col class="col-sm-4″]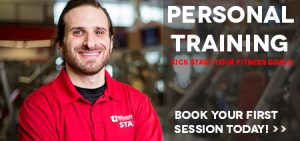 [/bs_col]
[bs_col class="col-sm-8″]Click here for information and registration
Get a jump on your holiday workouts with some personal training at the Eccles Student Life Center.  Our certified trainers will work with you to develop the best fitness plan for your goals.
Check out the details and register today.[/bs_col][/bs_row]
---
CUSTOMIZED HOLIDAY GIFTS BY UNIVERSITY PRINT & MAIL[bs_row class="row"][bs_col class="col-sm-4″]
[/bs_col]
[bs_col class="col-sm-8″]Don't be alarmed, but the holidays are six weeks away.
If your organization or department is in need of holiday gifts or giveaways, let University Print & Mail help you design and customize one-of-a-kind gifts for those special people on your list this year.
From water bottles to umbrellas, blankets to tote bags—if you can think of it, Print & Mail can create it and make it personal by adding names, text or departmental logos. Most items take approximately five weeks for production and delivery, so order now to ensure your items arrive in time for the holidays. For a custom quote, please call 801- 581-6171 or visit printing.utah.edu for more information.
University Print & Mail is an official licensee of the University of Utah and is therefore legally permitted to use and reproduce university-owned trademarks and logos. By supporting official licensees like Print & Mail, you are assured to receive quality products while also supporting student scholarships, athletic programs and other university initiatives.[/bs_col][/bs_row]
---
U HOLIDAY CARDS[bs_row class="row"][bs_col class="col-sm-4″]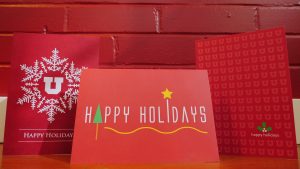 [/bs_col]
[bs_col class="col-sm-8″]Get a head start on the holiday season by ordering your greeting cards from University Print & Mail Services. Conveniently place your order online and choose from more than 20 designs, enhanced by your own personalized message. Orders are typically completed in five business days and can be picked up or delivered to your office for free. Making this annual task even easier, Print & Mail can address your envelopes, apply postage and place your cards in the mail for you.
In addition to holiday card designs, University Print & Mail offers several other styles for fall, along with other special occasion cards such as birthday cards, thank you cards, custom-design cards and personalized stationery.
Both personal and office orders are welcome. To view designs online and place your order, visit printing.utah.edu.[/bs_col][/bs_row]
---
UNIVERSITY TEACHING COMMITTEE AWARDS[bs_row class="row"][bs_col class="col-sm-4″]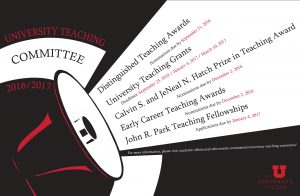 [/bs_col]
[bs_col class="col-sm-8″]The University Teaching Committee encourages the efforts of faculty members, departments and colleges to improve individual teaching skills, devise effective teaching techniques and recognize and reward superior achievements in teaching. A variety of awards are now seeking nominations.
To see criteria and deadlines, click here.[/bs_col][/bs_row]
---
UTAH RED ZONE FAN CAVE GIVEAWAY PRESENTED BY AMERICA FIRST CREDIT UNION[bs_row class="row"][bs_col class="col-sm-4″]
[/bs_col]
[bs_col class="col-sm-8″]Utah Red Zone and America First Credit Union are working together to give one lucky Utah Football fan the best seat in the house with the Utah Red Zone Fan Cave Giveaway. Utah Red Zone will make one fan's living room have as much Utah pride as they do with a fully furnished and decorated fan cave for the perfect home and away game experience.
The Utah Red Zone Fan Cave Giveaway grand prize includes:
Samsung 65″ Class 4K Ultra HD TV
(2) Imperial University of Utah Recliners
Blakeway framed Rice-Eccles Stadium panorama
Northwest Utah tapestry woven blanket
Northwest Utah plush throw blanket
Northwest Utah rug
Legacy Utah vintage game poster artwork
Legacy Utah wall-mount bottle opener
Legacy Utah serving tray
Paulson Designs Utah athletic logo canvas art
Authentic Street Signs "Man Cave" sign
Dahl large vinyl decal
and more Utah Red Zone merchandise.
Utah fans can enter to win the Utah Red Zone Fan Cave Giveaway by going to URedZone.com/FanCaveGiveaway. The lucky winner will be randomly selected at the conclusion of the Utah Football season.
For more information, call or visit Utah Red Zone or the University Campus Store.[/bs_col][/bs_row]