[bs_row class="row"]
[bs_col class="col-sm-8″] WORLD KINDNESS DAY
Sunday, Nov. 13, was World Kindness Day. World Kindness Day was introduced in 1998 by the "World Kindness Movement," a coalition of nations and humanitarian NGOs globally. Waves Of Kindness Global Initiative promotes thoughts and acts of Kindness everyday. May our kind intentions, words and deeds be a conscious expression, appreciation and connection, with kindred hearts globally—wherever we may be in the world.
Visit wavesofkindness.org for more information.
Random acts of kindness ideas:
Call or visit someone who is sick
Pay for someone's coffee/groceries
Smile at your coworkers today or make someone laugh
Praise your coworkers
Bring a toy for "Toys for Tots"
Bring a treat for your coworkers
Send a note of appreciation
Give someone a vacation (offer to watch kids and let them go for a massage)
Help an unemployed friend
Give someone a hug
Share your umbrella
Be polite online
Let someone go in front of you (driving or while waiting in a line)
Be patient if someone is going 20 mph in a 40 mph zone
For more ideas on random acts of kindness visit randomactsofkindness.org.[/bs_col][bs_col class="col-sm-4″][bs_well size="lg" ]


YOUR ANTI-AGING CHECKLIST

Daylight saving time ends Nov. 6 this year, when we turn the clocks back an hour. Ever wish you could turn back time and slow the signs of aging? "While there's no fountain of youth, you can be proactive in improving your lifestyle to age with vigor and energy," says Rick Henriksen, M.D., a family doctor at University of Utah Health Care. "Some of the keys to wellness as you get older are strength, balance and full movement. This will help prevent injury during everyday activities and allow for recreation throughout your life."
Download this checklist, and start making small changes to reduce the effects of aging.
Read the full story here.
WHEN A MOLE IS SOMETHING MORE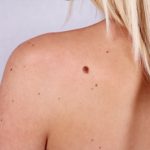 While most of the world was watching Australian Olympic swimmer Mack Horton win gold at this summer's games there was one perceptive fan that observed something else during his 400-meter swim. The eagle-eyed observer noticed a suspicious looking mole on the swimmer's chest and contacted the swim team doctors to look into it further.
See the full article here.
For more expert health news and information, visit healthcare.utah.edu/healthfeed.[/bs_well][/bs_col]
[/bs_row]