[bs_row class="row"][bs_col class="col-sm-8″]
It's apple season! Six recipes to try this fall
Celebrate the return of autumn with fall's favorite fruit. From sweet to savory, here are six quick and delicious apple recipes to try:
Apple Pie Overnight Oats


Prep Time: 15 minutes | Servings: 2
INGREDIENTS:
1 apple thinly sliced
2 TBSP brown sugar
2 TBSP almond butter
½ tsp. ground cinnamon
1 tsp. lemon juice
Pinch of salt
1 cup oats
½ cup milk
2 TBSP raisins
INSTRUCTIONS:
Apples: Add sliced apple, sugar, almond butter, cinnamon, lemon juice, and salt to a saucepan. Cook on the stove over medium heat for 8 to 10 minutes, or until apples have softened some.
Assemble: Spoon oats into two bowls or jars. Evenly top with apple mixture, milk, and raisins (you do not need to stir). Cover with a lid or plastic wrap and set in the refrigerator 6 hours (or overnight). Serve cold or heated in the microwave.
---
Peanut Butter Apple Rings
Prep Time: 5 minutes | Servings: 4
INGREDIENTS:
2 large apples
1/2 cup powdered peanut butter, reconstituted
1/4 cup chocolate and white chips
1/4 cup slivered almonds and pecans
INSTRUCTIONS:
Using an apple corer or small paring knife, remove the core of the apple.
Slice the apples into thick rings.
Spread peanut butter onto the apple slices.
Top with the chips and nuts.
---
Apple salsa + cinnamon tortilla chips
Servings: 4-6
INGREDIENTS:
SALSA:
2 medium tart apples, chopped
1 cup chopped strawberries
2 medium kiwifruit, peeled and chopped
1 small orange
2 tablespoons brown sugar
2 tablespoons apple jelly, melted
CHIPS:
8 flour tortillas (7 or 8 inches)
1 tablespoon water
1/4 cup sugar
2 teaspoons ground cinnamon
INSTRUCTIONS:
In a bowl, combine apples, strawberries and kiwi. Grate orange peel to measure 1-1/2 teaspoons; squeeze juice from orange. Add peel and juice to apple mixture. Stir in brown sugar and jelly.
For chips, brush tortillas lightly with water. Combine sugar and cinnamon; sprinkle over tortillas. Cut each tortilla into eight wedges. Place in a single layer on ungreased baking sheets.
Bake at 400° for 6-8 minutes or until lightly browned. Cool. Serve with salsa.
---
Apples "nachos" (apples + cheese dipping sauce)


Prep time: 10 minutes | Servings: 10

INGREDIENTS:
2 TBSP butter
2 TBSP flour
1 cup milk
1 1/2cup cheddar cheese (mild or medium), shredded
1/4 salt
SERVE WITH:
5 Granny Smith apples, sliced
INSTRUCTIONS:
Add the butter and flour in a sauce pot. Heat on medium heat and whisk together until bubbly.
Slowly pour milk into the mixture while whisking constantly. Turn the heat up to medium-high and bring to a simmer.
Cook while whisking until the mixture is thick enough to coat a spoon.
Turn off the heat and stir in the cheese a little at a time until it is all melted.
Stir in salt and any additional spices. **
Transfer to a bowl.
Slice apples into thin slices and serve with the cheese sauce.
Note: If cheese sauce becomes too thick, add a few splashes of milk to thin it out.
**Spices that go well with cheese: paprika, chili powder, nutmeg, onion powder, ground mustard.
---
RADISH AND GREEN APPLE SALAD


Prep time: 15 minutes | Servings: 4
INGREDIENTS:
2 tablespoons fresh orange juice
1 tablespoon fresh lemon juice
1/2 teaspoon honey
1 tablespoons olive oil
1 celery stalk, sliced thinly on a diagonal
6 radishes, sliced into thin wedges
1 green apple, sliced into thin wedges
Parmesan cheese, for serving
INSTRUCTIONS:
Whisk the orange juice, lemon juice, honey, and olive oil together in a medium bowl.
Add the radishes, apple slices, and celery and toss well to get it all coated in the dressing.
Transfer the salad to a serving platter and grate a small amount of Parmesan cheese over the top.
---
GREEK YOGURT CHICKEN SALAD SANDWICH


Prep Time: 15 minutes | Servings: 4
INGREDIENTS:
2 cups leftover rotisserie chicken
1/2 cup diced red onion
1/2 cup diced apple
1/2 cup grapes, halved
1/4 cup dried cranberries
1/4 cup slivered almonds
1/2 cup plain Greek yogurt
1 tablespoon freshly squeezed lemon juice, or more, to taste
1/2 teaspoon garlic powder
Kosher salt and freshly ground black pepper
8 slices bread
4 leaves Boston lettuce (also known as butter or Bibb lettuce)
DIRECTIONS:
In a large bowl, combine chicken, red onion, apple, grapes, dried cranberries, sliced almonds, Greek yogurt, lemon juice, garlic powder, salt and pepper, to taste.
Serve sandwiches on bread with chicken mixture and lettuce.[/bs_col][bs_col class="col-sm-4″][bs_well size="lg" ]

ORGAN DONATION MYTH DEBUNKED
An organ donation from a single person can save the lives of up to eight other people. But one of the reasons that keep people from becoming a donor is the misconception that once doctors know you're a donor, they are less likely to try and save your life. On this "Health Minute," Dr. Jeffrey Campsen, organ transplant surgeon at University of Utah Health, explains the protections in place for an organ donor.
Listen to the full story here.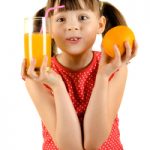 NEW GUIDELINES ON FRUIT JUICES
Fruit juices are a staple of childhood. Your parents gave it to you when you were growing up and you've probably let your kids drink fruit juices. But new guidelines suggest completely cutting fruit juices from your child's diet. On today's "Health Minute," pediatrician Dr. Cindy Gellner explains why fruit juice is nicknamed "liquid candy."
Listen here for the full story.
For more expert health news and information, click here.[/bs_well][/bs_col][/bs_row]