AMA Supercross is again returning to Rice-Eccles Stadium, beginning its final competition rounds on May 31 and continuing through June 21. The made-for-TV races will be broadcast on NBC networks and fans will not be in attendance.
Given that these events are closed to the public, the traffic impact will be minimal. From May 24 through June 24, the Stadium Lot (Lot 1) and a portion of the Guardsman Lot (Lot 40) will be closed. In preparation for the events, beginning May 21 and running through May 30, one westbound lane on 500 South will be closed to accommodate machinery needed to construct the track. See the map below for more details.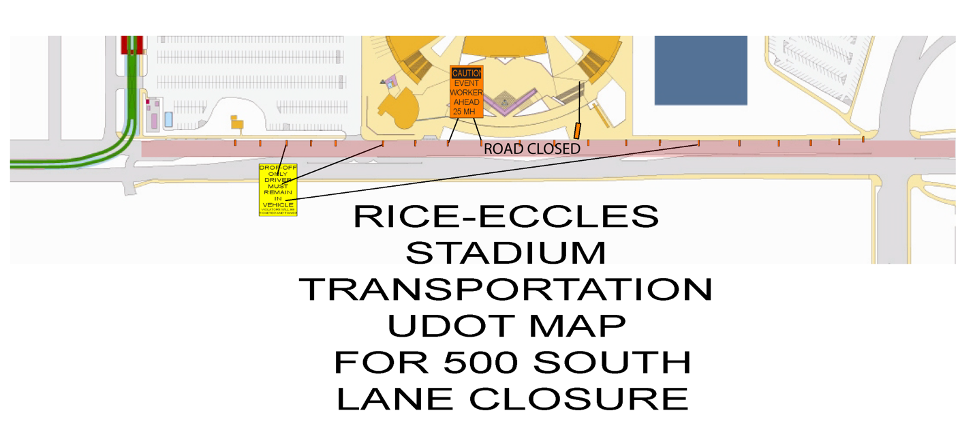 Event organizers are finalizing guidelines and protocol for competitors and essential staff that will comply with all federal, state and local health guidance and mandates. Mitigation efforts will include mandated prescreening, COVID-19 testing, temperature checks, face covering requirements, increased sanitation efforts and consistent social distancing to limit contact among individuals executing the events. Rice-
Eccles staff will assist in the implementation and execution of safety protocol and work alongside an on-site a medical team that will stand by in the event of an emergency.
NBC & NBCSN Schedule:
Round 11 (East)
Sunday, May 31
3-4 p.m. ET on NBCSN
4-6 p.m. ET on NBC

Round 12 (East)

Wednesday, June 3

10 p.m-1 a.m. ET on NBCSN

Round 13 (East)

Sunday, June 7
5-8 p.m. ET on NBCSN

Round 14 (West)

Wednesday, June 10
7-10 p.m. ET on NBCSN

Round 15 (West)

Sunday, June 14
7-10 p.m. ET on NBCSN

Round 16 (East)

Wednesday, June 17
7-10 p.m. ET on NBCSN
Round 17 (East/West)
Sunday, June 21

3-4:30 p.m. ET on NBCSN

4:30-6 p.m. ET on NBC