If you regularly ship FedEx packages from the office and you're not using SendSuite, you're spending more money on shipping than you need to.
SendSuite is a service offered by University Print & Mail Services that allows departments to ship FedEx packages from campus quickly and easily while utilizing the university's discounted rate. Save your department money and yourself some time by creating a SendSuite account and learning about its benefits on Print & Mail's website.
Consider this price comparison: 
Here's the shipping rate for a package sent via regular FedEx.
FedEx Ground: $17.36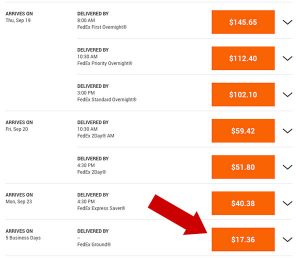 Here's the same package sent via FedEx using SendSuite, incorporating the university discount.
FedEx Ground: $5.44 + SendSuite charge: $3.50
Total: $8.94
Dimensions: 11"x 8"x 5"
Pkg Weight: 4lbs
Pkg Address: from Salt Lake City to Boston
That's almost 50% Less!
Other benefits of using SendSuite:
Shipment tracking
Simplified chartfield billing
Immediate access to shipment history
Easy electronic address books
Start Saving
Take advantage of this exclusive shipping rate benefit and start saving money on FedEx shipping with SendSuite!  Get started by setting up an account and let Print & Mail Services know if you need help. Find more information on their website, or call 801-581-6171.