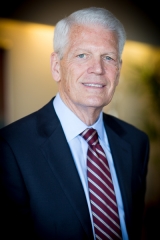 As the University of Utah prepares to reopen classes for the Fall 2020 Semester, safety is the top priority. So how do we protect students, staff, and faculty in the ongoing coronavirus pandemic?
To coordinate a campus-wide testing effort, President Ruth Watkins and Senior Vice Presidents Mike Good and Dan Reed have appointed Dr. Ed Clark to direct the COVID Safety and Protection Program.
Clark is currently the associate vice president for clinical affairs at University of Utah Health. Good says Clark is uniquely qualified to lead this effort given his background as a pediatrician, health system leader and former United States Public Health Service commissioned officer. "His depth of experience, a long career treating respiratory illnesses in patients and in the community, and his demonstrated administrative ability at U of U Health make Dr. Clark the ideal person for this leadership role," Good says.
The evolving COVID-19 Safety and Protection program draws on expertise from all segments of the university. The program primarily focuses on well-established public health principles: face coverings, physical separation, hand washing/sanitizing and staying at home when ill. Communication is a critical foundation for informing the U's community.
"The better we understand core factors of the pandemic, virus transmission and disease presentation, the better our chance of maintaining good health," Clark believes. "Our goal is to reduce the number of cases and keep our classes opened up and running. Safety and protection efforts extend across campus from classrooms and dorms to athletic and dining facilities."
Clark points out that those at increased risk from coronavirus infection will have additional opportunities "to keep in touch with providers to keep safe. Testing for coronavirus is an integral part of identifying, monitoring and sheltering those with infection, then tracing contacts to limit further transmission."
The University of Utah is committed to its mission of higher education in spite of a daunting pandemic. "Please take time to learn how we will continue to meet our challenge," Dr. Clark urges everyone. "We are all responsible together."