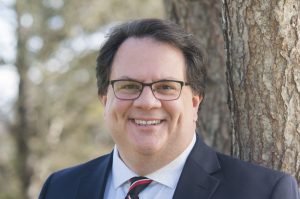 The University of Utah has a new executive director of financial aid and scholarships.
Senior Associate Vice President for Enrollment Management Steve Robinson announced this week that Anthony Jones, the University of Georgia's Office of Student Financial Aid director, will join his team in mid-August.
"This is a critical time in higher education financial aid," Robinson said, "as universities across the country work to provide as many resources as possible to help students continue their educations through difficult financial times and an ongoing public health crisis.
"Anthony has the creativity and depth and breadth of experience to help University of Utah students persevere and emerge stronger from these unique circumstances.  He is a proven leader and will be an advocate for our students."
Jones has led the University of Georgia's financial aid services for two years, managing more than $600 million in student financial aid, including $37 million in scholarship funds. From 2013 to 2018, Jones directed Appalachian State University's Office of Student Financial Aid. Before that, Jones worked on policy for three years in Washington, D.C., for the Advisory Committee on Student Financial Assistance, developing research on ways to modify need-based financial aid to improve access and student success.
At the University of Utah, Jones will administer $360 million in financial aid funding. He also will be responsible for overseeing the university's disbursement of more than $9 million in CARES Act funding grants to students.
Jones said he is committed to providing access and helping all U. students succeed. "I look forward to leading the Office of Financial Aid and Scholarships in continuing and further developing the commitment to affordability," he said.