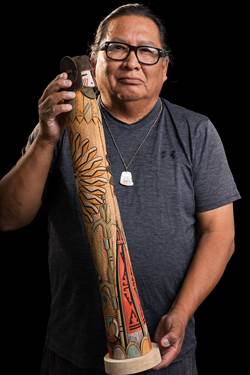 The Natural History Museum of Utah's Indian Art Market is a favorite among guests and art enthusiasts as every year it brings top Native American artists to Salt Lake City for a resplendent shopping experience. Now, given the challenges of COVID-19, we are taking the eighth annual Indian Art Market online for the first time.
Throughout the month of October, NHMU is representing Native American artists from across the country in an effort to connect them with customers during challenging times in the Native Arts community.
Visit our website to browse a selection of beadwork, jewelry, paintings, photography, pottery, sculpture, and textiles from 22 artists (and growing). If you find a piece that speaks to you, contact the artist directly with the information provided to purchase.
This year's market will not feature the juried show portion. However, past Best of Show winners are participating, like Kevin Horace Quannie, who won in 2018 for his carving of a corn maiden kachina—now part of NHMU's anthropological collections.
Thank you for your support of these artists and the Museum. We are still accepting artist applications throughout October, so be sure to check back for new additions.