JUMP TO:
Utah Academic Libraries Consortium open textbooks statewide survey
No vehicles allowed on the Marriott Plaza
U business school to offer life science product development program
Customized holiday gifts by University Print & Mail
Local chefs featured at Miller Cafe in the Lassonde Studios
Follow the Lassonde Entrepreneur Institute
New nonprofit mailing guidelines
Apply now for Alternative Spring Break
Utah Red Zone Fan Cave Giveaway presented by America First Credit Union
---
UTAH ACADEMIC LIBRARIES CONSORTIUM OPEN TEXTBOOKS STATEWIDE SURVEY
Response deadline is Wednesday, Nov. 30
Free online textbooks are emerging as an alternative to traditional print textbooks. Tell the Utah System of Higher Education what you think about textbooks. Your input will provide valuable information on a statewide pilot project about free online textbooks.
Please complete this survey by Wednesday, Nov. 30. Note that this survey is intended for students on the University of Utah MAIN CAMPUS only.
The survey can be found here.
---
NO VEHICLES ALLOWED ON THE MARRIOTT PLAZA[bs_row class="row"][bs_col class="col-sm-4″]
[/bs_col]
[bs_col class="col-sm-8″]The Marriott Plaza is a roof. It is unsafe for vehicles to drive in this area as it is a highly used pedestrian plaza and vehicle traffic has the potential to harm the roof. Facilities Management is adding bollards in the area to deter vehicles. Other than food trucks, that have been given specific and safe pathways and areas to park, vehicular traffic in this area is prohibited and cart traffic is highly discouraged.
Please use caution in this densely used area and be kind and courteous to others. [/bs_col][/bs_row]
---
U BUSINESS SCHOOL TO OFFER LIFESCIENCE PRODUCT DEVELOPMENT PROGRAM[bs_row class="row"][bs_col class="col-sm-4″]

[/bs_col]
[bs_col class="col-sm-8″]Medical innovation workers and anyone interested in lifescience product development will benefit from a new University of Utah program to help navigate and develop products in the lifescience field.
The University of Utah David Eccles School of Business Executive Education and the Center for Medical Innovation at the University of Utah Health Sciences have partnered to offer the new BioVentures program. The two-semester program provides a detailed guide to the lifescience product development process, from conception to commercialization.
"We're thrilled to offer students the real-world knowledge they need in order to make innovative improvements in healthcare delivery," said Brad Vierig, associate dean of MBA programs and executive education. "This program will provide participants with a singular learning experience that will differentiate them in the marketplace."
For the full article, click here.[/bs_col][/bs_row]
---
CUSTOMIZED HOLIDAY GIFTS BY UNIVERSITY PRINT & MAIL[bs_row class="row"][bs_col class="col-sm-4″]
[/bs_col]
[bs_col class="col-sm-8″]Don't be alarmed, but the holidays are six weeks away.
If your organization or department is in need of holiday gifts or giveaways, let University Print & Mail help you design and customize one-of-a-kind gifts for those special people on your list this year.
From water bottles to umbrellas, blankets to tote bags—if you can think of it, Print & Mail can create it and make it personal by adding names, text or departmental logos. Most items take approximately five weeks for production and delivery, so order now to ensure your items arrive in time for the holidays. For a custom quote, please call 801- 581-6171 or visit printing.utah.edu for more information.
University Print & Mail is an official licensee of the University of Utah and is therefore legally permitted to use and reproduce university-owned trademarks and logos. By supporting official licensees like Print & Mail, you are assured to receive quality products while also supporting student scholarships, athletic programs and other university initiatives.[/bs_col][/bs_row]
---
LOCAL CHEFS FEATURED AT MILLER CAFE IN THE LASSONDE STUDIOS[bs_row class="row"][bs_col class="col-sm-4″]
[/bs_col]
[bs_col class="col-sm-8″]University of Utah Dining Services is proud to introduce a new twice daily feature; Your Local Chef in the Dub Box at the Miller Cafe in the new Lassonde Studios. Daily menus will feature recipes and chefs from Monday to Friday during lunch from 11 a.m.-1 p.m. and Monday-Thursday for dinner from 5-7 p.m. Meals range from Australian meat pies, tamales, jackfruit sliders, and waffles on a Stick. Follow @uofufood on Facebook, Instagram or Twitter for menus, Chef bios, and more information.[/bs_col][/bs_row]
---
WELCOME TO LASSONDE[bs_row class="row"][bs_col class="col-sm-4″]
[/bs_col]
[bs_col class="col-sm-8″]Join the U's community of student entrepreneurs and innovators by subscribing to the Lassonde Entrepreneur Institute email newsletter.
Click here to subscribe.[/bs_col][/bs_row]
---
U HOLIDAY CARDS[bs_row class="row"][bs_col class="col-sm-4″]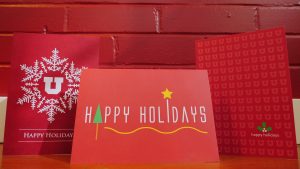 [/bs_col]
[bs_col class="col-sm-8″]Get a head start on the holiday season by ordering your greeting cards from University Print & Mail Services. Conveniently place your order online and choose from more than 20 designs, enhanced by your own personalized message. Orders are typically completed in five business days and can be picked up or delivered to your office for free. Making this annual task even easier, Print & Mail can address your envelopes, apply postage and place your cards in the mail for you.
In addition to holiday card designs, University Print & Mail offers several other styles for fall, along with other special occasion cards such as birthday cards, thank you cards, custom-design cards and personalized stationery.
Both personal and office orders are welcome. To view designs online and place your order, visit printing.utah.edu.[/bs_col][/bs_row]
NEW NONPROFIT MAILING GUIDELINES[bs_row class="row"][bs_col class="col-sm-4″]
[/bs_col]
[bs_col class="col-sm-8″]Users of the Nonprofit Standard Mail service are advised by the U.S. Postal Service to more clearly identify their nonprofit organization on all items mailed at this rate.
All mailing pieces sent from campus using nonprofit permit 1529 must have 'The University of Utah' displayed in a prominent location on the package or envelope. The USPS requires that the return address begin with, 'The University of Utah', followed by the sender's name and a campus address. To prevent confusion, delay or higher postage rates, please ensure that the university name is easily identifiable and avoid abbreviations such as 'U of U'.
Help the university keep this valuable resource by complying with USPS guidelines on nonprofit mailings. Questions regarding nonprofit permits and other mailing services may be directed to Kim Hansen at 801-581- 7212. Questions regarding the printing of mail items may be directed to 801-581-6171.[/bs_col][/bs_row]
---
APPLY NOW FOR ALTERNATIVE SPRING BREAK[bs_row class="row"][bs_col class="col-sm-4″]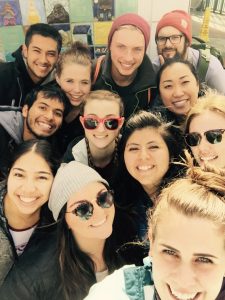 [/bs_col]
[bs_col class="col-sm-8″]Apply now to spend spring break volunteering, learning and traveling with the Bennion Center's Alternative Break program. Eleven different trips are being offered to cities in the western United States and Canada. It's an immersive, week-long opportunity to learn first-hand about important social and environmental issues. Applications are due Monday, Nov. 28, at 11:59 p.m.
Apply here.[/bs_col][/bs_row]
---
UTAH RED ZONE FAN CAVE GIVEAWAY PRESENTED BY AMERICA FIRST CREDIT UNION[bs_row class="row"][bs_col class="col-sm-4″]
[/bs_col]
[bs_col class="col-sm-8″]Utah Red Zone and America First Credit Union are working together to give one lucky Utah Football fan the best seat in the house with the Utah Red Zone Fan Cave Giveaway. Utah Red Zone will make one fan's living room have as much Utah pride as they do with a fully furnished and decorated fan cave for the perfect home and away game experience.
The Utah Red Zone Fan Cave Giveaway grand prize includes:
Samsung 65″ Class 4K Ultra HD TV
(2) Imperial University of Utah Recliners
Blakeway framed Rice-Eccles stadium panorama
Northwest Utah tapestry woven blanket
Northwest Utah plush throw blanket
Northwest Utah rug
Legacy Utah vintage game poster artwork
Legacy Utah wall-mount bottle opener
Legacy Utah serving tray
Paulson Designs Utah athletic logo canvas art
Authentic Street Signs "Man Cave" sign
Dahl large vinyl decal
and more Utah Red Zone merchandise.
Utah fans can enter to win the Utah Red Zone Fan Cave Giveaway by going to URedZone.com/FanCaveGiveaway. The lucky winner will be randomly selected at the conclusion of the Utah Football season.
For more information, call or visit Utah Red Zone or the University Campus Store.[/bs_col][/bs_row]
---