KICKSTART SPRING SEMESTER
Register by Dec. 15[bs_row class="row"]
[bs_col class="col-sm-4″]

[/bs_col]
[bs_col class="col-sm-8″]
Get in on the action and fulfill a general education requirement before spring semester begins. Pre-spring intensive courses complete class time in just one week (Jan. 4-8), with some preparatory and post-class work.
PRE-SPRING SEMESTER 2016 – Jan. 4-8
Classes are held at the Murray location, and run Monday-Friday from 8 a.m.-5 p.m. with a lunch break every day.
Living with Quakes
GEO 3030 section 60 (fills IR & SF) three credit hours
Cross-Cultural Communication
LING 3600 section 60 (fills DV & HF) three credit hours
World Music
MUSIC 3600 section 60 (fills IR & FF) three credit hours
US National Govt
POLS 1100 section 60 (fills AI) three credit hours
These intensive classes will be as rigorous as a semester-long class and require attendance at each class session. In addition to time spent in the classroom, students will be required to complete pre and post-work. This work may include reading from the textbook or other sources, as well as completing online lectures, assignments and exams.
Additional information:
Classes appears on U of U transcript
Classes held at 5282 S. 320 West, Suite D-110, Murray, (Near I-15, 5300 South exit)
Free parking
15-minute walk from Murray Central TRAX and Frontrunner station
If class is full, please call 801-585-9963 to be added to the wait list[/bs_col]
[/bs_row]
---
JOHN R. PARK TEACHING FELLOWSHIP CALL FOR NOMINATIONS
Deadline: Jan. 6, 2016 [bs_row class="row"]
[bs_col class="col-sm-4″]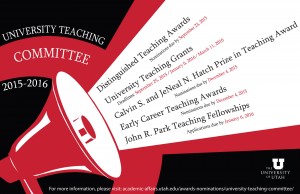 [/bs_col]
[bs_col class="col-sm-8″]
Park Fellowships are awarded to faculty who will undertake one semester activity during the 2015-2016 academic year to study at a site outside the state of Utah with the purpose of enriching and enlarging the individual's teaching role. Tenure-line and Career-line faculty are eligible.
Preference will be given to applicants whose primary affiliation is as faculty at the University of Utah. Each award is for $5,000 with the possibility of an additional $5,000 to the faculty member's department to help defray costs for released time. These awards will be announced in February 2016.[/bs_col]
[/bs_row]
---
CALLING ALL ARTISTS [bs_row class="row"]
[bs_col class="col-sm-4″]
[/bs_col]
[bs_col class="col-sm-8″] The University of Utah President's Gallery Committee is pleased to announce its second art exhibition to feature work by the entire U community including current students, faculty and staff. Visual artists working in all media, from any department, are invited to submit up to three examples of their work to be juried by the members of the President's Gallery Committee for inclusion in the exhibition. The President's Gallery: "A Sense of Place" exhibition will be held at the Park Building Feb. 25 – April 22, 2016.
Artists are encouraged to submit work that reflects the title of the exhibition – "A Sense of Place" – in the broadest sense. Accepted submissions will present diverse observations of the land, the people, the communities and campus life in Utah and at the U.
The exhibition will be curated and installed by campus professionals on the third floor of the Park Building and will be insured by the university from the time of delivery to the time of pickup.
Click here for more information and here to apply. [/bs_col]
[/bs_row]
---
CALL FOR PAPERS OPEN UNTIL DEC. 18 [bs_row class="row"]
[bs_col class="col-sm-4″]


[/bs_col]
[bs_col class="col-sm-8″]
Have a story to share about how you've used emerging technology in your research, teaching and learning? Interested in an opportunity to present and publish? If so, submit an abstract to the Second Annual Symposium on Emerging Technology Trends in Higher Education here.
The symposium is free and open to the public; and will be held on Feb. 26, 2016, at the Marriott Library. Accepted abstracts will also be published as part of the conference's proceedings here. [/bs_col]
[/bs_row]
---
NATIONAL COMMUNICATION ASSOCIATION HONORS U PROFESSOR AND GRADUATE STUDENT
[bs_row class="row"]
[bs_col class="col-sm-4″]
[/bs_col]
[bs_col class="col-sm-8″]The National Communication Association is pleased to announce the selection of Dr. Jakob Jensen, associate professor of Communication and Melinda Krakow, graduate student, as the 2015 recipients of the Golden Anniversary Monograph Award.
The award is given annually for the most outstanding scholarly monograph published during the previous calendar year. Jensen and Krakow were recognized for their work with colleagues on the article, "Comparing tailored and narrative worksite interventions at increasing colonoscopy adherence in adults 50-75: A randomized controlled trial," published in Social Science & Medicine (2014). [/bs_col]
[/bs_row]
---
U MATHEMATICIAN WINS PRESTIGIOUS PRIZE [bs_row class="row"]
[bs_col class="col-sm-4″]

[/bs_col]
[bs_col class="col-sm-8″]
University of Utah mathematician Christopher Hacon and three colleagues have won an American Mathematical Society prize for best research study – an honor so prestigious that it is awarded only once every three years.
"It's definitely a big deal, and it's great they chose to recognize my field of research," Hacon, who studies algebraic geometry, said today after it was announced that he was one of four winners of the 2016 American Mathematical Society E.H. Moore Research Article Prize.
Hacon co-authored the prize-winning Journal of the American Mathematical Society research paper in 2010 with Caucher Birkar of the University of Cambridge, Paolo Cascini of Imperial College London, and James McKernan of the University of California, San Diego.
This is only the latest in a series of honors for Hacon. He was named a Simons Foundation Investigator in 2012. A year earlier, he won Italy's top math honor, the Antonio Feltrinelli Prize in Mathematics, Mechanics and Applications. In 2009, Hacon and McKernan received the American Mathematical Society's Frank Nelson Cole Prize in Algebra. In 2007, Hacon was among five mathematicians honored with a Clay Research Award for "major breakthroughs in mathematics research." He was awarded a prestigious American Mathematical Society Centennial Research Fellowship during the 2006 academic year.
Click here to read the full story. [/bs_col]
[/bs_row]
---
PERSONAL MONEY MANAGEMENT CENTER HONORED WITH AWARD FROM THE ASSOCIATION FOR FINANCIAL COUNSELING AND PLANNING EDUCATION [bs_row class="row"]
[bs_col class="col-sm-4″]

[/bs_col]
[bs_col class="col-sm-8″] Ann House, coordinator of the Personal Money Management Center at the University of Utah, was recently recognized by the Association for Financial Counseling and Planning Education in the Outstanding Financial Counseling and/or Planning Center category. Each year, professional members of the Association for Financial Counseling & Education nominate fellow financial educators, researchers and practitioners who represent the great work happening in the field of personal finance.
Under House's guidance, the Utah Personal Money Management Center reaches more than 20,000 students each semester. The center received the award because of its unique ability to collaborate with campus and community partners, its accessible and creative outreach to students and its focus on a variety of delivery systems to meet the needs and learning styles of a diverse campus of students.
"We are pleased to recognize the exceptional work done this year in financial counseling and education," said AFCPE Executive Director Rebecca Wiggins. "This year's award winners represent innovation, expertise and leadership. Their work helps us set the standard and shape the future of the field."
To see all winners, go here. [/bs_col]
[/bs_row]
---
3 U BUILDINGS HONORED BY UTAH CONSTRUCTION & DESIGN [bs_row class="row"]
[bs_col class="col-sm-4″]
[/bs_col]
[bs_col class="col-sm-8″]Utah Construction & Design Magazine recently recognized three University of Utah facilities in their 2015 Most Outstanding Project Awards. The S. J. Quinney College of Law was recognized as Outstanding Sustainable Project. The George S. Eccels Student Life Center and Jon and Karen Huntsman Basketball Center were also recognized as large Outstanding Projects in Higher Education and Sports Facilities. These notable achievements were celebrated at an awards ceremony on Dec. 8. [/bs_col]
[/bs_row]
---
ROBIN E. JENSEN RECEIVES 2015 KARL R. WALLACE MEMORIAL AWARD [bs_row class="row"]
[bs_col class="col-sm-4″]

[/bs_col]
[bs_col class="col-sm-8″]The National Communication Association (NCA) is pleased to announce the selection of Dr. Robin E. Jensen, Associate Professor of Communication at the University of Utah, as the recipient of the 2015 Karl R. Wallace Memorial Award.
The award is given to promote philosophical, historical, or critical scholarship in rhetoric and public discourse. Dr. Jensen is recognized for her book-length study, "Infertility: A Rhetorical History." [/bs_col]
[/bs_row]
---
SIGMA CHI LEADERSHIP RECOGNITION NIGHT [bs_row class="row"]
[bs_col class="col-sm-4″]

[/bs_col]
[bs_col class="col-sm-8″]
Recently, the Sigma Chi fraternity at the University of Utah, the oldest and largest fraternity in Utah, held its second Leadership Recognition Night to honor local leaders for their role in inspiring the chapter membership. Gov. Gary Herbert, former Utah Supreme Court Chief Justice Christine Durham and former mayor and U Sigma Chi alumnus Rocky Anderson were recognized with the Leadership Recognition Award for their public service. The honorees spoke to chapter members and guests about leadership and character. Sigma Chi is a values-based leadership development organization and includes members from all sectors of campus.[/bs_col]
[/bs_row]
---
STUDENT-LED GRIEF SUPPORT GROUP ON CAMPUS [bs_row class="row"]
[bs_col class="col-sm-4″]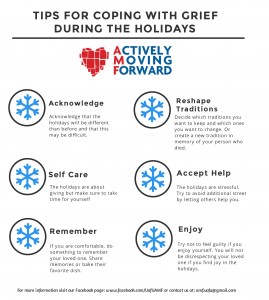 [/bs_col]
[bs_col class="col-sm-8″] One in four college students is grieving the death of a loved one. On a campus where over 30,000 students are currently enrolled, this means that there are over 7,500 students grieving. As anyone who has experienced the death of a loved one knows, the world keeps on turning despite the grief. This is especially true on a college campus where students are expected keep up with our studies. Combine this with a culture where death is a taboo subject and many are left with an environment in which expressing grief can be particularly difficult.
Actively Moving Forward (AMF) is non-profit organization committed to supporting college students who are grieving the death of a loved one. The University of Utah chapter runs a student-led grief support group providing a space for students to talk about their experience and feel supported by their peers. The group is held the first and third Wednesday of the month from 6-7:30 p.m. and the fist and third Thursday of the month from 12-1:30 p.m. in the Union.
As a group of grieving college students supporting other grieving students on campus, we know the holidays can be an especially difficult time. While, we do not believe that there is one "right" way to grieve, we want to offer a few tips to help students deal with their grief over the holidays. [/bs_col]
[/bs_row]
---

OPEN THE DOOR TO GIVING WITH THE U HOSPITAL ANNUAL FOOD DRIVE [bs_row class="row"]
[bs_col class="col-sm-4″]


[/bs_col]
[bs_col class="col-sm-8″] Join the University Hospital food drive and make a difference this year.
The annual hospital food drive, held Nov. 23 through Dec. 15, benefits the Utah Food Bank. All donations will support the mission to feed hungry Utahns.
There are many ways to give: Run the Utah Human Race on Thanksgiving morning, donate online or volunteer at the Utah Food Bank to help the hospital reach this year's goal of 450,000 pounds of donated food.
University Hospital has led the effort to gather food donations for those in need over the past five years, collecting over 1,262,340 pounds of food since 2010.
Call Tracy Bodrero at 801-581-2429 with any questions about volunteering, and for more ways to give, visit Pulse. [/bs_col]
[/bs_row]
---