JOIN THE ALTERNATIVE BREAKS ADVENTURE
Students can sign up now through Nov. 13 for a spring break 2016 community-engaged experience. The Bennion Center will send out 13 weeklong Alternative Spring Break trips and an Alternative Weekend Break trip where students will volunteer, learn and travel. Trip costs include lodging, transportation and meals. Information sessions will be in the Bennion Center on Nov. 5, 5-6 p.m. and Nov. 9, 11 a.m.-noon. Apply and register online at altbreaks.bennioncenter.org.
---
INTRODUCING SCHEDULE BUILDER


The Office of the Registrar has introduced a new tool that students can use to help plan their Spring 2016 schedules. They can add courses, breaks and generate all conflict-free schedules.  Once they find the perfect schedule, they can send it to their shopping cart and register in seconds.
The new Schedule Builder tool can be found within the Campus Information Services (CIS) registration portal.
Learn more about Schedule Builder
---
EARLY CAREER TEACHING AWARD
Deadline: Dec. 4
The Early Career Teaching Award recognizes up to four outstanding faculty at an early stage in their careers at the University of Utah. To be eligible, a faculty member must have completed at least three full years but fewer than eight years of service at the university and must be Tenure-line or Career-line faculty.
Each recipient will also receive $2,500. These awards will be announced in March 2016.
---
THE CALVIN S. AND JENEAL N. HATCH PRIZE IN TEACHING
Deadline: Dec. 4
The Hatch Prize recognizes an outstanding and longstanding service by a teacher from Tenure-line faculty ranks. The recipient of the Hatch Prize will receive $5,000. The award will be announced in March 2016.
---
WHAT'S YOUR STORY?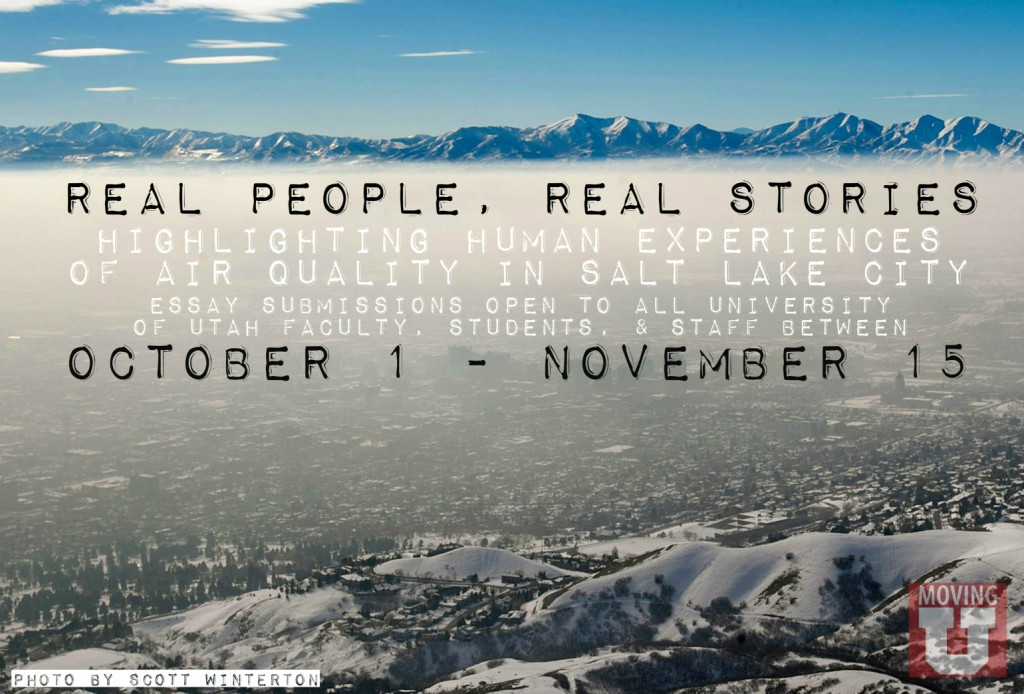 The MovingU: Toward Cleaner Air campaign is currently soliciting real stories about how air quality impacts real people who live in Utah. A selection of winning essays, judged by a panel of well-known air quality activists including Dr. Brian Moench and Representative Patrice Arent, will then be read aloud by authors at The Global Change & Sustainability Center Annual Research Symposium in February of 2016.
Winning submissions from authors will also be published through various university and local publications, both online and in print.
To apply, submit your story here or for more information, contact the Project Coordinator, Kailey Luzbetak at kaileyluzbetak@gmail.com.
---
4TH ANNUAL BEACONS OF EXCELLENCE AWARDS
The fourth annual Beacons of Excellence Awards ceremony was held last Friday, Oct. 30, to recognize three individuals and three programs/organizations that provide transformative experiences to undergraduate students. The recipients included Tony Butterfield, assistant professor in chemical engineering; Craig Bryan, assistant professor of psychology and executive director of the National Center for Veterans Studies; Sharon Aiken-Wisniewski, assistant vice president for Undergraduate Studies, associate dean for University College and adjunct professor in the Department of Educational Leadership and Policy; ArtsForce, a program run by and for undergraduate students in the College of Fine Arts to help them discover the value of their degree; the Women's Resource Center, which works on issues that impact women on campus and in the state and aims to end racism, sexism, homophobia and all other biases; and the Larry H. and Gail Miller Enrichment Scholarship Program, which provides education opportunities for students from underrepresented populations or who are first-generation college students.
---
REORGANIZATION OF EHS/EM
Environmental Health and Safety and Emergency Management are reorganizing reporting lines to allow for successful and improved execution of each organization's programs and responsibilities. This change represents an improved alignment for the critical role these units fulfill on campus. Effective immediately, Environmental Health and Safety (EHS) will report through Facilities Management while Emergency Management will report through Public Safety.
As Managing Director of EHS, Martha (Marty) Shaub will now report to Michael Perez, Associate Vice President, Facilities Management. Stuart Moffatt will serve as the Interim Director of Emergency Management and will now report to Dale Brophy, Chief of Police.
A transition plan is underway for the units involved. Further details will be forthcoming in an @theU article at a later date. All are dedicated to continuing to serve the university. Should you have any questions, please feel free to reach out to any of us directly.
For EHS issues, please contact 801-581-6590 or visit ehs.utah.edu.
For emergency management issues, please contact 801-581-6429 or visit em.utah.edu.
---
NOMINATE A STUDENT (OR 10)!


Nominate one or more students to be featured in the next edition of "Student Innovation at the U?"
The university produces this annual publication to celebrate students from all departments who are doing something innovative and making an impact. Student inventors, artists, researchers, athletes and entrepreneurs who are doing something new and helping improve people's lives are featured. Here's the current edition.
Submit nominations here. They're due this Friday, Nov. 6.
---
CAMPUS RECREATION SERVICES IS HIRING


Campus Recreation Services is currently hiring motivated students that would like to work in a fun, active environment.  If you are looking to stay active, work flexible hours, get paid training and the opportunity for scholarships, Campus Recreation Services is your place.  Check out our recruitment schedule at campusrec.utah.edu.
---
DISTINGUISHED PROFESSOR NOMINATIONS NOW BEING ACCEPTED
Nominations from all parts of campus are being solicited for the rank of distinguished professor. Nomination forms and curriculum vitae must be submitted no later than Friday, Oct. 30, 2015.
The rank of distinguished professor is reserved for selected individuals whose achievements exemplify the highest goals of scholarship as demonstrated by recognition accorded to them from peers with national and international stature, and whose record includes evidence of a high dedication to teaching as demonstrated by recognition accorded to them by students and/or colleagues.
Nominees should have completed at least eight years of service at the U prior to nomination. Since the nomination and selection of distinguished professors occurs annually and the process is non-prejudicial for those not selected in any year, repeat nominations are permissible up to three years. After three years, the nominee must wait two years before being eligible for re-nomination. Nominators and/or other professors are encouraged to add any additional information to update the file that they deem important for this year's consideration.
For questions, please contact Kataleeya Kumsooktawonge at 801-581-8661 or kataleeya.k@utah.edu.
---
OSH SURVEY — WE NEED YOUR FEEDBACK

Facilities Management and ASUU need your input on changes to OSH. Take our short survey at OSHstudy.com and help us understand what's most important to you in the new OSH. Complete the survey by Oct. 31 and get a 20 percent off coupon for the Campus Store.
Facilities and ASUU will also hold a town hall meeting in December to gather additional input and ideas from faculty, staff and students. Followed by another town hall in the spring to share the design as it develops. This isn't the only time we'll be seeking your input, you'll be able to find updates as the project develops at facilities.utah.edu/osh.
---
CALL FOR DESIGN AND COLLABORATION
The Linda B. and Robert B. Wiggins Wellness and Integrative Health Center is partnering with the
University of Utah College of Architecture + Planning
as well as
Architectural Nexus
to beautify the patient patio terrace.Anyone from the HCI community—patients, loved ones, care providers and others affected by cancer — are invited to collaborate by submitting design ideas and inspiration for a new labyrinth, pergola and wind feature.
Design ideas are due by Dec. 31, 2015.
Submissions will be reviewed by a committee and final selections made in April 2016.
The HCI design contest submission form can be found

here

.
Huntsman Cancer Institute (HCI) offers an outdoor patio terrace for patients and their loved ones on the fourth floor of our Cancer Hospital. Nestled against the foothill of the mountain, the patio provides comfortable furniture, beautiful views and a calm atmosphere.
Go here for more details and click here to watch the promo video.
---
WILDLIFE SAFETY

Utah is wildlife country, home to bats, black bears, cougars, coyote, moose, mule deer, snakes and more. Be wild aware by learning how to prevent conflicts with wildlife found near the University. Since the campus extends into the northeastern foothills, pay attention when walking the grounds at dawn and dusk when wildlife is most active.
This fall, mule deer have begun to travel down from their high mountain habitats to winter feeding grounds in the valleys. Watch for wildlife crossing the roads and parking lots. If you enjoy hiking in the foothills around the campus you may be lucky enough to spot a coyote on the hunt or see a herd of mule deer grazing.
Cougars, also known as mountain lions, are found throughout Utah and mainly prey on mule deer. Cougars will follow deer along their migration routes into the valleys. It is not uncommon to spot a cougar near campus. Always observe wildlife from a safe distance. For more wildlife safety information, visit wildawareutah.org. To schedule a presentation on wildlife awareness for your employees or students, send an email to info@wildawareutah.org.
---
RED & WHITE FRIDAY CONTEST

Congratulations to Danyel Schroader, winner of this week's Red & White Friday prize pack. Shroader's photo of her adorable daughter won the ultimate tailgate party pack. Red & White Friday is a weekly contest that anyone can win.  To enter, just post a photo to Facebook, Instagram or Twitter of you, your family, pets or friends in Utah swag. Tag the photo with the #RedWhiteFriday before Friday at midnight to be eligible. Winners are announced every Monday.  For details and contest rules click here.

Be sure to enter#redwhitefriday this Friday, Nov. 6.

---
GARTNER RESEARCH RESOURCES AVAILABLE AT NO COST
If you're a University of Utah faculty member, staff member, or student doing research on IT-related topics, Gartner Research resources are available for you to use at no charge. Gartner, Inc. is the world's leading information technology research and advisory company. Additionally, faculty and staff may request complimentary meetings with Gartner consultants on IT-related topics. Log into the Gartner site using your uNID and CIS password.