JUMP TO:
Apply for staff scholarships today
U selects experienced commercialization expert and entrepreneur to lead Technology Commercialization Office
Personal training sessions at the Student Life Center
U and Chung-Ang University announce digital health partnership
Utah teen emotions study
No vehicles allowed on the Marriott Plaza
Customized holiday gifts by University Print & Mail
U holiday cards
New nonprofit mailing guidelines
University Teaching Committee awards
Utah Red Zone Fan Cave Giveaway presented by America First Credit Union
---
APPLY FOR STAFF SCHOLARSHIPS TODAY[bs_row class="row"][bs_col class="col-sm-4″]
[/bs_col]
[bs_col class="col-sm-8″]Applications are now being accepted for staff development scholarships for the Spring 2017 semester. Each scholarship is worth up to $500 and can be used towards the employee's tuition bill. Scholarships can be used toward professional trainings, symposiums, conferences or workshops and their associated expenses.
The committee will process the scholarship applications in the most fair and judicious manner to benefit the employee, according to the procedures directed by the University of Utah policy. UUSC is an equal opportunity provider.
Qualified Applicants must meet the following criteria:
Currently working at 75 percent or above Full Time Equivalency (FTE) position (30-40 hours per week).
Maintained 75 percent or greater Full Time Equivalency (FTE) in a benefits eligible position for two consecutive years as of Dec. 1, 2016.
Have not received a Staff Council scholarship within the past two years.
Current Staff Council Members are not eligible. Click here to apply.
Applications are due by 11:59 p.m. (MST) on Dec. 4, 2016.
Incomplete applications will not be considered.[/bs_col][/bs_row]
---
PERSONAL TRAINING SESSIONS AT THE STUDENT LIFE CENTER[bs_row class="row"][bs_col class="col-sm-4″]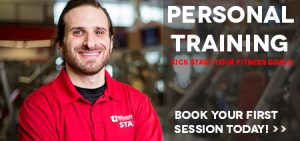 [/bs_col]
[bs_col class="col-sm-8″]Click here for information and registration
Get a jump on your holiday workouts with some Personal Training at the Eccles Student Life Center.  Our certified trainers will work with you to develop the best fitness plan for your goals.
Check out the details and register today.[/bs_col][/bs_row]
---
U SELECTS EXPERIENCED COMMERCIALIZATION EXPERT AND ENTREPRENEUR TO LEAD TECHNOLOGY COMMERCIALIZATION OFFICE[bs_row class="row"][bs_col class="col-sm-4″]
[/bs_col]
[bs_col class="col-sm-8″]The University of Utah announced today that Keith Marmer has been selected as executive director of Technology and Venture Commercialization, the university's intellectual property and technology commercialization office.
Marmer, a leading candidate from the beginning of the search process, was selected from a pool of exceptional applicants. He joins the U with considerable experience in technology commercialization, entrepreneurship and venture capital. He previously served as the chief business officer at the Penn Center for Innovation at the University of Pennsylvania, where he led the Center's day-to-day commercialization activities. Prior to this, Marmer directed Penn State College of Medicine's technology commercialization office and served as an associate dean for research innovation. Marmer has also founded and led four companies, his latest being a venture capital firm that targets early stage life science companies.
"Technology commercialization has enjoyed a bright history at the U," said Andrew Weyrich, vice president for research. "Keith is determined to build upon this success to further enhance TVC, which is already in the upper echelons of technology commercialization operations. Our selection process involved hundreds of applicants, was rigorous and comprehensive and we are excited to recruit Keith. The selection committee and I overwhelmingly believe that his breadth of university experience combined with his strong history of entrepreneurship is the right combination needed to catalyze technology commercialization efforts at the U."[/bs_col][/bs_row]
---
U AND CHUNG-ANG UNIVERSITY ANNOUNCE DIGITAL HEALTH PARTNERSHIP[bs_row class="row"][bs_col class="col-sm-4″]
[/bs_col]
[bs_col class="col-sm-8″]In the spirit of scholarly exchange, Chung-Ang University announced a formal partnership with several University of Utah entities focused on the development of digital telehealth innovations through shared knowledge and best practices.
U entities participating in the exchange include: University of Utah Hospital; University of Utah Health Care Telehealth; the U Brain Institute; and the Research Center for Digital Wellbeing.
Telehealth enhances both clinical and non-clinical healthcare services through social, mobile analytic and cloud technologies to diagnose and treat disease.
To learn more, click here. [/bs_col][/bs_row]
---
UTAH TEEN EMOTIONS STUDY[bs_row class="row"][bs_col class="col-sm-4″]
[/bs_col]
[bs_col class="col-sm-8″]University of Utah research team is looking for two types of families to participate in a research study at the University of Utah. Your family may be a great fit for the study.
If your teenage daughter is:
Between the ages of 13-17
Does not have epilepsy, seizures, heart
disease or asthma
Is not taking major tranquilizers,
antihistamines or beta blockers
Fits into one of two groups:

Has NO HISTORY of psychological
problems, like depression, attention
problems, suicidal behaviors or self injury
Has harmed him/herself or attempted
suicide
For more information or to sign up, contact the University of Utah research team at 801-581-6412 or utah.teen.emotion@gmail.com.[/bs_col][/bs_row]
---
NO VEHICLES ALLOWED ON THE MARRIOTT PLAZA[bs_row class="row"][bs_col class="col-sm-4″]
[/bs_col]
[bs_col class="col-sm-8″]The Marriott Plaza is a roof. It is unsafe for vehicles to drive in this area as it is a highly used pedestrian plaza and vehicle traffic has the potential to harm the roof. Facilities Management is adding bollards in the area to deter vehicles. Other than food trucks, that have been given specific and safe pathways and areas to park, vehicular traffic in this area is prohibited and cart traffic is highly discouraged.
Please use caution in this densely used area and be kind and courteous to others. [/bs_col][/bs_row]
---
CUSTOMIZED HOLIDAY GIFTS BY UNIVERSITY PRINT & MAIL[bs_row class="row"][bs_col class="col-sm-4″]
[/bs_col]
[bs_col class="col-sm-8″]Don't be alarmed, but the holidays are six weeks away.
If your organization or department is in need of holiday gifts or giveaways, let University Print & Mail help you design and customize one-of-a-kind gifts for those special people on your list this year.
From water bottles to umbrellas, blankets to tote bags—if you can think of it, Print & Mail can create it and make it personal by adding names, text or departmental logos. Most items take approximately five weeks for production and delivery, so order now to ensure your items arrive in time for the holidays. For a custom quote, please call 801- 581-6171 or visit printing.utah.edu for more information.
University Print & Mail is an official licensee of the University of Utah and is therefore legally permitted to use and reproduce university-owned trademarks and logos. By supporting official licensees like Print & Mail, you are assured to receive quality products while also supporting student scholarships, athletic programs and other university initiatives.[/bs_col][/bs_row]
---
U HOLIDAY CARDS[bs_row class="row"][bs_col class="col-sm-4″]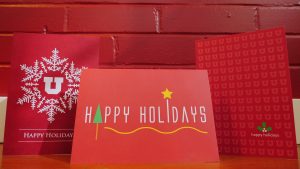 [/bs_col]
[bs_col class="col-sm-8″]Get a head start on the holiday season by ordering your greeting cards from University Print & Mail Services. Conveniently place your order online and choose from more than 20 designs, enhanced by your own personalized message. Orders are typically completed in five business days and can be picked up or delivered to your office for free. Making this annual task even easier, Print & Mail can address your envelopes, apply postage and place your cards in the mail for you.
In addition to holiday card designs, University Print & Mail offers several other styles for fall, along with other special occasion cards such as birthday cards, thank you cards, custom-design cards and personalized stationery.
Both personal and office orders are welcome. To view designs online and place your order, visit printing.utah.edu.[/bs_col][/bs_row]
---
NEW NONPROFIT MAILING GUIDELINES[bs_row class="row"][bs_col class="col-sm-4″]
[/bs_col]
[bs_col class="col-sm-8″]Users of the Nonprofit Standard Mail service are advised by the U.S. Postal Service to more clearly identify their nonprofit organization on all items mailed at this rate.
All mailing pieces sent from campus using nonprofit permit 1529 must have 'The University of Utah' displayed in a prominent location on the package or envelope. The USPS requires that the return address begin with, 'The University of Utah', followed by the sender's name and a campus address. To prevent confusion, delay or higher postage rates, please ensure that the university name is easily identifiable and avoid abbreviations such as 'U of U'.
Help the university keep this valuable resource by complying with USPS guidelines on nonprofit mailings. Questions regarding nonprofit permits and other mailing services may be directed to Kim Hansen at 801-581- 7212. Questions regarding the printing of mail items may be directed to 801-581-6171.[/bs_col][/bs_row]
---
UNIVERSITY TEACHING COMMITTEE AWARDS[bs_row class="row"][bs_col class="col-sm-4″]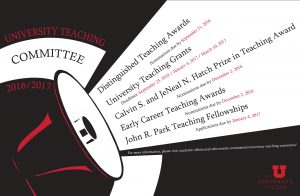 [/bs_col]
[bs_col class="col-sm-8″]The University Teaching Committee encourages the efforts of faculty members, departments and colleges to improve individual teaching skills, devise effective teaching techniques and recognize and reward superior achievements in teaching. A variety of awards are now seeking nominations.
To see criteria and deadlines, click here.[/bs_col][/bs_row]
---
UTAH RED ZONE FAN CAVE GIVEAWAY PRESENTED BY AMERICA FIRST CREDIT UNION[bs_row class="row"][bs_col class="col-sm-4″]
[/bs_col]
[bs_col class="col-sm-8″]Utah Red Zone and America First Credit Union are working together to give one lucky Utah Football fan the best seat in the house with the Utah Red Zone Fan Cave Giveaway. Utah Red Zone will make one fan's living room have as much Utah pride as they do with a fully furnished and decorated fan cave for the perfect home and away game experience.
The Utah Red Zone Fan Cave Giveaway grand prize includes:
Samsung 65″ Class 4K Ultra HD TV
(2) Imperial University of Utah Recliners
Blakeway framed Rice-Eccles Stadium panorama
Northwest Utah tapestry woven blanket
Northwest Utah plush throw blanket
Northwest Utah rug
Legacy Utah vintage game poster artwork
Legacy Utah wall-mount bottle opener
Legacy Utah serving tray
Paulson Designs Utah athletic logo canvas art
Authentic Street Signs "Man Cave" sign
Dahl large vinyl decal
and more Utah Red Zone merchandise.
Utah fans can enter to win the Utah Red Zone Fan Cave Giveaway by going to URedZone.com/FanCaveGiveaway. The lucky winner will be randomly selected at the conclusion of the Utah Football season.
For more information, call or visit Utah Red Zone or the University Campus Store.[/bs_col][/bs_row]