JUMP TO:
New graduate degree prepares students to mine 'big data'
U's Executive MBA program ranked No. 79 in the world, 21 in the U.S.
October is National Cyber Security Awareness Month
National Center for Faculty Development & Diversity: New membership announcement
Research images as art competition
Get discounts through U Community Solar and U Drive Electric
University Teaching Committee awards
Utah Red Zone Fan Cave Giveaway presented by America First Credit Union
MathWorks MATLAB Total Academic Headcount site license for U community
---
NEW GRADUATE DEGREE PREPARES STUDENTS TO MINE 'BIG DATA'[bs_row class="row"][bs_col class="col-sm-4″]
[/bs_col]
[bs_col class="col-sm-8″]The David Eccles School of Business has launched a specialized graduate degree in business analytics. The Master of Science in Business Analytics is the first of its kind in Utah and will give students advanced knowledge in both analytics and management, preparing them to enter the robust world of 'big data.'
A hands-on focus in the curriculum, three-credit hour capstone project and one-on-one career coaching will ensure students have the tools they need to compete in the analytics industry.
For more details about the new degree, click here.[/bs_col][/bs_row]
---
U'S EXECUTIVE MBA PROGRAM RANKED NO. 79 IN THE WORLD, 21 IN THE U.S.[bs_row class="row"][bs_col class="col-sm-4″]
[/bs_col]
[bs_col class="col-sm-8″]The Executive MBA program at the University of Utah's David Eccles School of Business is ranked one of the best in the world, according to a new survey by the Financial Times. The program ranked No. 21 nationally and No. 79 globally, moving up one and four spots respectively. The Eccles School's program also ranked fourth in the West and is the only Utah school ranked in the top 100 this year.
To learn more about how the rankings were determined, click here. [/bs_col][/bs_row]
---
OCTOBER IS NATIONAL CYBER SECURITY AWARENESS MONTH[bs_row class="row"][bs_col class="col-sm-4″]
[/bs_col]
[bs_col class="col-sm-8″]The internet is a huge part of life at work and at home, and no one is immune to cyber threats. That's why for the third year in a row, University Information Technology (UIT) is participating in the National Cyber Security Awareness Month (NCSAM) campaign. It's everyone's responsibility to behave safely online, and UIT wants to help you learn how to do so.
This year, UIT's message is aligned with the StaySafeOnline.org campaign. The remaining topics to be covered are:
Oct. 17-21: Creating a Culture of Cybersecurity at the U 
Oct.  24-28: What's Your Aptitude? 
UIT invites you to join us this month as we learn together about ways to stay informed, as well as best practices for how to stay safe online.[/bs_col][/bs_row]
---
ANNOUNCING THE SECOND RESEARCH IMAGES AS ART COMPETITION[bs_row class="row"][bs_col class="col-sm-4″]
[/bs_col]
[bs_col class="col-sm-8″]We are excited to accept images that represent your science research from all the different disciplines at the University of Utah. They will all be display at the Marriott Library Nov. 14, 2016, with a reception on the Nov. 18, 2016. Winning images will be used for public relations for the university so we can show our community the fantastic research happening here.
Register here by Nov. 5, 2016.[/bs_col][/bs_row]
---
NATIONAL CENTER FOR FACULTY DEVELOPMENT AND DIVERSITY: NEW MEMBERSHIP ANNOUNCEMENT[bs_row class="row"][bs_col class="col-sm-4″]
[/bs_col]
[bs_col class="col-sm-8″]The College of Education is pleased to announce that the University of Utah has now obtained an Institutional Membership for the National Center for Faculty Development & Diversity (NCFDD). The NCFDD is a nationally-recognized, independent organization that provides online career development and mentoring resources for faculty, graduate students and post-doctoral students. Because the U is now an institutional member, our graduate students, post-doctoral students and faculty now have access to a large variety of programs, services and resources at no cost (the normal cost for individual memberships would be $240/year for graduate and post-doctoral scholars, and $480/year for faculty).
NCFDD membership resources includes:
• Weekly Monday Motivator
• Monthly core curriculum webinars
• Monthly guest expert webinars
• Access to multi-week courses
• Video recordings of all webinars so members can learn at their convenience
• Private discussion forum for peer-mentoring and problem solving
• Monthly accountability buddy matches
• Moderated monthly writing challenges
• Access to the Career Center where members can post and search job listings
• Access to the member library that includes past webinar materials, referrals and readings
To register for your University of Utah NCFDD membership, please complete the following steps:
1. Visit facultydiversity.org/Utah
2. Under "Registration information," enter your University of Utah email address as a username.
Also enter your first name, last name, validation code (provided by the website) and click
continue.
3. Enter the required registration information and click "submit."
4. Members will receive a welcome email within one to two business days confirming that the account is approved and active.
If you have any questions about the membership, please contact Nadia Granados in the College of Education at nadia.granados@utah.edu. We encourage your participation in the Institutional Membership and we will be reaching out to solicit feedback on these resources over the coming months.[/bs_col][/bs_row]
---
GET DISCOUNTS THROUGH U COMMUNITY SOLAR AND U DRIVE ELECTRIC[bs_row class="row"][bs_col class="col-sm-4″]
[/bs_col]
[bs_col class="col-sm-8″]The Sustainability Office is running two community discount programs that support creative solutions to improve environmental impacts. U Community Solar offers U community members the opportunity to get rooftop solar panels and installation for their homes at a discounts. U Drive Electric offers discounts on several makes and models of electric and plug-in-hybrid vehicles. Both of these programs run through Oct. 31, 2016.
To learn more and to sign up, visit U Community Solar and U Drive Electric.[/bs_col][/bs_row]
---
UNIVERSITY TEACHING COMMITTEE AWARDS[bs_row class="row"][bs_col class="col-sm-4″]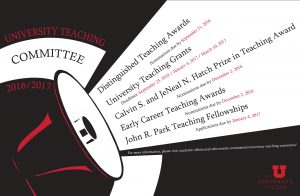 [/bs_col]
[bs_col class="col-sm-8″]The University Teaching Committee encourages the efforts of faculty members, departments and colleges to improve individual teaching skills, devise effective teaching techniques and recognize and reward superior achievements in teaching. A variety of awards are now seeking nominations.
To see criteria and deadlines, click here.[/bs_col][/bs_row]
---
UTAH RED ZONE FAN CAVE GIVEAWAY PRESENTED BY AMERICA FIRST CREDIT UNION[bs_row class="row"][bs_col class="col-sm-4″]
[/bs_col]
[bs_col class="col-sm-8″]Utah Red Zone and America First Credit Union are working together to give one lucky Utah Football fan the best seat in the house with the Utah Red Zone Fan Cave Giveaway. Utah Red Zone will make one fan's living room have as much Utah pride as they do with a fully furnished and decorated fan cave for the perfect home and away game experience.
The Utah Red Zone Fan Cave Giveaway grand prize includes:
Samsung 65″ Class 4K Ultra HD TV
(2) Imperial University of Utah Recliners
Blakeway framed Rice-Eccles Stadium panorama
Northwest Utah tapestry woven blanket
Northwest Utah plush throw blanket
Northwest Utah rug
Legacy Utah vintage game poster artwork
Legacy Utah wall-mount bottle opener
Legacy Utah serving tray
Paulson Designs Utah athletic logo canvas art
Authentic Street Signs "Man Cave" sign
Dahl large vinyl decal
and more Utah Red Zone merchandise.
Utah fans can enter to win the Utah Red Zone Fan Cave Giveaway by going to URedZone.com/FanCaveGiveaway. The lucky winner will be randomly selected at the conclusion of the Utah Football season.
For more information, call or visit Utah Red Zone or the University Campus Store.[/bs_col][/bs_row]
---
MATHWORKS MATLAB TOTAL ACADEMIC HEADCOUNT SITE LICENSE FOR U COMMUNITY[bs_row class="row"][bs_col class="col-sm-4″]
[/bs_col]
[bs_col class="col-sm-8″]The University of Utah has negotiated and obtained a campus wide MathWorks MATLAB Total Academic Headcount site license for MATLAB, Simulink and 48 companion software products.
Access to the products are available now through the Office of Software License web store and the software is available to all students, faculty and staff for academic purposes, including academic research.
Information regarding this license, product pricing and the available products can be found here.[/bs_col][/bs_row]