JUMP TO:
Protect yourself from Hepatitis A
U ranks 15th for undergrad and 23rd for grad entrepreneurship studies for 2018
Larry H. and Gail Miller Family Foundation to donate $5.3 million establishing a diabetes prevention program
Mitch Wishnowsky and Johnny Capra earn football academic all-district
U scientists key in the next generation astronomical survey to map the entire sky
College of Education Selected to Host Prominent Journal
PepsiCo agreement is official
National Center for Faculty Development & Diversity
Junior League of Salt Lake hosts a Women Helping Women clothing project
U holiday cards
Customized holiday gifts by University Print & Mail
Send packages home, please
U Staff Scholarship applications open
---
PROTECT YOURSELF FROM HEPATITIS A[bs_row class="row"][bs_col class="col-sm-4″]
[/bs_col][bs_col class="col-sm-8″]Utah is among several states experiencing a surge in Hepatitis A cases. Those at highest risk are the homeless, individuals who use injection and non-injection drugs, those who are incarcerated and their close contacts. Those who have close contact with these high risk groups can protect themselves by practicing good hand hygiene and considering Hepatitis A vaccination.
Be sure to wash your hands after using the restroom and before preparing food or eating:
Wet your hands and apply soap.
Scrub your hands thoroughly for at least 20 seconds. Be sure to lather the backs of your hands, between your fingers and under your nails.
Rinse your hands well.
Dry your hands using a clean towel, or air dry them.
If you may be at risk and would like to receive Hepatitis A vaccination you can:
Call 385-468-SHOT (7468) to make an appointment at a Salt Lake County Health Department immunization clinic
Contact your health care provider
Visit your local pharmacy
For more information, visit CDC.gov/hepatitis.[/bs_col][/bs_row]
---
U RANKS 15TH FOR UNDERGRAD AND 23RD FOR GRAD ENTREPRENEURSHIP STUDIES FOR 2018[bs_row class="row"][bs_col class="col-sm-4″]
[/bs_col][bs_col class="col-sm-8″]For the seventh straight year, The Princeton Review ranked the University of Utah as one of the top 25 schools in the country in 2018 for entrepreneurship education in a new survey released today. Led by the David Eccles School of Business and its Lassonde Entrepreneur Institute, the University of Utah ranked No. 15 for undergraduate and No. 23 for graduate programs.
The Princeton Review surveyed more than 300 schools offering entrepreneurship studies for the rankings. The data collected for this year's rankings are from the 2015-16 academic year, which precedes many recent developments at the University of Utah.
In recent years, the University of Utah has grown and improved its entrepreneurship programs and opportunities. Among these developments was opening Lassonde Studios in August 2016. The five-story innovation space is open to all students on campus to "live, create, launch."
"Entrepreneurship is one of our core values at the David Eccles School of Business, and we are proud to be recognized as a national leader," said Taylor Randall, dean of the business school. "We have significantly expanded the number of opportunities we provide to students interested in entrepreneurship. This ranking shows that these efforts are paying off. We want to be known as the best place for students to study and experience entrepreneurship."
Read the full story here.[/bs_col][/bs_row]
---
Larry H. and Gail Miller Family Foundation will donate $5.3 million to the U establishing a diabetes prevention program[bs_row class="row"][bs_col class="col-sm-4″]
[/bs_col][bs_col class="col-sm-8″]The University of Utah announced on Nov. 13, 2017, that The Larry H. and Gail Miller Family Foundation will donate $5.3 million to establish a diabetes prevention program called "Driving Out Diabetes: A Larry H. Miller Family Wellness Initiative." This bold initiative will incorporate a novel three-pronged approach to attack diabetes through prevention and outreach, clinical care, and research and training. Additionally, the program will proactively deliver screening services to populations who are most vulnerable to developing diabetes. The most common form of diabetes, type 2, can be prevented if caught early enough.
Gail Miller, chair of the Larry H. and Gail Miller Family Foundation, said, "As part of our mission to enrich lives, we are partnering with University of Utah Health on this initiative with the goal of having a lasting impact, especially on some of the most vulnerable in our state."
Miller described her late husband Larry as a man with an iron will who found a way to accomplish everything he wanted, but said, "when you get an illness like diabetes, you cannot will it away." Larry H. Miller, noted Utah businessman and philanthropist, died from complications of type 2 diabetes when he was 64 years old. "Our family knows firsthand the effects of diabetes and we are committed to help educate and save others from this devastating disease," said Miller.[/bs_col][/bs_row]
---
MITCH WISHNOWSKY AND JOHNNY CAPRA EARN FOOTBALL ACADEMIC ALL-DISTRICT[bs_row class="row"][bs_col class="col-sm-4″]
[/bs_col][bs_col class="col-sm-8″]Utah junior punter Mitch Wishnowsky and sophomore offensive lineman Johnny Capra have been selected to the Academic All-District football first team, announced today by the College Sports Information Directors of America (CoSIDA).
Wishnowsky and Capra will be placed on the national ballot for Academic All-America honors.
Wishnowsky, who has a 3.40 grade point average and is majoring in kinesiology teaching, was the 2016 Ray Guy Award winner and a unanimous consensus All-American. He is a semifinalist for the 2017 award. Wishnowsky currently ranks second in the nation in net punting (43.89) and was selected as a Midseason All-American by Athlon and the All-American. He is third in the nation in percentage of punts inside the 10 (26.32%, 10-of-38 punts) and tied for seventh nationally in total punts downed inside the 10-yard line (10). Wishnowsky leads the Pac-12 and ranks eighth in the nation in punt average (45.4).
Capra, who has a 3.96 grade point average and is majoring in communication, has played in all 10 games this season, mostly on special teams but he has made four appearances on the offensive line. He has participated in 54 plays on the line, including a season-high 37 plays against Washington State.
Individuals are selected through voting by CoSIDA, a 2,000-member organization consisting of sports public relations professionals for colleges and universities in the United States and Canada.[/bs_col][/bs_row]
---
U scientists key in the next generation astronomical survey to map the entire sky[bs_row class="row"][bs_col class="col-sm-4″]
[/bs_col][bs_col class="col-sm-8″]The next generation of the Sloan Digital Sky Survey (SDSS-V), will move forward with mapping the entire sky following a $16 million grant from the Alfred P. Sloan Foundation. The grant will kickstart a groundbreaking all-sky spectroscopic survey for a next wave of discovery, anticipated to start in 2020. The University of Utah has been a key member of the SDSS collaboration since 2009, and all of the survey data will be processed and stored at the U's Center for High-Performance Computing.
"SDSS has long been a great example of hundreds of astronomers of all ages, from many continents, working together on a big project. We're excited to continue that tradition!" says Gail Zasowski, assistant professor in the Department of Physics & Astronomy at the U, and the SDSS-V spokesperson. Zasowski works to keep the collaborative part of the survey running smoothly, and helps interface between SDSS and the rest of the astronomical community. Zasowski also does most of her research with SDSS data, adding, "The new knowledge we're going to learn about the astrophysics of stars, galaxies, and black holes will be truly remarkable."
"We are very fortunate at the U to provide the central computational cluster for SDSS-V.  A tremendous effort of SDSS has been the development of a data archive and specialized web interfaces that serve astronomers at all phases of their careers.  There is an ever-increasing demand from the community, with current rates exceeding 10 TB per month downloaded with over 50 million hits per month, mostly from the public.  Our data team is very excited to refresh our systems for the next scientific phase of SDSS-V, taking the most advantage of the data science revolution in astronomy," says Joel Brownstein, research associate professor at the U's Department of Physics & Astronomy, is the principal data scientist for SDSS-V.[/bs_col][/bs_row]
---
College of Education Selected to Host Prominent Journal[bs_row class="row"][bs_col class="col-sm-4″]
[/bs_col][bs_col class="col-sm-8″]Gerardo R. López, professor and chair in the Department of Educational Leadership and Policy in the College of Education at the University of Utah has been selected as the lead editor of the journal Educational Administration Quarterly, which is considered the most prominent journal in the field of educational leadership. The journal publishes empirical and conceptual articles focused on critical leadership and policy issues within the field of education. In doing so, it helps shape the preparation and practice of leaders in schools and districts. López will act as lead editor February 2018 through January 2023.
López has chosen the following individuals to serve as part of his lead editorial team: Andrea Rorrer (University of Utah), Laurence Parker (University of Utah), Yongmei Ni (University of Utah), Irene Yoon (University of Utah), Diana Pounder (University of Utah), Min Sun (University of Washington), Julie Mead (University of Wisconsin-Madison), Mónica Byrne-Jiménez (Indiana University) and Terah Venzant-Chambers (Michigan State University).
"We are excited to host the premiere journal in the field of educational leadership," said López. "The Department of Educational Leadership and Policy would like to thank the journal's sponsor, the University Council for Educational Administration, for entrusting us with the critically important task of ensuring the knowledge base in our field remains strong and vibrant for years to come."[/bs_col][/bs_row]
---
PEPSICO AGREEMENT IS OFFICIAL[bs_row class="row"][bs_col class="col-sm-4″]
[/bs_col][bs_col class="col-sm-8″]In drink and now in ink, the university's agreement with PepsiCo is fully complete.
The multi-year effort, led by Auxiliary Services, finally concluded in a signing ceremony at Rice-Eccles Stadium where University President David Pershing joined PepsiCo President and COO of North American Beverages Kirk Tanner, to put pen to paper in executing one of the largest and most complex agreements in university history.
In a remarkable effort this summer, the Pepsi Co team completed approximately 95% of its transition activities in just two weeks, a daunting task to be sure. Now fully intact, the university contains 154 Pepsi vending machines, 167 coolers and 143 fountains. Many of those coolers bear both Pepsi Co and University of Utah marks—a first for both entities.
Click here to read the full story and see a video of the signing.[/bs_col][/bs_row]
---
NATIONAL CENTER FOR FACULTY DEVELOPMENT & DIVERSITY [bs_row class="row"][bs_col class="col-sm-4″]
[/bs_col][bs_col class="col-sm-8″]All graduate students, postdocs and faculty: Did you know that you have access to a wonderful online mentoring program to support you in your scholarship at no cost?
The Office for Equity and Diversity and the Office for Health Equity and Inclusion have sponsored the University of Utah's Institutional Membership for the National Center for Faculty Development & Diversity (NCFDD). The NCFDD is a nationally-recognized, independent organization that provides online career development and mentoring. Our faculty, graduate students, and postdoctoral scholars now have access to a large variety of services and resources including webinars, multi-week courses, guest lectures, accountability writing buddy matches, discussion forums, dissertation boot camp, and much more. The normal cost for individual NCFDD memberships would be $240 a year for doctoral and postdoctoral scholars and $480 a year for faculty.
To register for your free NCFDD membership, please complete the following
steps:
Visit facultydiversity.org
Click "Activate My Membership"
Enter your account information using your University of Utah email address.
If you have any questions about the membership, please contact Nadia Granados in the College of Education at nadia.granados@utah.edu.[/bs_col][/bs_row]
---
JUNIOR LEAGUE OF SALT LAKE HOSTS A WOMEN HELPING WOMEN CLOTHING PROJECT[bs_row class="row"][bs_col class="col-sm-4″]
[/bs_col][bs_col class="col-sm-8″]The Junior League of Salt Lake hosts a Women Helping Women clothing project to assist women entering the workforce with appropriate clothing. WHW currently needs women's coats and winter boots. Also needed are large, extra-large and plus sized clothing, purses and new bras, underwear and nylons. All work appropriate items in good, clean condition are also gladly accepted. For more information, visit jlslc.org.
Bring donations to:
Rebecca Dowdell
University Student Apartments, Main Office
1945 E Sunnyside Avenue
Donations accepted M-F from 8 a.m.-4 p.m.[/bs_col][/bs_row]
---
U HOLIDAY CARDS[bs_row class="row"][bs_col class="col-sm-4″]
[/bs_col][bs_col class="col-sm-8″]Get a head start on the holiday season by ordering your greeting cards from University Print & Mail Services. Conveniently place your order online and choose from more than 30 designs, enhanced by your own personalized message. Orders are typically completed in five business days and can be picked up or delivered to your office for free. Making this annual task even easier, Print & Mail can address your envelopes, apply postage and place your cards in the mail for you.
In addition to holiday card designs, University Print & Mail offers several other styles for fall, along with other special occasion cards such as birthday cards, thank you cards, custom-design cards and personalized stationery.
Both personal and office orders are welcome. To view designs online and place your order, visit printing.utah.edu.[/bs_col][/bs_row]
---
Customized Holiday Gifts by University Print & Mail[bs_row class="row"][bs_col class="col-sm-4″]
[/bs_col][bs_col class="col-sm-8″]In need of holiday gifts or giveaways for those special people on your list this year? Let University Print & Mail help you design and customize one-of-a-kind gifts for your department or personal use.
From water bottles to umbrellas, blankets to tote bags, if you can think of it, Print & Mail can create it and make it personal by adding text, logos or specific designs. Most items take approximately five weeks for production and delivery, so order now to ensure your items arrive in time for the holidays. For more information or a custom quote, please contact Roger King at 801-581-3947 or roger.king@utah.edu.
University Print & Mail is an official licensee of the University of Utah and is therefore legally permitted to use and reproduce university-owned trademarks and logos. By supporting official licensees like Print & Mail, you are assured to receive quality products while also supporting student scholarships, athletic programs and other university initiatives.[/bs_col][/bs_row]
---
Send Packages Home, Please[bs_row class="row"][bs_col class="col-sm-4″]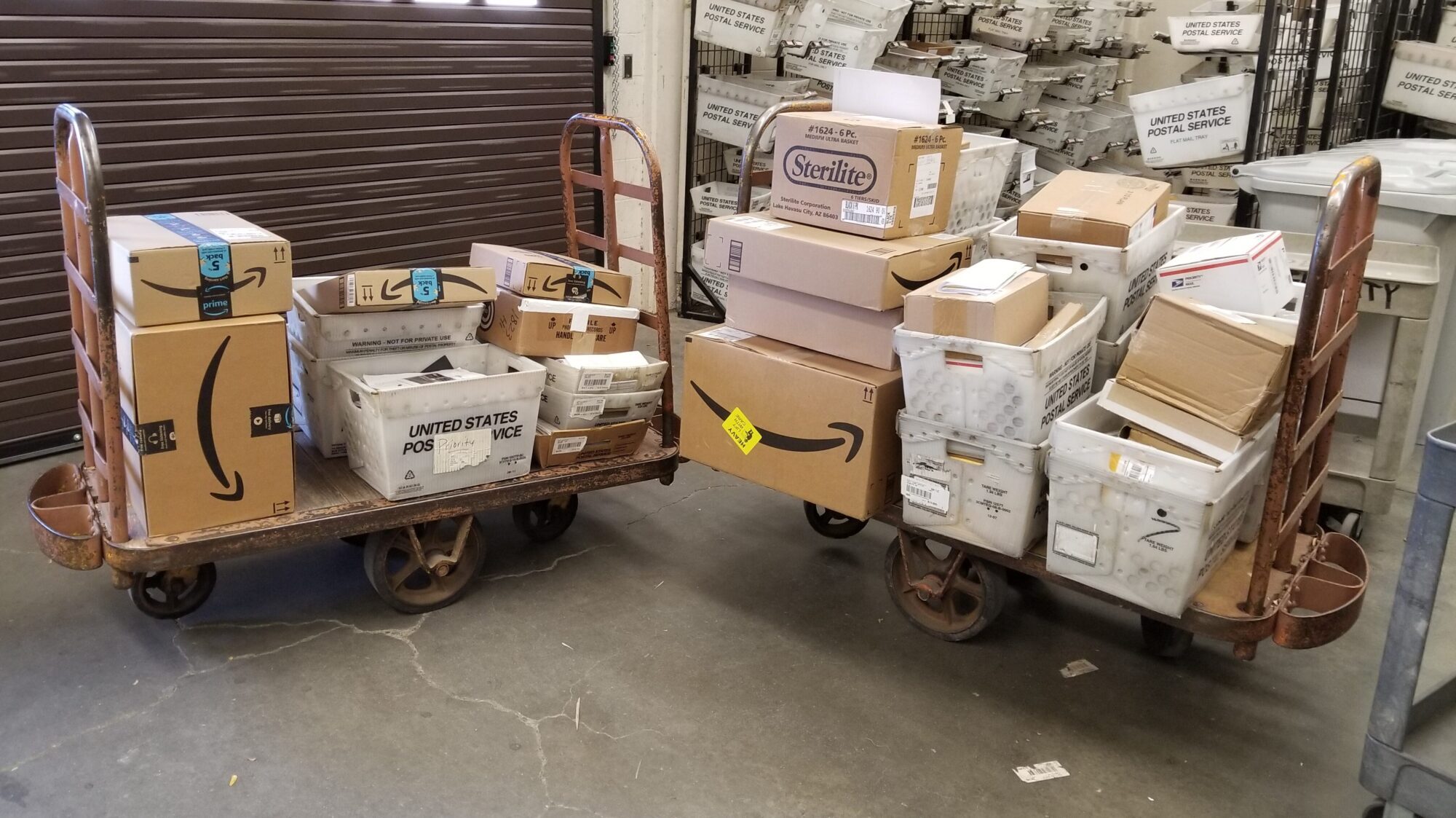 [/bs_col][bs_col class="col-sm-8″]As the holiday season approaches and usage of mail services increases, University Print & Mail Services would like to remind the campus that personal correspondence, packages (e.g. Amazon shipments, etc.) and other deliveries should not be sent to campus addresses but rather, to home addresses.
Because of recent changes with UPS and FedEx rerouting packages through The United States Postal Service (USPS), the volume of packages distributed through Campus Mail has increased significantly, making prompt deliveries more difficult. Pursuant to University policy 3-166, use of the campus mail system is available only to recognized university organizations for official university purposes and is not intended for personal use. Accordingly, faculty and staff should refrain from using the Campus Mail system for receiving or sending personal mail and understand that if they do so, the university is not liable for the contents of those parcels.
Questions or concerns may be directed to Juan Sosa at 801-580-7792 or Juan.Sosa@utah.edu. Thank you for your cooperation, University Print & Mail enjoys serving the campus community and appreciates your ongoing support.[/bs_col][/bs_row]
---
U STAFF SCHOLARSHIPS[bs_row class="row"][bs_col class="col-sm-4″]
[/bs_col][bs_col class="col-sm-8″]Applications are now being accepted for staff development scholarships for the Spring 2018 Semester.
Each scholarship is worth up to $500 and can be used towards the employee's tuition bill. Scholarships can be used towards professional trainings, symposiums, conferences or workshops and their associated expenses.
The committee will process the scholarship applications in the most fair and judicious manner to benefit the employee, according to the procedures directed by the University of Utah policy. UUSC is an equal opportunity provider.
Qualified applicants must meet the following criteria:
1: Currently working at 75 percent or above Full Time Equivalency (FTE) position (30-40 hours per week).
2: Maintained 75 percent or greater Full Time Equivalency (FTE) in a benefits eligible position for two (2) consecutive years as of Dec. 1, 2017.
3: Have not received a Staff Council Scholarship within the past two years.
Current Staff Council Members are not eligible.
Click here to apply. Applications are due by 11:50 p.m.(MST) on Dec. 1, 2017.
Incomplete applications will not be considered.[/bs_col][/bs_row]
---