Summary
What started at the U as a canned food drive experiment has grown into a major holiday food drive.
In a span of 21 years, University of Utah alumni and fans have helped thousands of Utah families by donating tens of thousands of dollars and over a million pounds of food to the Utah Food Bank during the annual food drive.
Pictured: Former Utah Food Bank Executive Director Jim Pugh and Alumni Association Community Service Chair Richard Hinckley, 2007.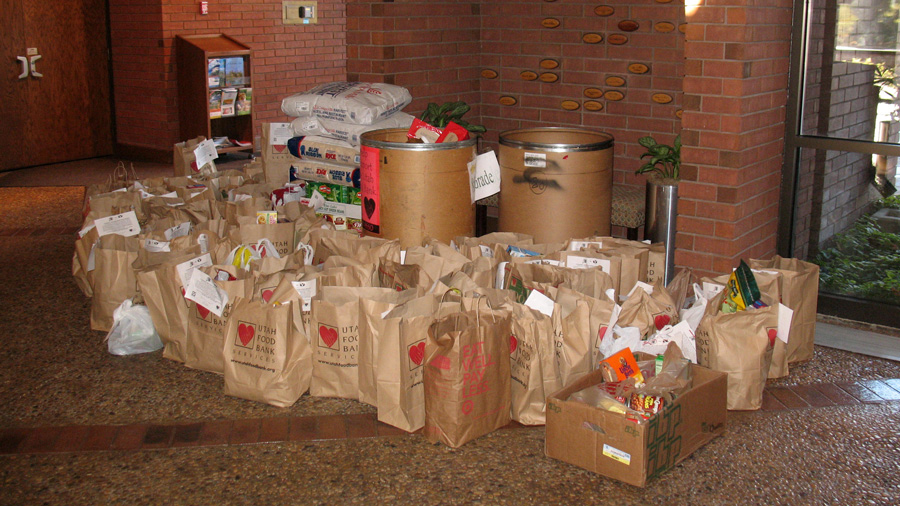 Beginnings
Now in its 22nd year, the University of Utah Food Drive raises substantial amounts of money and canned food for the Utah Food Bank during an important time of year. Here's how it developed into a major food drive.In 1994, the alumni associations from Utah and BYU held the first rivalry canned food drive. Supporters were encouraged to bring cans to the Utah vs. BYU game or a Utah Basketball game later that day. Food drops were also available at the Alumni House and various campus locations.No results are available for 1994, but in 1995, Utah raised 12,500 pounds of food.
Money Talks
Fans were soon asked to donate money instead of lugging cans from distant parking lots to the stadium. Plus, the Utah Food Bank can turn a $1 donation into many more dollars of goods and services ($7.35 currently). The BYU vs. Utah competition was then broadened to two areas: food donations and money donations.
Tiebreaker
Over the years, a common pattern developed. Utah would win the monetary donation competition while BYU, with a large number of students living on or near campus, always won the canned food competition handily. So, it always came down to the football game as a tiebreaker.In 2003, new Utah Head Coach Urban Meyer helped promote the food drive while also shutting out BYU 3-0. It was the first time BYU had been held scoreless since 1975.
U Students Step Up –
Everything Changes!
In 2006, BYU raised over 100,000 pounds of food to the U's 22,000. BYU's student newspaper chastised the U, and also both schools for not raising more food and money.In 2007, the U's Student Alumni Board was tired of losing the food competition to BYU. SAB and The MUSS Board asked the Community Service Committee to give them a greater role. They then started collecting at grocery stores and in neighborhoods. They approached local businesses. By the 2008 drive, Utah had overtaken BYU in food collected.
Rivalry for a Good Cause
Although always a great rivalry, from 2009 to 2011 the Utah/BYU rivalry became even more intense. And needy Utah families benefited. In the three food drives from 2009 to 2011, the U raised a combined total of 1,006,000 pounds of food and over $261,000. The U won the food drive by a sizable amount each year.
Going It Alone
With Utah going to the Pac- 12 and BYU going independent, the annual November rivalry game was no more. In the summer of 2012, BYU notified the U that they would now go forward with a food drive partnership with Utah Valley University.However, The MUSS had fun promoting the "Unrivaled Rivalry" food drive after storming the field 3 three times during the Utah win over BYU in September.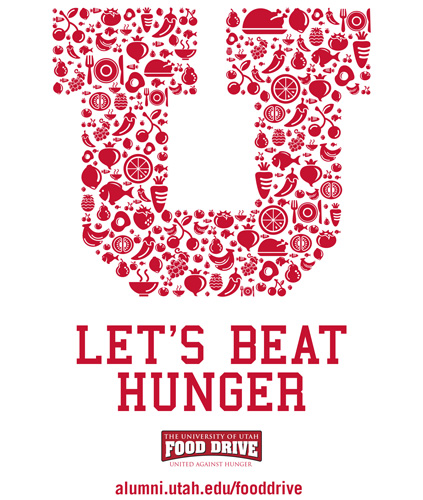 One Thing Hasn't Changed
The rivalry changed. Hunger never did. Over 15 percent of Utahns are at risk of missing a meal today. And 20 percent of Utah children face the same challenge. The Utah Food Bank needs the continued support of Utah alumni and fans.Last year we raised enough food and money to feed the equivalent of 109 families of four for an entire year. We want to do more this year.You can help by making an online donation
here
.
[bs_well size="lg"]Through Saturday, Nov. 28, University of Utah alumni and students will rally the community for the "United Against Hunger" food drive to collect food and donations on behalf of the Utah Food Bank. Monetary donations can be made online at alumni.utah.edu/fooddrive or by mailing a check payable to the Utah Food Bank to: University of Utah Food Drive, University of Utah Alumni Association, 155 S. Central Campus Drive, Salt Lake City, UT 84112. Nonperishable food donations can be brought to the Alumni House (155 S. Central Campus Drive) or the Utah Food Bank (3150 S. 900 West). Please indicate that the donation is part of the University of Utah food drive.[/bs_well]