UNTANGLED, BREAKING THE CYCLE
Monday, May 15, 2017 | 3:30-5:30 p.m.
Okazaki Community Meeting Room 155, College of Social Work
This presentation on refugee trauma will focus on a family-centered model for health and healing. Dr. Omar Reda — founder and director of Libya Al-Shefa and Syria Al-Shefa projects for psycho-social healing, recovery, rehabilitation and reconciliation — will discuss bonding and empowerment of spouses, parents, youth, and community.
Reda is a board-certified psychiatrist working for the Providence Health Systems. He had served as the psychosocial advisor for a number of international nongovernmental organizations, as a WHO trainer and as Libya's deputy mental health lead. He is an expert on issues of psychological trauma, Muslim mental health, immigrants' mental health, the Libyan revolution and the Arab Spring.
This event is free and open to the public; however, pre-registration is requested.
Light refreshments will be served. Free parking will be available in the East Stadium parking lot
Direct questions to delva.hommes@socwk.utah.edu.
---
FREE YOGA FROM MAY-JULY 2017
Mondays | 5:15 p.m.
Wednesdays | 12:05 p.m.
Eccles Health Sciences Library, Garden Level
Join us for free 50-minute yoga sessions from May-July 2017 on Mondays and Wednesdays, on the Garden Level, Eccles Health Sciences Library.
Drop by for one event or attend all of the free yoga events. Please bring your own mat. If you forget your mat, we have three mats available for check out at the front desk.
Please send us feedback here.
---
MINDFULNESS SESSIONS
Monday, May 15, 2017 | 6-7 p.m.
Wednesday, May 17, 2017 | 12-1 p.m.
Wednesday, May 30, 2017 | 12-1 p.m.
Health Sciences Education Building (HSEB) Room 2948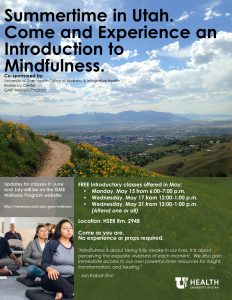 In celebration of National Meditation Month, please join us in exploring and experiencing what mindfulness has to offer. The University of Utah Health Office of Wellness & Integrative Health, the Resiliency Center and the GME Wellness Program are kicking off a series of FREE, introductory mindfulness sessions with three classes in May.
We will be running classes through the summer. Stay tuned for times.
We will run a formal 8-week course in the fall.
Classes will be led by Trinh Mai, faculty in the College of Social Work.
---
LONE PEAK BACKPACKING TRIP
Pre-trip Meeting: Tuesday, May 16, 2017 | 5 p.m.
Friday, May 19–Sunday, May 21, 2017
Lone Peak Wilderness, Sandy
Take a short trip with us in our own backyard as we backpack the Lone Peak Wilderness area. The trip will cost $50 + tax.Backpacking Lone Peak is a great a trip for both experienced and beginning trekkers.
Register at Outdoor Adventures in the Student Life Center or call 801-581-8516.
---
WATER CONSERVATION GARDEN GRAND OPENING
Saturday, May 20, 2017 | 9 a.m.-9 p.m.
Red Butte Garden & Arboretum
Join us to celebrate the grand opening of our newest three-acre garden.
Cost: $7-$12

Free garden admission for kids age 17 and under

Guided garden tours available throughout the day from 10 a.m.-3 p.m.
Drop in and enjoy water-wise kids crafts in Em's Sprout House
Explore botany bin education stations throughout the water conservation garden
Discover welcome stations at each themed area of the new garden from 12-1 p.m.
Rain dance performance by The Wasatch Eagle Dancers from 7-8 p.m.
Lecture: Creativity Run Dry: Designing the Red Butte Garden Water Conservation Garden- Presented by Tres Fromme, principal, 3. Fromme Design
---
VIKINGS: BEYOND THE LEGEND
Saturday, May 27, 2017-Monday, Jan. 1, 2018
What if the blood-thirsty plunderers you once thought you knew, were really just misunderstood explorers, farmers and traders?
Come explore Vikings to discover the truth about the Vikings age and dispel long-held stereotypes about its people, traditions and influence. Find yourself captivated by more than 400 authentic artifacts- some never before seen outside Scandinavia — including jewelry, funeral urns, weapons, game pieces, clothing and even a piece of 1,000-year-old Viking bread.
When you visit Vikings at Natural History Museum of Utah you will:
Imagine a Viking voyage as you marvel a full-scale replica of a Viking ship
Play a digital version of a popular Viking strategy game that pre-dates chess
Test the balance between the blade and handle of a replica Viking sword
Excavate a spectacular Viking burial boat, layer by layer, on an interactive touch table
Click here for more information and go here for hours and admission prices.
---
MAY IS NATIONAL BIKE MONTH
Through May 31, 2017
May is National Bike Month, sponsored by the League of American Bicyclists and celebrated in communities from coast to coast. Established in 1956, National Bike Month is a chance to discover the many benefits of bicycling.
The University of Utah is a Bicycle Friendly University, recognized by the League of American Bicyclists for promoting and providing a more bikeable campus for students, staff and visitors. Those who bike to campus save money on fuel, spend less time in traffic congestion, and integrate physical activity into their daily routine. Biking also helps alleviate personal stress, reduce rush-hour congestion, vehicle emissions and fuel consumption and lessens the amount of parking needed.
Get on your bike and celebrate at these local events during Bike Month, or give biking to campus a try.
Learn more here.
---
ARE YOU NORMAL? BLOCK U: MEDICAL HUMANITIES, A CAPSTONE INITIATIVES PROJECT
Through June 26, 2017
Level 2, Dumke Fine Arts Library & Digital Matters Lab
We invite you to explore the great range of human diversity with us. The biological bases for who we are–as humans and as individuals–are not fixed and not uniform. No two of us are the same. As a result, categories constructed to divide us from each other, based on concepts like race or gender, need to be examined and questioned.
Even those variations that fall farther from the average–those we typically deem "disabilities," like deafness and Down syndrome–bring tangible and intangible benefits to those who carry them and the communities in which they live.
Give the challenge of defining "normal," new genetic tools that promise to correct "abnormalities" and improve human life demand scrutiny. What are their promises and pitfalls? They may empower parents desperate to change the biological inheritance of their offspring. But they may also further privilege those with many advantages.
These technologies also suggest radical possibilities: Could we amplify the already vast diversity of human forms? Why not consider the strengths of other species–and reimagine our own?
Join us, and ask yourself…Are you normal?