HUNTSMAN CANCER INSTITUTE PROTON ADDITION: Huntsman Cancer Institute is preparing for the construction of a space to house a Proton Treatment Facility.  This facility will be located in a mainly underground concrete facility to be located in the east hillside between the HCI 555 Building and HCH 556 Building. Please expect partial trail closures to occur during this time. Construction to begin November 2018.
PARKING LOT NEAR MARRIOTT HONORS COMMUNITY TO CLOSE: Beginning on Oct. 5, 2018, parking in lot 22 (near the Marriott Honors Community, Huntsman Center, Annex and HPER buildings) will become very limited, with a full lot closure taking place after Nov. 1, 2018. See map below: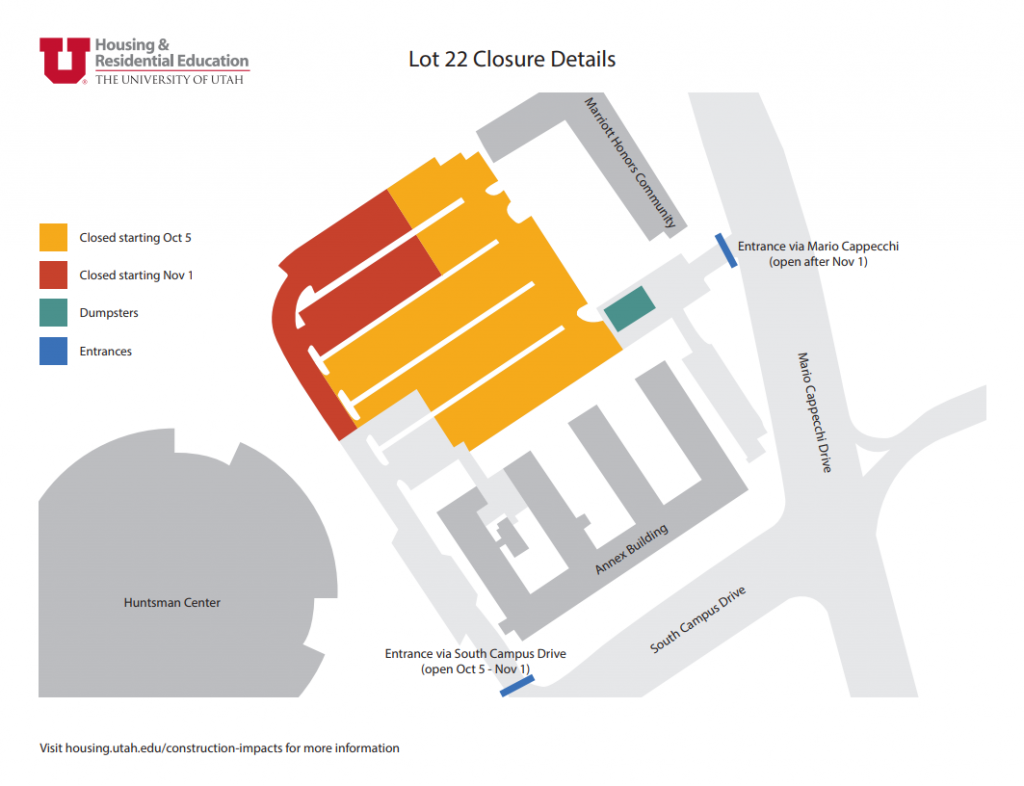 ---
WASATCH DRIVE, MARIO CAPECCHI AND STUDENT LIFE WAY IMPACTS:

Wasatch parking Lot is under construction with a tentative end date of mid-November 2018.

Roundabout work by USTAR to begin after the intersection is open.

Wasatch Dr. will be down to one lane allowing traffic to flow northbound from Mario Capecchi to Dumke Softball Stadium. After Dumke, north and southbound traffic will be open.

No access to Student Life Way will be available. Access the Student Life Center and Lassonde using the route between McCarthey Family Track & Field and Dumke Softball Stadium.

Please note: Left-hand turns will NOT be permitted into Student Life Center from Mario Capecchi. Please use the alternate route.

The 45-degree angle parking stalls on Wasatch Dr. may be affected in order to allow for additional lanes of traffic to flow. People are being redirected to park in the lot directly west (lot 24).

WASATCH EXPRESS DETOUR: The Wasatch Express will detour straight to the Ambulatory parking garage using North Campus Drive. If you have any questions about the Wasatch Express or if you would like additional information on campus transportation, contact U Commuter Services at 801-581-4189.

 UPDATED MAP: See the updated map below showing the traffic plan and circulation patterns with access to McCarthey Field parking and Student Life Way.
---
POTTER STREET ARCHAEOLOGICAL EXCAVATION AND CLOSURE: Archaeological excavation and data recovery is underway on Potter Street. The road is blocked off on the east end near Ft. Douglas Blvd. with parking blocked off north of the Ft. Douglas Museum. Parking is still available on the southwest end of Stilwell Field near the special events entrance to the field. The Museum remains open, normal hours. Potter Street is set to reopen in late October 2018.
---
ONGOING:
SOCCER STADIUM CONSTRUCTION: Construction on the soccer stadium began on Sept. 5. Rows 11-14 (the L shaped area off the road) and row 88 (the old tennis courts) are fenced off. The roadway and additional parts of the area will not be closed until after construction on Wasatch Drive is complete. These are permanent closures and parking will not return. See the map of closures below:
---
SOUTH CAMPUS UTILITY RELOCATION PROJECT: The utility relocation project in the parking lot of Honors Housing continues. Expect closures throughout mid-October. See updated fence timeline on the map below:
---
ADA ROUTE AND STALL INTERRUPTIONS NEAR UMFA: Now through Oct. 15, 2018, the ADA route, stalls and sidewalk near UMFA will be interrupted for construction. Pleases use the alternate route (indicated in green below) through lot 08.For ADA Access questions, contact OEO/AA at 801-581-8365 or

OEO@Utah.edu

.For Lift/Paratransit Shuttle, contact Commuter Services at 801-581-4189.

---
WASATCH EAST PARKING LOT: The north portion of the Eccles Broadcast Center parking lot expansion has been established. The disk Golf field will be turned into a new parking lot which will provide over 400 new stalls. The construction is to go through the remainder of summer and into the fall 2018 semester.
---
HTW COMPLETION: High Temp Water Pipeline replacement completion will be occurring campus wide with sections being fenced off throughout early November 2018.
---
STORMWATER DRAIN PLAYFIELD CONSTRUCTION: The grass field between the McCarthey Family Track & Field and Lassonde Studios is undergoing construction to install a storm water drain. This project is expected to last two years and be complete August 2019.  Access to this area will be closed for the duration of the project.
---
WEST MEDICAL GARAGE CONSTRUCTION: The West Medical Garage (between the Moran Eye Center and the Ambulatory Care Complex construction) will only have access via the two widened ramps on the south side of the garage.  The east side ramp will remain closed until ACC construction is completed in 2019.
---
See the construction impact map below.