NEW:
SHORELINE GARAGE PARKING STALL RELOCATION: Starting April 22, 2019, all the GME stalls in the Shoreline Garage will move to level 4. A-permit parking will be located on levels 2 and 3. T81-permit parking stalls will be located on levels 5 and 6. 
---
U RECYCLE DAY—WEST STADIUM LOT PARKING IMPACT: The three most southern rows in the West Stadium lot will be occupied for U Recycle Day on April 18, from 7:30 a.m.-12 p.m.
---
DAVID GARDNER HALL PARKING LOT: Due to the replacement of high-temp water lines, the parking lot near David Gardner Hall and the Voice & Opera Center is closed. This lot will remain impacted through July 15, 2019.
Following commencement ceremonies in early May 2019, this construction will expand to impact the loading dock and sidewalk between Gardner Hall and Voice through July 15, 2019.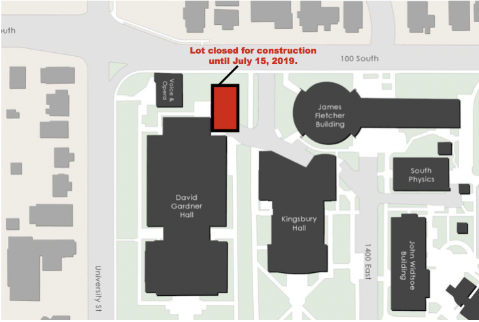 ---
WASATCH DRIVE AND STUDENT LIFE WAY IMPACTS: Construction continues on the Wasatch Drive roundabout. See the updated impact map below for new route. 
The intersection of Wasatch Drive and Mario Capecchi is closed for road construction. The Wasatch Express detours straight to the Ambulatory parking garage

through

 North Campus Drive.

 

If you have any questions about the Wasatch Express or if you would like additional information on campus transportation, contact U Commuter Services at 801-581-4189.

 

Student Life Way is limited one-way traffic at times when heavy construction equipment is being used. Flaggers will help direct traffic during these times. 

Please note that left turns into student life will not be allowed at this time and we encourage traffic to come southbound Wasatch Drive to turn right at Student Life Way.

 
---
ONGOING:
NEW VISITOR SPACES IN THE SOUTH GARAGE LOT (LOT 64): Ten stalls designated for T-permit holders on the second level of the South Garage (Medical Drive South and 2030 East) are now visitor spaces. Payment through the kiosk system is required to park in the visitor spaces.
---
HUNTSMAN CANCER INSTITUTE PROTON ADDITION: Twenty-one stalls are closed in row 4 of the East Hospital lot (Lot 66).
These stalls will be closed to provide access to the Proton Therapy Clinic.
Huntsman Cancer Institute is preparing for the construction of a Proton Treatment Facility. This facility will be located in a mainly underground concrete facility to be located in the east hillside between the HCI 555 Building and HCH 556 Building. Construction began in February 2019. Please expect partial trail closures to occur during this time.
---
STAYING SAFE IN WINTER CONDITIONS: It's important to be extra careful when walking on campus while snow, ice and slippery conditions are present. To stay safe when walking in winter conditions, please take the following precautions:
Walk at a slower pace and plan extra time into your commute to do so

 

Scan ahead to identify and avoid potential slippery surfaces
Stay on designated sidewalks

 

Use handrails

 

Remove snow and mud from your shoes before entering a building

 

Wear appropriate footwear (snow boots, hiking boots, etc.) for the winter conditions

 
Let us help you stay safe on campus. To report unsafe conditions, please contact snow removal at 801-581-7221.
---
NORTH MERRILL ENGINEERING BUILDING PARKING IMPACTS: Ten stalls will be out of service through late spring 2019 in the North Merrill Engineering Building parking lot.
---
WASATCH EAST PARKING LOT: The north portion of the Eccles Broadcast Center parking lot expansion continues. Nearing completion, this roughly 450 stall U lot will be partially open. Several hundred stalls will be available until construction is complete. The construction is still ongoing with lot paving scheduled and sidewalk construction through the end of March 2019.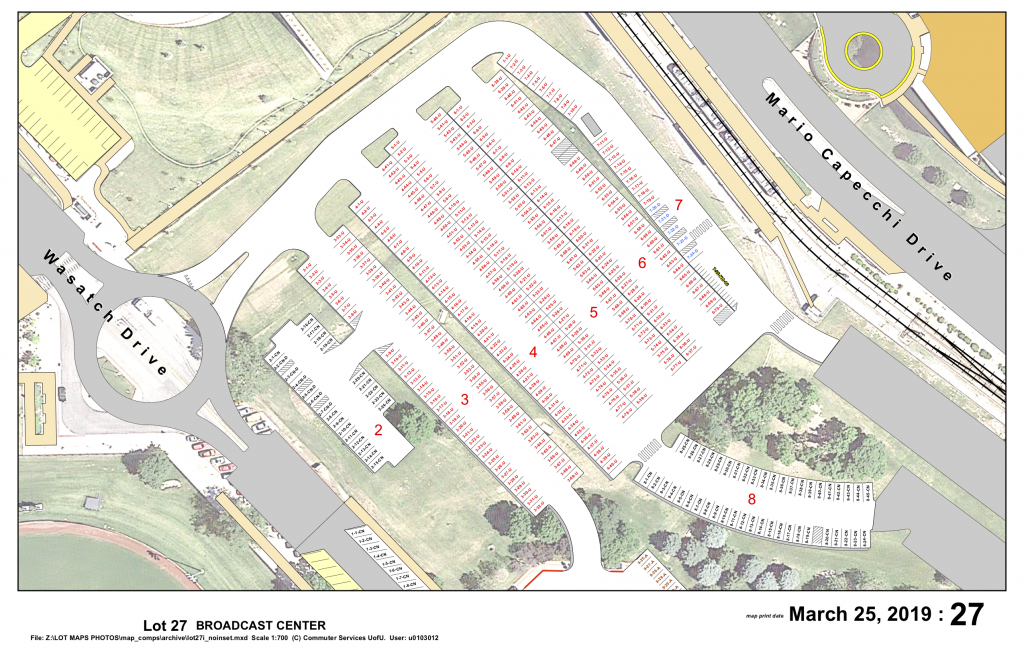 ---
NEW GUARDSMAN SHUTTLE ROUTE: This new route will run between the Guardsman Way Lot to the Business Loop where transfers to the Union electric shuttle route can be made. Shuttle will run Monday-Friday from 8 a.m.-3:30 p.m.
---
SOUTH CAMPUS HOUSING AND DINING: Construction for the new South Campus Housing and Dining Facility continues in parking lot 22 and the women's soccer field. Parking in lot 22 is closed. Construction will be ongoing until June 2020.

---
SOCCER/LACROSSE STADIUM CONSTRUCTION: Construction on the soccer/lacrosse stadium began on Sept. 5, 2018. Rows 11-14 (the L shaped area off the road) and row 88 (the old tennis courts) have been removed. The roadway and additional parts of the area are now closed. These are permanent closures and parking will not return.
See the map of closures below: 
---
STORMWATER DRAIN PLAYFIELD CONSTRUCTION: The grass field between the McCarthey Family Track & Field and Lassonde Studios is undergoing construction to install a stormwater drain. This project is expected to be completed in August 2019. Access to this area will be closed for the duration of the project.
---
WEST MEDICAL GARAGE CONSTRUCTION: The West Medical Garage (between the Moran Eye Center and the Ambulatory Care Complex construction) will only have access via the two widened ramps on the south side of the garage. The east side ramp will remain closed until ACC construction is completed in 2019.
---
See the construction impact map below.