In addition to the subcommittee led by professor Ed Diener on personal happiness, the other subcommittees and their chairs are: happy cities (Aisha Bin Bisher); happiness and education (Martin Seligman); happiness and health (Lord Richard Layard); happiness measurement (Martine Durand); and happiness in the work environment (Jan-Emmanuel De Neve).
By Brooke Adams, communications specialist, University Marketing & Communications
When the United Arab Emirates decided to get a happiness movement trending around the world, it turned to a University of Utah social psychology professor for help.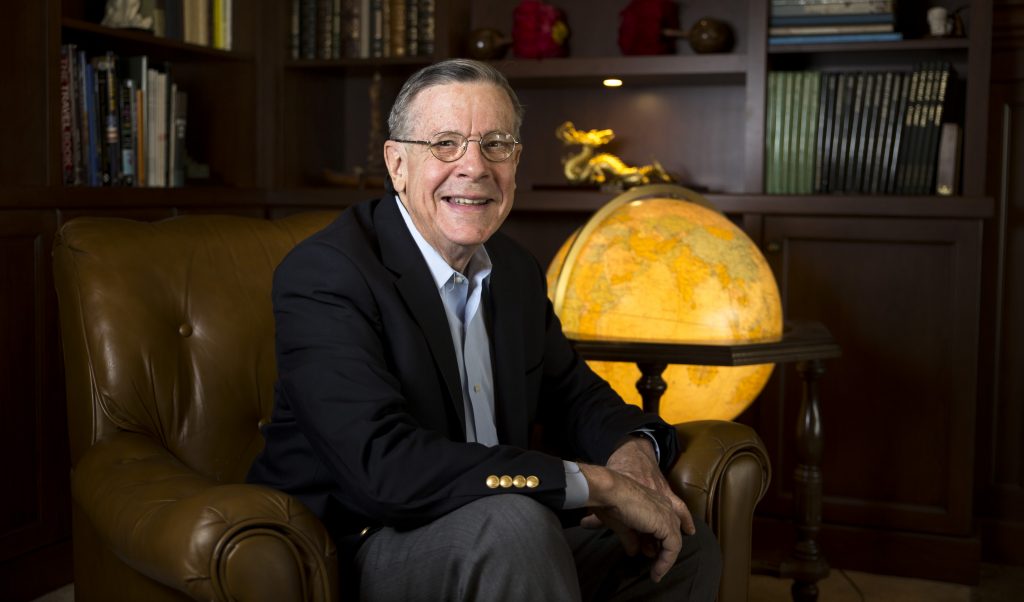 Ed Diener — known as Dr. Happiness — is a pioneer in the field of happiness research. He coined the term "subjective well-being" and developed many protocols used to measure happiness, life satisfaction and positive emotions.
Now, he'll play a key role on the World Happiness Council launched by the UAE as head of a subcommittee on personal happiness.
His Highness Sheikh Mohammed bin Rashid Al Maktoum, vice president, prime minister and ruler of Dubai, announced the creation of the World Happiness Council on March 19 — the eve of International Day of Happiness. The council is designed as a think tank with the goal of getting governments to consider the happiness of citizens and residents in strategic planning and policies that improve quality of life and open "windows for hope."
The council's six subcommittees will produce an annual report that highlights best practices by governments in promoting well-being and happiness and, through an annual summit each February, encourage world leaders to "look for a new way to bring happiness to their people."
And that, well, makes Diener happy.
"When I started studying happiness scientifically 35 years ago, it was a nonexistent field and everyone thought I was crazy," Diener said. "Now it has taken off. It's amazing how this field all of a sudden is having a big impact."
To be honest, he says, it hasn't been easy to get happiness taken seriously.
Happiness, he said, "sounds flaky, kind of frivolous. But what we're talking about is sustainable happiness — what you get from your family, work, meaning and purpose, having goals and values. We're not just about talking about having fun. Well-being is much, much more than having fun."
Diener has spent his career figuring out how well-being can be tracked and used by policy makers, alongside economic indicators, to inform their decisions. He says that while economic indicators are helpful, they don't capture everything.
"They don't capture social support factors and crime and things like that and they also don't have the ability to reflect any downsides of economic growth, which sometimes can occur," Diener said.
Over the past three decades, he has investigated whether money makes you happy, the happiness of men versus women, the effects of well-being on work productivity, health and longevity, and how national policies influence well-being — which brings him full circle to the seat on the World Happiness Council.
"We've always had this idea that the pursuit of happiness was what people had a right to and that meant each person was to pursue it on their own and government wouldn't interfere with them pursuing happiness," Diener said. "What we now know is, of course, that individual happiness does depend on making good decisions in your life and to some degree your inborn temperament, your marriage and so forth, but happiness depends a lot on where you live, the conditions and the policies."
Happiness research, for example, has shown problems like inequality and dirty air appear to depress life satisfaction while access to green spaces and active commuting appear to increase well-being.
Some countries, nations and cities have already taken steps to adopt well-being measures and policies. The U.K., for instance, routinely measures happiness. Richard Layard, a labor economist who serves in the U.K.'s House of Lords and is leading one of the council's subcommittees, has been a vocal proponent of the idea that addressing mental illness will increase his country's well-being, productivity and economics. Layard was a driving force in getting the U.K. to pledge $1 billion to mental health treatment for underserved populations, Diener said.
A few governments — the UAE and Ecuador, to name two — have ministers of happiness or good living whose job is to promote programs that enhance happiness and life satisfaction. In the UAE, the happiness minister created a 100-day school program to teach children how to be positive, express gratitude and give compliments, Diener said.
In the U.S., the Centers for Disease Control occasionally conducts surveys on life satisfaction but with a focus on physical health. Diener said earlier this year it appeared that, for the first time, there would be a happiness proponent in a top-level federal post: U.S. Surgeon General Vivek Murthy said he would dedicate his final two years in office to promoting emotional well-being. But Murthy, who was appointed by former President Barack Obama, was asked to resign in April.
"So, you see that there is some success going on," Diener said. "Most of the success so far is in theory — that is, based on data we have we can say x, y or z lower or raise well-being, but it's hard to say if anybody has adopted policies based on that."
The goal is to get these findings before more government and business leaders in the hopes they'll have some influence, he said, but "it's never decisive where you say, 'Oh my gosh, because of these findings we are going to do everything differently.' It is just one thing that adds to one side of the argument."
The World Happiness Council's work should help tip the scale even more, providing a broad platform for Diener and other well-being proponents to share their ideas and research with policymakers.
"The world government movement has potential. They've got a lot of energy and they are going all out," Diener said. "But it is a matter of making progress on all different fronts."