SEXUAL ASSAULT AWARENESS MONTH
A variety of informational events are scheduled, both online and in person, through the month, and all are encouraged to participate and learn more.
Visit wellness.utah.edu/SAAM for a list of all events.
---
HUMANITIES IN FOCUS: DOCUMENTARY SCREENING
Monday, April 15, 2019 | 5:30-6:30 p.m. appetizers | 7-8:30 p.m. films
Marriott Library, Gould Auditorium
University of Utah Humanities in Focus and Life through the Lens invites you to the annual screening of original documentary films.
This event hosted by the Department of English faculty member, Jeff Metcalf.
This event is free and open to the public.
---
Funding Opportunities through Pivot—a New Database
Tuesday, April 16, 2019 | 11 a.m.-1 p.m.
J. Willard Marriott Library, Faculty Center, Level 1
Faculty and graduate students. Join us for tutorials and snacks.
Join us for an open house to learn about a new database for funding opportunities. Pivot is new to the U and includes funding opportunities, a directory of researchers and their profiles and publishing opportunities.
Questions? Contact Mary Ann James at maryannjames@utah.edu or Gay Cookson at gaycookson@utah.edu. RSVP here.
---
STUDENT APPRECIATION DAY
Tuesday, April 16, 2019 | 11 a.m.-2 p.m.
Main Campus Store South Plaza
The Campus Store, in partnership with University Credit Union, will be hosting a Student Appreciation Day party between the hours of 11 a.m.-2 p.m. on Tuesday, April 16 for all University of Utah students. There will be free pizza, free souvenir polaroids for the first 1,000 students, and giveaways, including Beats Headphones. The Campus Store also offers a 30% discount all day for University of Utah students that present a valid UCard.
This biannual event is the Campus Store's way to give back to our amazing student body and we welcome all students to attend. The University of Utah is lucky to have such a unified student body and it's a pleasure to extend our gratitude and support to you.
---
Faculty Group on Teaching about Relationship Violence
Tuesday, April 16, 2019 | 3:30-5 p.m.
Marriott Library Room 1140
As shared at the President's Leadership Council Meeting in March, we have organized a group for faculty interested in discussing how they can incorporate discussions and education about relationship violence in their classes. Specifically, we know that relationship and sexual violence impact a large number of people and intersect with different disciplines in a variety of ways. The purpose of this group is to provide space for faculty who want to think about how they could incorporate a unit or a class discussion about relationship violence as it relates to their topic as a strategy for educating more students about relationship violence. For example, a faculty member in education may incorporate a unit on the relationship between family violence and education or an economics professor might incorporate a class or unit on the economic impact of relationship violence on the larger community.
The next Faculty Group on Teaching about Relationship Violence meeting is scheduled for April 16 from 3:30-5 p.m. in Marriott Library 1140. Questions and may be directed to Dr. Chris Linder, Educational Leadership and Policy, at chris.linder@utah.edu.
---
'Toward a Critical Environmental Justice: Exploring State Violence & the Settler Colonial Conflicts'
Tuesday, April 16, 2019 | 4-5 p.m.
Aline Skaggs Biology (ASB) 210
Lecture by University of California, Santa Barbara professor David Pellow.
Many of us who care about climate change and environmental justice take action in our daily lives to do our part: we recycle, use sustainable products, use public transportation or eat locally grown food. Yet often environmental problems play out at a larger scale, and while our personal actions can help in small ways, it is important to understand the forces at work in creating environmental hazards and injustice from the start. If we know where injustice begins, we can begin to make a change for the better.
Pellow is exploring new directions in environmental justice in his research. On April 16 from 4-5 p.m. in ASB 210, join him for his lecture, "Toward a Critical Environmental Justice: Exploring State Violence & the Settler Colonial Conflicts."
---
Student Project Expo
Wednesday, April 17, 2019 | 6-8 p.m.
MEB 2365
The Student Project Expo is a chance for all Electrical and Computer Engineering students to display their personal projects throughout the year.
Past projects have included autonomous robots, hovercrafts and audio circuits.
---
Sight & Sound | Red Desert and Radical Quiet
Wednesday, April 17, 2019 | 7 p.m.
UMFA
Red Desert Ensemble
, the duo project of clarinetist Katie Porter and composer/percussionist Devin Maxwell and Radical Quiet, a U Honors College course, present Terry Riley's "IN C," along with other experimental and minimalist works.
An all-star ensemble of Utah musicians and students will perform Riley's infamous "IN C" for an indefinite number of performers. Also on the program are Morton Feldman's "Bass Clarinet and Percussion" and works by Pauline Oliveros and Devin Maxwell.
Click here for more info.
---
Foundations of Mindfulness Based Stress Reduction (MBSR) 
Wednesdays, April 17-May 8, 2019 | 6-8 p.m.
U of U Health Resiliency Center | Health Sciences Education Building, Room 5775 (26 S. 2000 E.)
Experience our own renewal and rebirth this spring.  Through mindfulness practices, we will reconnect with ourselves and our lives.  This course is an introduction or a refresher to MBSR.  We will:  engage in mindfulness meditations, gentle yoga, mindful eating and mindful communication and integrate mindfulness into daily life to reduce stress and experience more joy, mental clarity and well-being.
The course is for the public and for employees and costs $99.
Click here to register.
---
Bodies of Evidence: Seeing with Vesalius Multidisciplinary Lightning Rounds Event
Wednesday, April 17, 2019 | 6 p.m.
J. Willard Marriott Library, Gould Auditorium, Level 1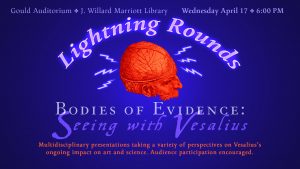 This multidisciplinary lightning rounds event will compare and contrast contemporary perspectives on the ongoing impact, in both art and science, of Andreas Vesalius, the Renaissance era "Father of Medicine." Vesalius, who was offered the chair of surgery and anatomy at University of Padua at 23, published one of the most brilliant influential anatomies ever produced by age 29.
The book, "De humani corporis fabrica" ("On the Fabric of the Human Body") secured Vesalius the post of imperial physician to Holy Roman Emperor and King of Spain Charles V. The book's enduring impact on biology, anatomy, medical practice, history, publishing and teaching will be highlighted in a series of lightning rounds (five minutes in length) by faculty who will call attention to the work's ongoing significance in their respective disciplines. Five rare volumes of Vesalius' amazing 16th-century book will be displayed and diverse humanities and scientific perspectives considered.
---
Senior Project Display and Technical Open House
Thursday, April 18, 2019 | 1-5 p.m.
Alumni House

The Technical Open House is the annual presentation of all Electrical and Computer Engineering students senior capstone projects. This includes industry sponsored clinic projects, faculty supported research and individual projects.
---
OUTDOOR MOVIE NIGHT
Thursday, April 18, 2019 | 7-10 p.m.
Ft. Douglas Stillwell Field
Join the University Credit Union and the Campus Store for an outdoor movie night on Stillwell Field. From 7-8 p.m. there will be food, vendor tabling, games and prizes to get the night going. And starting promptly at 8 p.m. the feature film, "Avengers: Infinity War," will play on an 18-foot screen under the stars. Bring your blankets, pillows and friends for a night of food, fun and movie watching (please leave your chairs at home).
All University of Utah students and staff are welcome to attend this event, there will be no entry fee, or tickets required—come and go as you please.
---
U RECYCLE DAY
Thursday, April 18  |  7:30 a.m.-12 p.m.
Rice-Eccles Stadium parking lot
Bring your electronic waste and old personal documents to the University of Utah for U Recycle Day, an annual event for responsibly recycling. Participants are also invited to donate non-perishable food items, which will be given to the on-campus Feed U food pantry.
See sustainability.utah.edu/u-recycle-day for a list of acceptable materials. Sponsored by Pepsi.
---
Art Aloud! Open Mic
Friday, April 19, 2019 | 12-1 p.m.
Spencer S. Eccles Health Sciences Library, Lower level
Art Aloud! is a spoken word art cafe where you can relax in a casual atmosphere among friends, enjoy refreshments and sign up for a place at the mic. Art Aloud! is open to anyone affiliated with University of Utah Health Sciences (students, faculty, staff, patients and families).
Read your own piece or that of a favorite author. Just show up, sign in and open your mouth. All forms of spoken art are welcome, five minutes or less in length (~ 750 words).
There will be food, friendly company and the electric energy that comes from sharing original work.
RSVP here and a light lunch will be served.
This event is co-sponsored by the Office of Health Equity & Inclusion, the Spencer S. Eccles Health Sciences Library, the Program in Medical Ethics and Humanities, Department of Internal Medicine, School of Medicine, GME Wellness and the Resiliency Center.
---
'PARIS TO PITTSBURGH' DOCUMENTARY SCREENING
Monday, April 22, 2019 | 6-7:30 p.m.
Gould Auditorium, Marriott Library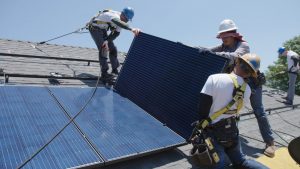 The climate for change is now! Join us at the U on Earth Day for National Geographic's "
Paris to Pittsburgh
," which celebrates the innovations of cities, states, businesses, and citizens efforts on climate change in the face of federal inaction. Narrated by actress and activist Rachel Brosnahan ("The Marvelous Mrs. Maisel"), this film celebrates real solutions for recovery and resilience.
Screenings made possible by Bloomberg Philanthropies. Donations to the University of Utah's Sustainable Energy Fund encouraged.
---
SPRING 2019 PEAK EMPLOYEE FITNESS CLASSES
Now through April 23, 2019
PEAK 
fitness classes
 are available to all full- and part-time employees of the University of Utah, including:
University of Utah Health employees
Employees at Primary Children's Hospital & Clinics
University affiliates in Research Park
Members of the University of Utah Alumni Association
Family members and partners of employees
Alumni association members
PEAK Health and Fitness offer a wide variety of classes including boot camp, circuit training, core training, indoor cycling, mat Pilates, stretch and strengthen, total body fitness, weight training and yoga.
Registration is available here.
---
Violence Against Women: Changing Perspective
Now through April 27, 2019 | Library hours
Multiple events and exhibits at Eccles Health Sciences Library
During the months of March and April 2019, Eccles Health Sciences Library (EHSL) is focusing its programming on Violence Against Women—Changing Perspective.
Throughout these two months, we will host several events to bring attention to the reality of violence against women in our community through different perspectives. An exhibit from the National Library of Medicine will focus on the history of domestic violence and the role of nurses making a difference. There will be an opportunity to participate in creating a gallery of T-shirts as evidence of the epidemic of violence against women; a lecture that shows how virtual reality is being used to combat domestic violence by putting the perpetrator in the role of the victim; an opportunity to see how virtual reality is changing the perspective in many disciplines; and a panel presentation by local experts who will discuss violence against women in our community.
---
DEMO DAY, GET SEEDED FINAL EVENT AND ALUMNI AFTER PARTY
Monday, April 29, 2019 | 5-7 p.m. | 7-8 p.m.
Lassonde Studios
Join us at Demo Day on Monday, April 29, at Lassonde Studios. The main event will be 5-7 p.m. followed by an Alumni After Party at 7-8 p.m. where you can connect with old friends and meet some new ones.
Demo Day is our wrap-up party for the academic year, the final Get Seeded pitch event of the year and a great opportunity for you to meet some of our great startup companies. Join us to enjoy great company, meet some new people, learn about student startups, eat free food and vote on who receives a Get Seeded grant for April.
Admission is free and open to everyone, but please register for this event here.
---
Bioinformatic Discovery with Public and Proprietary Data Using Illumina's Cohort Analyzer & Correlation Engine  
Monday, April 29-Tuesday, April 30
J. Willard and Alice S. Marriott Foundation Auditorium: HCI Research South 1st Floor Auditorium
Are you challenged with multi-dimensional genomics data? Please join us to discover how to gain insights and accelerate your translational research. Learn how to compare your data to a continually growing library of highly curated, public genomic data.
Sign-up and explore for FREE
Cohort Analyzer and Correlation Engine in a secured and private HCI domain. Visit the Bioinformatics Shared Resource for more information on the Cohort Analyzer and Correlation Engine.
Questions and Registration, email TSial@illumina.com.
*To comply with the Sunshine Act, healthcare providers will be asked to sign in and provide contact details to receive the free lunch.
For research use Only. Not for use in diagnostic procedures.
---
Intensive Lifestyle Program
Now through May 1, 2019 | 5:15-6:45 p.m.    
LS Skaggs Patient Wellness Center
A 12-week medically supervised lifestyle change program includes motivation for behavior change, physical activity, stress management, and nutrition education. Weekly 90-minute group sessions: 45 minutes of group education and 45 minutes of exercise.
Open access to the gym 7-10 a.m. and 4-7 p.m., Monday-Friday
Multiple locations for this class with varying start dates exist.
Register here.
---
Trying Times: Conservation Easements and Federal Tax Law
Friday, May 3, 2019 | 8 a.m.-12 p.m. (PT) | 9 a.m.-1 p.m. (MT) | 10 a.m.-2 p.m. (CT) | 11 a.m.-3 p.m. (ET)
S.J. Quinney College of Law
Interested in hearing from the IRS and national experts about recent court cases, IRS guidance and DOJ actions involving conservation easements? This program will address the most salient federal tax law issues impacting conservation easement transactions today.
Attend in person or tune in online.
Both in-person and online attendees will have the opportunity to pose questions to the IRS representative and other expert panelists. This program will benefit land trusts, government agencies, landowners, attorneys, judges, appraisers, CPAs, academics and anyone else with an interest in conservation easements.
Panelists:
Karin Gross, Special Counsel, IRS Office of Chief Counsel, Washington D.C.
Stephen J. Small, Esq., Law Office of Stephen J. Small, Esq., P.C., Newton, Massachusetts
Mark Weston, Appraiser, AQB Certified USPAP Instructor, and Director, Division of Conservation, Colorado Dept. of Regulatory Agencies
Nancy A. McLaughlin, Robert W. Swenson Professor of Law, University of Utah S.J. Quinney College of Law
Wendy Fisher, Executive Director, Utah Open Lands
Register online here.
$100 Attorney, Appraiser, CPA
$30 Nonprofit, Government, Academic, Landowner, General Public
$10 Students
Click here for more information.
---
What Do We Want to Become? Strategy Refresh Town Hall Meetings
Wednesday, May 15, 2019 | 3-5 p.m.
Cleone Peterson Eccles Alumni House
Over the past five years, the University of Utah made remarkable progress on its four strategic goals: knowledge transfer, student success, community engagement, and ensuring the institution's long-term viability. Now it's time to reset our aspirations—and we need your help.
President Watkins and Senior Vice Presidents Dan Reed and Mike Good are launching a Strategy Refresh initiative to craft a path forward for the coming five years. We value the innovation and expertise of all of you—our faculty, staff, students, alumni and community supporters—and ask you to join us in creating the U's new 2020-25 strategic vision.
We invite you to engage in a conversation about how the U can successfully achieve these primary goals, elevating our university as a model for the nation.
You can submit ideas online here.
---