Dissertation & Thesis Writing Boot Camp
Monday-Thursday, March 11-14, 2019 | 8:30 a.m.-1 p.m.
Gould Auditorium, Level 1
It's time to write and shine!
This is a free program sponsored by the Graduate School and the Marriott Library so that you can make some serious progress on your thesis or dissertation during spring break.
We will meet all four days in the Gould Auditorium with breakfast provided to attendees. There will be a thesis formatting workshop during the week as well.
Register for the event here.
---
Speedy Breakfasts Cooking Demo
Wednesday, March 13, 2019 | 1-2 p.m.
Red Rock Room
Presenters: Amy Locke and Kelly Stewart
National Nutrition Month Speed Breakfasts Cooking Demo with Dr. Amy Locke and Kelly Stewart, R.D.–Learn about what makes a breakfast healthy, overall nutritious eating tips, macronutrient distributions and intuitive eating. Locke and Kelly will be making overnight oats with the group and will have a few other quick and healthy breakfast options for attendees to try.
---
"SLEEP AND CIRCADIAN RHYTHMS: PATHWAYS TO CARDIOMETABOLIC DISORDERS"
Thursday, March 14, 2019 | 3 p.m.
CNB2400
This seminar series is designed to foster interdepartmental collaboration and engagement in research related to health behaviors, especially as it relates to diabetes and obesity prevention and management.
Join associate professor Kelly Glazer Baron from Division of Public Health and Department of Family and Preventive Medicine.

---
Mindfulness Stress Reduction Course
Every Thursday night through March 14, 2019 | 4:30-7 p.m.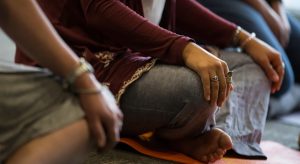 Mindfulness-Based Stress Reduction, (MBSR), was developed by Jon Kabat-Zinn at the Center for Mindfulness, University of Massachusetts Medical School. MBSR is an intensive training in developing mindful awareness and accessing our innate capacity for health, healing and growth. Groups meet for an orientation, eight weekly classes and an all-day retreat between weeks six and seven. Guided instruction in various practices is provided, including sitting and walking meditation, body scan, gentle yoga and mindful communication. These practices are enhanced through inquiry exercises, group dialogue and daily home assignments.
Jon Kabat-Zinn's definition of mindfulness is, "paying attention on purpose, in the present moment, non-judgmentally." Stress is an inherent part of our lives.  We do not practice mindfulness in order to escape the stress but practice so that we can relate to our stress in a healthier way.  MBSR is intended to ignite our inner capacity for awareness and to learn ways that we can be awake and in touch with our lives as they unfold.
In research published by the Center for Mindfulness, the majority of people who complete the course report:
Lasting decreases in physical and psychological symptoms
An increased ability to relax
Reductions in pain levels and an enhanced ability to cope with pain that may not go away
Greater energy and enthusiasm for life
Improved self-esteem
An ability to cope more effectively with both short and long-term stressful situations.
Register here.
---
Saving the Monarchy with Rachel Taylor
Thursday, March 14, 2019 | 6:30-7:30 p.m.
Red Butte Garden
Learn about monarch butterflies, milkweed conservation, and how to get involved as citizen scientists to protect the iconic monarch, currently under consideration for listing as an endangered species. Regular Garden admission; free for Garden members. Registration required,
redbuttegarden.org/lectures
.
Regular Garden admission, free for members
---
Dance Marathon Information Session
Monday, March 18, 2019 | 11 a.m.-2 p.m.
Gould Auditorium
Save the date for the Dance Marathon information session. Join ASUU and Dance Marathon as we introduce this philanthropy benefit to the University of Utah Campus. Dance Marathon is a fun and engaging dance event benefiting patients at Primary Children's Hospital. This information session will be held at the Gould Auditorium on March 18 from 11 a.m. to 2 p.m. Here you will be able to learn more about what we do and how to get in involved. There will be pizza, games, photo booths, craft stations and the opportunity to meet child patients who will be directly benefiting from the proceeds of Dance Marathon.
---
TRUTH IN TUITION
Tuesday, March 19, 2019 | 1:30-2:30 p.m.
Marriott Library, Gould Auditorium
The University of Utah is proposing to increase student tuition, beginning Summer Term 2019. Actions taken by the Legislature subsequent to the publication of this announcement may make it possible to be more definitive regarding tuition at the meeting. The University Administration will explain the reasons for the proposed tuition increase, address the total increase in tuition to the extent possible, discuss expectations for allocating the increased revenue, and answer questions regarding the increases. All concerned students and citizens are invited to the public hearing on the proposed increase.
---
Two Lectures with University of California, Sant Barbara Professor Doug Kennett:

"Drought and Long-Term Sociopolitical Dynamics West of the Hundredth Meridian"
Tuesday, March 19, 2019 | 4-5 p.m.
ASB 210
Leigh Lecture in Anthropology: "Climate Change and Sociopolitical Cycling in the Maya Region"
Wednesday, March 20, 2019 | 7 p.m.
Gardner Commons 1900 Siciliano Auditorium
While there is no denying the evidence of climate change, archaeological data also suggests that this is not the first time the Western US has experienced similar events. To aid our contemporary fight for sustainability and adaptation, Doug Kennett, professor of Environmental Archaeology and Human Behavioral Ecology at the University of California, Santa Barbara, believes the past can help us understand the present crisis.
Join us on Tuesday, March 19, from 4-5 p.m. in room 210 of the Alice B. Skaggs Biology Building, where Kennett will explore how climate change in the West affected ancient peoples in his lecture, "Drought and Long-Term Sociopolitical Dynamics West of the Hundredth Meridian," as part of the Global Change and Sustainability Center's Seminar Series.
Kennett will also be giving the Leigh Lecture in Anthropology entitled "Climate Change and Sociopolitical Cycling in the Maya Region" on Wednesday, March 20, at 7 p.m., 1900 Gardner Commons (GC) Siciliano Auditorium. Kennett will present the results of an on-going interdisciplinary project focused on the cyclical nature of societal responses to climate change during the last 2,000 years in the Maya region.
---
Lecture by Senior Climate Scientist, Director of Climate Science for the Union of Concerned Scientists, Brenda Ekwurzel: "Assessing and Mitigating Risks to Water Resources from Climate Change"
Wednesday, March 20, 2019 | 4-5 p.m.
Alice B. Skaggs Biology Building (ASB), 210
Co-author of the fourth "National Climate Assessment (NCA4) Volume II," Brenda Erkwurzel examines the reduction of risks and impacts of climate change to society and offers practical, achievable solutions. Prior to joining UCS, Ekwurzel was on the faculty of the University of Arizona in their department of hydrology and water resources, with a joint appointment in the geosciences department. She has studied climate variability in places as disparate as the Arctic—where her research brought her to the North Pole—and the desert Southwest. Earlier in her career, Ekwurzel was a hydrologist, working with communities to protect groundwater.
Ekwurzel earned a B.S. in geology from Smith College and an M.S. in geoscience from Rutgers University. She holds a Ph.D. in isotope geochemistry from the Department of Earth and Environmental Sciences at Columbia University's Lamont-Doherty Earth Observatory and conducted post-doctoral research at Lawrence Livermore National Laboratory, in California.
This lecture is co-hosted by the Global Change & Sustainability Center, Department of Geology & Geophysics and the Society, Climate and Water Research Group.
---
Wallace Stegner Center 24th Annual Symposium: Recreation Challenges on Public Lands
Thursday and Friday, March 21-22, 2019
S.J. Quinney College of Law Moot Courtroom (Level 6)
In recent years, outdoor recreation has become a primary use of the public lands, creating myriad conflicts, challenges and opportunities. A substantial portion of the public domain is managed for recreation in the form of national parks, national monuments, wilderness areas, and the like, drawing millions of visitors annually. Outdoor recreation is now big business, constituting two percent of U.S. gross domestic product (GDP), which is more than agriculture, mining, or oil and gas development individually contribute to the nation's GDP. Conflicts have grown more intense between recreation users (e.g. hikers, mountain bikers, and ATVers), and new environmental problems have surfaced in the form of soil erosion, water pollution, and wildlife displacement, while the land management agencies lack the necessary resources to effectively address these problems. The symposium will first examine the economic, social, and legal framework for recreation on the public lands, and then extract lessons from specific recreation problems in the Wasatch Mountains and the Moab area. A symposium highlight will be "A Conversation with the Secretary" between Sally Jewell, former Secretary of the Interior, and Robert Keiter of the University of Utah S. J. Quinney College of Law. Jewell will discuss her unique perspective on conservation and recreation, based on her experience as Secretary of the Interior and as former CEO of REI.
Visit the event website to see the agenda and speaker list.
Registration is required. Click here to register.
---
SPORTS NUTRITION
Wednesday, March 27, 2019 | 11:30 a.m.-12:30 p.m.
Red Rock Room
Presenters: Ally Gallop, Jordan Harris, & Andrea Ovard
National Nutrition Month Sports Nutrition Panel–Come join three nutrition and exercise experts, Jordan Harris (exercise specialist), Andrea Ovard (registered dietitian) and Allison Gallop, as they answer sit on a panel to discuss various topics in sports nutrition. This presentation will be useful for both the individual with sports nutrition questions, as well as the healthcare provider looking for more information on counseling clients in this area.
---
Restoring Balance Self-Care Retreat
Wednesday, March 27, 2019
This one-day CME-accredited retreat is designed for health care professionals including physicians, advanced practice clinicians, nurses, social workers and chaplains, who are suffering from burnout, compassion fatigue, having difficulty finding a sense of meaning or purpose in their careers or are simply looking for new ways to manage stress and increase resiliency. The retreat involves didactic teaching, guided stress-reduction exercises including mindfulness and yoga, facilitated group discussion and time for personal reflection.
The retreat is co-facilitated by Paul Thielking and Julie Howell. Thielking is board certified in Psychiatry and Hospice & Palliative Medicine. Howell is a certified mindfulness instructor. Both have a long-standing interest in helping health care professionals with stress and burnout and have been leading self-care retreats for the past several years.
Click here for more information.
---
GRAD FAIR
Thursday-Saturday, March 28-30, 2019
Campus Store
Grad Fair
is March 28-30 at the Campus Store. If you are eligible to walk in May 2019, now is the time to order your cap, gown and graduation announcements, buy your diploma frame and start celebrating your achievement.
Grad Fair dates and times are below:
Thursday, March 28 | 8 a.m.-6 p.m.
Friday, March 29 | 8 a.m.-6 p.m.
Saturday, March 30 | 11 a.m.-4 p.m.
At Grad Fair, you will have the opportunity to get professional photos taken, order unique graduation announcements, and visit with a variety of campus vendors. Plus, don't forget to sign the block U that is featured at Commencement after Grad Fair and enter-to-win a variety of prizes.
If you prefer to skip the lines at Grad Fair, go to CampusStore.utah.edu to pre-order your regalia now. You can select in-store pick-up starting March 28 or have it shipped to you.
---
Bridging the Divide
Thursday, March 28, 2019 | 12:15-1:15 p.m.
S.J. Quinney College of Law, Level 6
A Wallace Stegner Center Green Bag lecture.
In his presentation on "Bridging the Divide," Sen. Jeff Bingaman will discuss the obstacles that make it difficult to find common ground on policy disputes in Washington, D.C. He will discuss the tactics that undermine the proper functioning of the federal government, including shutdowns, threats to default on the national debt and Senate refusal to consider presidential nominations.
Read more here.
---
The Real Life Challenge is back
Now through Sunday, March 31, 2019
It is a four-week lifestyle journey, dedicated to improving your health, fitness and overall well-being—one habit at a time.
Each day for the duration of the four-week Real Life Challenge, you'll get points for completing each of the five daily habits, which are mindful eating, mindset, exercise and movement, sleep and social and environmental.
The Real Life Challenge runs from March 1-31, 2019, so be on the lookout for future invitations to come your way or click here to login and sign up.
---
Union Scholarship Celebration
Thursday, April 4, 2019 | 7:30 p.m.
A. Ray Olpin University Union
Join us as we celebrate 41 recipients, awarding over $160,000 in scholarships at the ninth annual Union Scholarship Celebration.
Started in 2011, the Union Scholarship Celebration has raised money for the Union Scholarship Fund. Because of support from donors like you, we are excited to announce that the Union is now able to provide $160,000 in scholarships this year.
We invite you to join us in celebrating and recognizing student involvement and leadership. Help the Union raise money for scholarships while enjoying scholarship award presentations, a catering showcase provided by Dining Services and over a hundred silent auction items.
Tickets are $50 per person or $400 for a table of eight.
Purchase tickets here.
---
UTAH HEALTH SALT LAKE CITY MARATHON
Saturday, April 13, 2019
Join University of Utah Health for the Salt Lake City Marathon on April 13.
Students receive a 25 percent discount on their registration. Please submit a copy of your student ID to info@saltlakecitymarathon.com to receive a special discount code.
Employees receive a special 30 percent discount with the following code: uofuhealthruns19
There is something for everyone with seven events to choose from. Whether you're a seasoned runner going for a PR or brand new and looking to take on your first 5k, we've got you covered:
Full (BQ)  |  Half  |  10k  |  5k
Bike Tour  |  10k Skate  |  Kids K
Register here.
---
Foundations of Mindfulness Based Stress Reduction (MBSR) 
Wednesdays, April 17-May 8, 2019 | 6-8 p.m.
U of U Health Resiliency Center | Health Sciences Education Building, Room 5775 (26 S. 2000 E.)
Experience our own renewal and rebirth this spring.  Through mindfulness practices, we will reconnect with ourselves and our lives.  This course is an introduction or a refresher to MBSR.  We will:  engage in mindfulness meditations, gentle yoga, mindful eating and mindful communication and integrate mindfulness into daily life to reduce stress and experience more joy, mental clarity and well-being.
The course is for the public and for employees and costs $99.
Click here to register.
---
SPRING 2019 PEAK EMPLOYEE FITNESS CLASSES
Now through April 23, 2019
PEAK 
fitness classes
 are available to all full- and part-time employees of the University of Utah, including:
University of Utah Health employees
Employees at Primary Children's Hospital & Clinics
University affiliates in Research Park
Members of the University of Utah Alumni Association
Family members and partners of employees
Alumni association members
PEAK Health and Fitness offer a wide variety of classes including boot camp, circuit training, core training, indoor cycling, mat Pilates, stretch and strengthen, total body fitness, weight training and yoga.
Registration is available here.
---
Violence Against Women: Changing Perspective
Now through April 27, 2019 | Library hours
Multiple events and exhibits at Eccles Health Sciences Library
During the months of March and April 2019, Eccles Health Sciences Library (EHSL) is focusing its programming on Violence Against Women—Changing Perspective.
Throughout these two months, we will host several events to bring attention to the reality of violence against women in our community through different perspectives. An exhibit from the National Library of Medicine will focus on the history of domestic violence and the role of nurses making a difference. There will be an opportunity to participate in creating a gallery of T-shirts as evidence of the epidemic of violence against women; a lecture that shows how virtual reality is being used to combat domestic violence by putting the perpetrator in the role of the victim; an opportunity to see how virtual reality is changing the perspective in many disciplines; and a panel presentation by local experts who will discuss violence against women in our community.
---
Intensive Lifestyle Program
Now through May 1, 2019 | 5:15-6:45 p.m.    
LS Skaggs Patient Wellness Center
A 12-week medically supervised lifestyle change program includes motivation for behavior change, physical activity, stress management, and nutrition education. Weekly 90-minute group sessions: 45 minutes of group education and 45 minutes of exercise.
Open access to the gym 7-10 a.m. and 4-7 p.m., Monday-Friday
Multiple locations for this class with varying start dates exist.
Register here.
---